A foul-mouthed rant on social media by Tongan Olympic Team member Amini Fonua over the last week has spun out of control with the athlete at Rio baring his buttocks for a shared photograph.
Amini posted his backside on social media along with abusive comments aimed at those who have agitated his personal social scene at Rio.
The exposure was picked up yesterday August 16 (Tonga time), by a Google Alert on #Tonga – which is received by a global mainstream audience of all ages who are interested in Tonga.
There was no word today from Tongan Olympic Officials in Rio de Janeiro, Brazil, who have so far not taken disciplinary action in response to Amini's exposure. TASANOC official Takitoa Taumoepeau and the Chef de Mission Mike Bloomfield who manages the team are aware of it.
Amini - unplaced in his swimming heat - has finished his events. But the Tongan Team are still present at Rio 2016, with Taekwando athlete, Pita Taufatofua scheduled to compete on August 20 in the Taekwondo Men's +80kg event.
Amini's ranting reached its lowest point yesterday at the same time Tongans were out parading in Nuku'alofa supported by school children in a fundraising event for the Olympic team.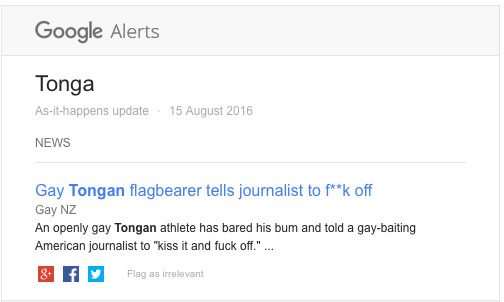 Related article: Amini slams The Daily Beast over homophobic article