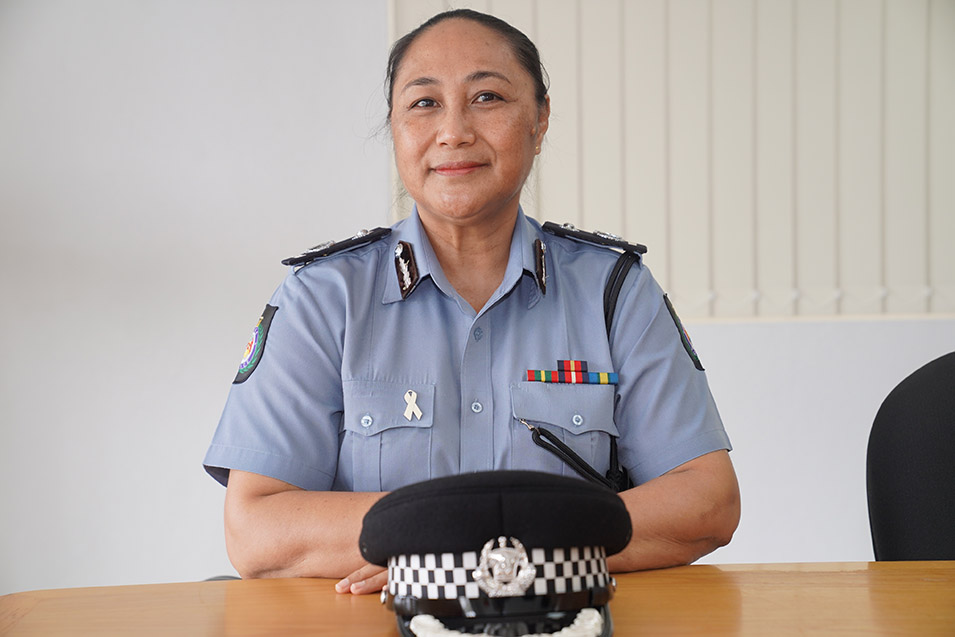 By Katalina Siasau
Trafficking in Persons, a crime where victims are exploited in various forms of slavery, is coming under a new scrutiny in Tonga.
Ever since Tonga prosecuted its first Trafficking in Persons (TIP) case over a decade ago, there have been no further cases of TIP, although between 2004 to 2016 Tonga was a known transit point for human smuggling.
At the time, procedures to identify trafficking were not well developed.
Police Deputy Commissioner and Chief of Staff, Pelenatita Vaisuai told Matangi Tonga that it is now one of their priorities to watch out for crimes like Trafficking in Persons.
She said that the newly-formed Migration Technical Working Group of Tonga (TWG) has become a body that focuses on combating TIP.
"The TWG aims to complete this National Plan and put forward the final draft to the Cabinet for approval before the end of the year, in order to put it into action," she said.
In an interview on 9 August, Dep. Com. Vaisuai said that in 2020 the U.S. State Department claimed that Tonga's government did not fully meet the minimum standards in several key areas.
"Authorities did not conduct any new trafficking investigations, develop procedures to proactively identify victims, or effectively coordinate governmental anti-trafficking efforts."
This meant that in 2020 Tonga remained on Tier 2, a list of countries that do not show better efforts in combating traffic in persons.
"Our government relies on donor partners who use TIP to rate partnership. It is important that we should focus on TIP because bad rates have impacts such as on our economy. Another reason to prioritise Human Trafficking [investigation is] because others would put into question how we run our government."
Tonga Police now works together with Interpol and the Pacific Transnational Crime Network, which is based in Samoa.
She said these Police partnerships enable spreading awareness among member nations, and become watchdogs for the region.
Slavery is a crime
The U.S. State Department defines Trafficking in Persons as a crime whereby traffickers exploit and profit at the expense of adults or children by compelling them to perform labour or engage in commercial sex.
Under Clause 2 of the Constitution of Tonga, slavery in any type, way, or form is prohibited on Tonga's soil.
The need to put investigation procedures into place to detect TIP became more urgent in 2021 when Tonga was downgraded from a Tier 2 country to a Tier 2 Watchlist country, where it remained in the 2022 TIP report.
Tier 2 Watchlist countries are governments who, "do not fully comply with the Trafficking Victims Protection Act of 2000 TVPA's minimum standards, but are making significant efforts to bring themselves into compliance with those standards and, the absolute number of victims of severe forms of trafficking is very significant or is significantly increasing."
After making efforts, which included training more police recruits on victim identification and trafficking investigations and providing funding for an NGO available to assist trafficking victims, Tonga has improved its listing.
She said that earlier this year, Tonga was taken off the Tier 2 Watchlist and is back to a Tier 2 country rating.
Community liaison
The first TIP case in Tonga, successfully prosecuted in 2011, was Lirong Liu v Rex. The government now posts a Mandarin language police officer to liaise with the Chinese community.
There were other cases in Tonga that did not reach the threshold of Trafficking in Persons, including cases of human smuggling between 2004 to 2016.
One such case involved a Bangladeshi/Australian citizen who smuggled Bangladeshi citizens aiming to enter Australia via Tonga. Police were able to investigate those cases.
Migration and Sustainable Development Policy (MSDP)
Dep. Com. Vaisuai said that Tonga's government ministries, Government organisations, and Non-Government Organisations now work side-by-side in combating TIP, with the birth of the Migration Technical Working Group of Tonga.
The TWG developed a policy called Migration and Sustainable Development Policy (MSDP), articulated in 2019 and endorsed by Cabinet in 2020.
One of its thematic areas includes combating human trafficking.
A national plan is proceeding to operationalise the Migration and Sustainable Development Policy, driven by the TWG,
She said this consists of establishing procedures, and referral mechanism for trafficking in persons. It covers the prevention, protection, and prosecution of human trafficking.
The TWG includes the Attorney General's Office, Ministry of Police, Ministry of Trade and Economic Development (MOTED), Ministry of Revenue and Customs, Ministry of Education and Training, Ministry of Finance, Ministry of Foreign Affairs, Ministry of Health, Ministry of Internal Affairs, Ministry of Justice, Ministry of Lands Survey and Natural Resources (MLNR), Ministry of Meteorology Energy, Information, Disaster, Management Environment, Climate Change and Communications (MEIDECC), Ministry of Tourism, and the Prime Minister's Office.
They work with other NGOs' such as the National Centre for Women and Children, Women & Children Crisis Centre (WCCC), Civil Society Forum of Tonga and Tapuaki Mei Langi Consultancy.
USAID
Meanwhile, The Asia Foundation at the end of 2022 began a project to map industries and map Trafficking in Persons in Tonga to strengthen data collection, under its Pacific –RISE programme.
It is a response to a concern over a rising incidence of trafficking in persons within, between, and into Pacific Island Countries. The Pacific region has become a source, transit point, and destination region for people smuggling and illegal migration.
The Pacific Regional Initiative and Support for More Effective Counter Trafficking in Persons ("Pacific RISE-CTIP)" is a 5-year program implemented by The Asia Foundation with funding from the United States Agency for International Development (USAID). RISE-CTIP is prioritising interventions in Fiji, the Republic of the Marshall Islands, Tonga, and Papua New Guinea.
See also:
https://matangitonga.to/2023/07/18/working-group-validates-first-national-action-plan-combatting-trafficking-persons