Trade challenges in the Pacific region, including Tonga, will be looked at by the World Trade Organization (WTO) at the Asian-Pacific Economic Cooperation (APEC) meeting this week, in Port Moresby, Papua New Guinea, 25-26 May.
Ahead of the meeting, WTO Director General, Roberto Azevedo, expressed an opinion that more can be done to support economic growth and development in Tonga and across the Pacific.
"This involves addressing the many challenges that citizens face in this part of the world: resilience amid natural disasters, the sustainability of oceans, and ensuring that the benefits of trade are more broadly distributed."
"These issues will be at the top of my agenda when I visit the region this week," he told Matangi Tonga.
Mr Azevedo said Tonga is ranked as the 2nd most exposed country to natural hazards by the United Nations University. It has already experienced the impact natural disasters have on its economy and the need for swift and effective international support.
In addition, the world's marine resources are depleting, affecting Tonga's top exports of mollusks and fresh fish. Mr Azevedo said that around 17% of Tongans report subsistence fishing and farming as their principal occupation.
He added that Tonga and other members of the Pacific released a declaration last December at the WTO's 11th Ministerial Conference calling on the WTO to holistically address the group's economic and environmental vulnerability, to bridge differences on fisheries, and to ensure that small and vulnerable economies are not left outside the multilateral trading system.
Mr Azevedo said "the WTO has taken these concerns to heart".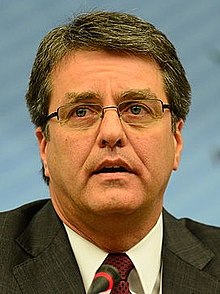 Trade impact
With regards to natural disasters, the WTO launched a new research project to examine how natural disasters impact trade and assess the WTO rules and practices that can help countries respond to or remain resilient to such disasters in the future.
As for marine resources, WTO members are negotiating an agreement to limit "harmful" government subsidies for fishing. A work program will be held this month and over the next few months focusing on subsidies and fishing capacity.
On trade inclusivity, the WTO's Aid for Trade Initiative contributes to building developing countries and least development countries (LDCs) capacity to trade.
Mr Azebedo said that the active participation of the Pacific Group in raising the issues of disaster resilience, ocean sustainability, and trade inclusivity, are increasingly part of the work of the WTO, where all players, big and small, have a seat at the table.
"This is multilateralism at work. I urge Tonga and all of our Pacific members to stay engaged and keep raising their voices."
"The WTO remains at your service," he said.
Working with USP and PIFS
Earlier this week, 21 May, Mr Azevedo joined Dame Meg Taylor, Secretary General from the Pacific Islands Forum Secretariat (PIFS) and USP Deputy Vice-Chancellor (Research and International), in Suva, Fiji, to present at a public lecture on WTO and its relevance in the Pacific region.  
They spoke of PIFS and WTO continuing collaboration with USP in promoting trade from the region.
"We have achieved many milestones together through such collaborations, and I greatly acknowledge the PIFS and WTO's continued engagement with the University," said Professor Armstrong.
Dame Meg Taylor said "As a region, we know we can achieve more if we work together – a principle which Pacific Leaders have re-affirmed while endorsing the Framework for Pacific Regionalism".