It is important for parents to seek proper diagnosis if they are unsure of their child's condition. Here in Tonga, children often get disciplined because of the lack of understanding of their condition, said Dr Flora Lutui in an address to mark World Autism Awareness Day on Saturday 2 April in Tonga.
Autism is a lifelong development disorder that affects how a person communicates. At present, 16 children have been diagnosed with autism, an increase from 12 in 2014 in Tonga.
During the special event hosted at the Mango Tree Center for disability in Houmakelikao, Dr Lutui encouraged parents to come to Vaiola Hospital and get proper diagnosis for their child if he/she shows signs of anti-social behaviour like choosing to be on their own rather than mixing with their peers.  
"They will also exhibit repetitive behaviour and will often act out when this routine is disrupted. Here in Tonga, children often get disciplined because of the lack of understanding of their condition," she said.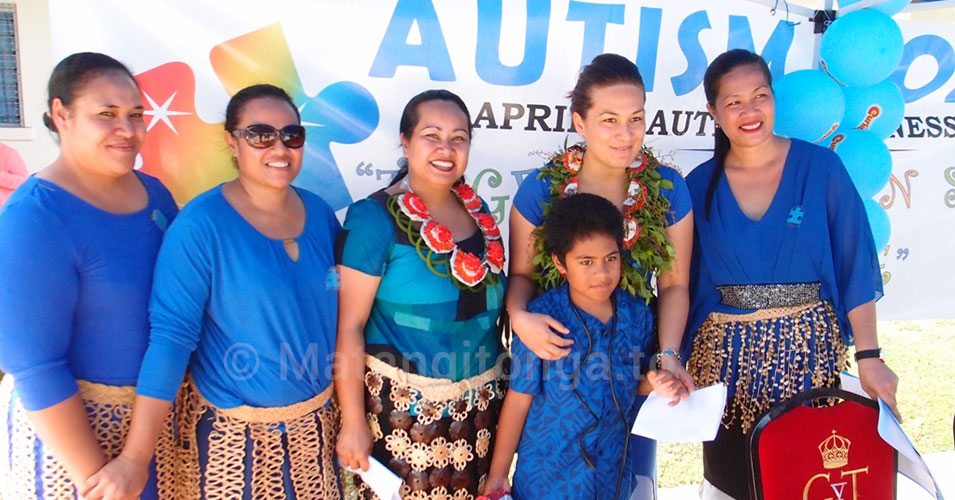 Dr. Lutui, who is also an aunt to a 10-year-old autistic nephew understands the struggles children with autism go through due to little awareness of the condition.
"Autism is not genetic, it could happen to anyone and can affect any family."
She said autistic children are quite remarkable and while there is no cure for autism, it is manageable and children living with autism can lead normal lives with some of them becoming professional musicians and artists.
"These are some of the ways they can express their thoughts and emotions," said Dr. Lutui.
'Ilaisaane Siale Faka'osifolau, mother to an eight-year-old autistic son Ma'ake said he teaches her everyday to appreciate life and finding joy in the simple things.
"Autistic children are not disabled, they are able and precious," she said.
Support
Lady Lupe Fielakepa said they are grateful for all the support and can only hope that each year, they are able to do more to raise awareness on autism.
She said autistic children along with their parents need all the love and support they can offer especially there may be many children in Tonga that have yet to be diagnosed and communities need to understand this condition better.
The event included cutting of a cake by the Australian High Commissioner HE Mr Andrew Ford and the children as well as releasing of balloons and a fun jumping castle.
Lord Fielakepa, Lord and Lady Fakafanua, 'Ana Bing Fonua CEO of the Ministry for Internal Affairs and Salote Sisifa General Manager of Tonga Netball and invited guests attended the event. Autism Tonga with support from the Mango Tree Center, Tonga Netball Association in partnership with Netball Australia through the Pacific Sports Partnership Program and the Ministry of Internal Affairs joined forces to host the day.
The public is also encouraged to wear blue this month as Autism Awareness Month.