From Matangi Tonga Magazine Vol. 15, no. 1, March 2000.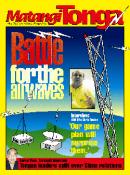 Two important political issues that Tonga has to deal with as we are entering the new millennium, will not be resolved without heartache.
The upheaval within the highest levels of the Tongan government over the decision to terminate our diplomatic ties with the Republic of China, Taiwan, and to establish diplomatic relations with the People's Republic of China, is one problem.
Secondly, is the concern expressed at Cabinet level that New Zealand plans to cut its level of aid to Tonga, and is helping to finance the push for democratic reform in the kingdom.
The decision by the Tongan government to establish diplomatic relations with the People's Republic of China caused the resignation of two top Cabinet Ministers. Namely, the former Minister of Foreign Affairs and Defence, Crown Prince Tupouto'a, and the Prime Minister, Baron Vaea, himself. (See farewell interview page 16).
The decision by these two experienced administrators-the Crown Prince, as the King's son and the heir to the Tongan throne, and Baron Vaea, the King's first cousin-tells us the magnitude of their opposition to the decision by the King to proceed and establish diplomatic relations with Beijing.
Baron Vaea says that a big question mark still hangs over the King's decision, and he asks what have the Mainland Chinese done for Tonga so far, considering that Taiwan had cancelled some of its aid projects to Tonga?
It is now known, that while the People's Republic made a small contribution of about $3 million toward Tonga's application to become a member of the United Nations, that Taiwan had to withdraw a pledge of about twelve times that amount in cash, when Tonga decided to terminate their relationship in favour of Taiwan's big brother.
The Chinese issue will continue to dog the Tongan government for a while because of the looming possibility that China and Taiwan will go to war to sort out their differences.
The other problem for Tonga is the perception of New Zealand interference in Tongan politics (see interview, Clive Edwards, page 33). Although New Zealand is Tonga's biggest trading partner, its closest neighbour, and a long-time aid donor, any decision by New Zealand to meddle in Tonga's politics would surely lead to some sort of confrontation.
So, as we are entering the 21st century, the Tongan government has two big political issues to deal with. The ruling family are at odds over the decision to dismiss Taipei and embrace Beijing, while at the same time they must fear that our bigger and stronger neighbour, New Zealand, has decided to become directly involved with Tongan politics.