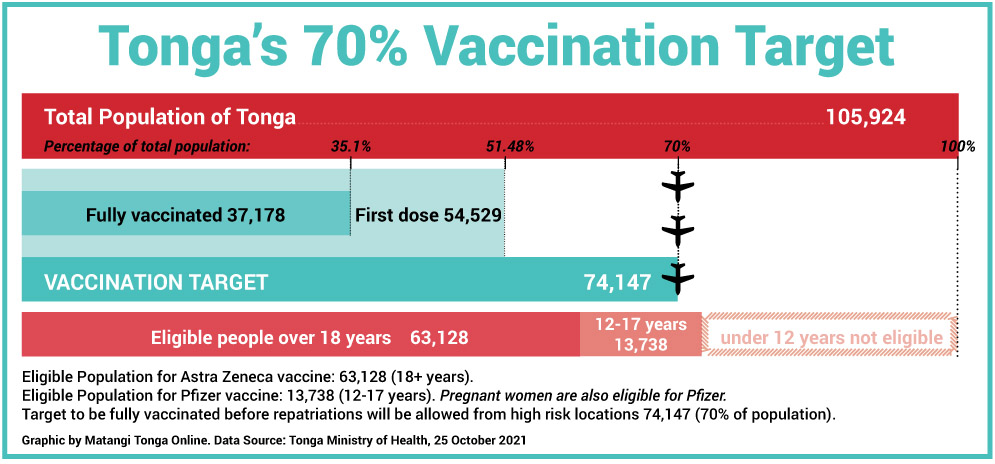 By Eleanor Gee
Tonga's Ministry of Health is in a race against time to inoculate 13,738 teenagers with Pfizer before the precious vaccines expire in 28 days time.
Health CEO Dr Siale 'Akau'ola urged parents to ensure their 12 to 17-year-old children are inoculated "or they will miss out".
"It is important for parents to realise that the Pfizer vaccine has a shelf life of just about four weeks," he said, "so their 12 to 17-year-old children need to get their first dose of Pfizer before the third week of November 2021 or they will miss out."
He said the second dose of Pfizer would be given in December 2021 only to those that had first doses. It is an expensive vaccine that is hard to get.
At least 1,097 people aged 12-17 years old have received their first dose of the Pfizer vaccine since it arrived last week.
The Pfizer vaccine roll-out continues to secondary and middle schools on Tongatapu this week.
Meanwhile, a vaccination team will travel to 'Eua on Wednesday to start Pfizer vaccination at schools there, before going to other islands groups next week.
70% vaccination target
There are 13,783 children aged 12-17 years old in Tonga eligible for the Pfizer vaccine, and they are an important part of the overall vaccination target.
The Ministry of Health is aiming to inoculate 70% (74,147) of Tonga's total population of 105,924 - before it eases its border restrictions.
Because around 28 percent of Tonga's population is not yet eligible for the vaccines, mostly infants and under-12s, it means nearly everyone else needs to be vaccinated to achieve the target 70%.
Public health nurses are calling door to door in villages to talk to those who are slow to get their jabs, while the roll-out to teenagers is continuing in schools.
Vaccine update
By this week 51 percent of Tonga's population (53,432 people) had received their first dose of all COVID-19 vaccines.
But only 35.1 percent of the total population (37,178) had received their second dose of the AstraZeneca COVID-19 vaccine.
The eligible population (76,866) includes 63,128 people aged 18 and over, and 13,738 aged 12-17-years-old.
The vaccine stimulates the immune cells in the body to produce antibodies, but it takes weeks for the body to produce enough antibodies to stop the virus.

Teenagers need their first jabs now so that they will be ready to have their second doses in December.
The Pfizer vaccine has been donated to Tonga by New Zealand. The Astra Zeneca vaccines have been donated by Japan, Australia and New Zealand.