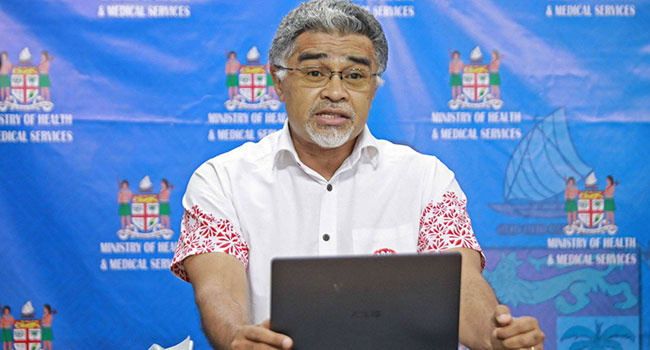 Fiji has recorded 656 COVID-19 active cases currently in isolation as of 10 June, according to its Ministry of Health and Medical services.
The country experienced a surge in new cases over the last several days, reaching 94 and 64 new cases on June 8 and 7. However the number of new cases dropped to 35 and 39 on June 9 and 10 respectively.
Dr James Fong, Fiji's Permanent Secretary for Health also announced on June 9 via a pre-recorded message that he was under quarantine at home "as a potential primary contact of one of our medical team members who contracted COVID-19".
"I have tested negative twice now during my quarantine, on day one and day 4, my being at home is simply a precaution."
He urged people to adhere to COVID safe habits including staying at home as much as possible, wear a mask, download the contact tracing app careFIJI on phones, keep social distancing, and washing hands often.
Do not share cigarettes
"Do not share cigarettes. Do not share takis. I love sharing grog as much as anyone, but it's time we put that habit on hold. Grog by yourself, mix your own grog and taki to yourself."
Fiji has recorded 849 cases since the start of the current outbreak in April 2021, which initially started from a soldier working in border quarantine, who was announced on April 18 to have contracted the virus from another border quarantine case who had travelled to Fiji from India.
Since March 2020, a total of 919 cases have been recorded in the country, with 256 recoveries and 4 deaths. Three of the COVID-19 patients died from pre-existing non-COVID-19 related illnesses.
Dr Fong stressed that there is nothing reassuring about the low numbers of severe disease and death recorded so far.
"This is the same variant that has inflicted mass death upon many other nations. It can kill."
Do not listen to the false prophets and pseudo-experts who say this disease cannot harm you. They are lying, and they will lead vulnerable Fijians into ICUs and, in worst-case scenarios, an early grave, he said.
"We shouldn't have to force anyone to take obvious steps to keep themselves safe and healthy. Don't wait for more deaths to hone your discipline."
Fiji is continuing COVID-19 tests with the national 7-day daily test average at 3,171 tests per day or 3.6 per 1000 population. The national 7-day average daily test positivity is 1.9%.
The country is also currently rolling out its COVID-19 vaccination program with 228,030 people receiving at least one dose of a COVID-19 vaccine to date.