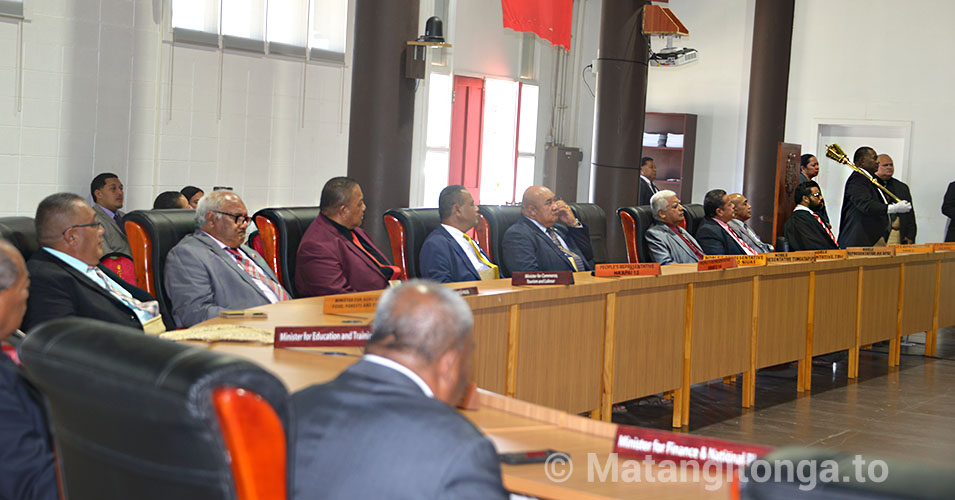 By Pesi Fonua
King Tupou VI called on government to redirect its focus to the development of agriculture production, fisheries and tourism, because despite efforts to build roads, bridges, airports and wharves, Tonga is unable to counter its international trade deficit, while its two major imports are fuel and food.
The Tongan Parliament session for 2020-21 was officially closed on 8 April  2021 with a message from His Majesty Tupou VI, which was read by Lord Tuita who was accompanied by Lord Vaea and Lord Luani.
In was an in-house session, attended only by the members of parliament.
The King reminded the House, the two fundamental principles, the 'Uluaki Fa, that Tupou I, constructed his new system of government on were a healthy life style and good education for the people.
If the people were not healthy they would not have been able to achieve their life objectives and, at the time, to reduce financial aid to Tonga from overseas, he said.
Tupou I, the first king of the Tupou Dynasty came into power during the early 1870s. These two fundamental principles, health and education, enabled Tonga to achieve its national economic objectives during the 1950s, 1960s and 1970s.
However, we were not able to maintain things as they were during those years.
King Tupou VI pointed out that despite the effort to boost development, by building road, bridges, airports and wharves, we are still not being able to counter our international trade deficit.
Tonga's two major foreign imports are fuel and food.
The King proposed for government to focus more on the development of agriculture production, fisheries and tourism.
He stressed the importance for Tonga to boost its national production because of the massive challenges that the Tonga and the world is facing, such as the COVID-19.
Following the official closure of parliament, the Speaker of the House, Lord Fakafanua, announced that staff of the House and members of parliament who remain stuck overseas by the border restrictions, would be able to return home soon.
He also announced that the National Budget for 2021-2022 would be ready on 9 April, and that the House would resume its 2021-22 session on 6 May.