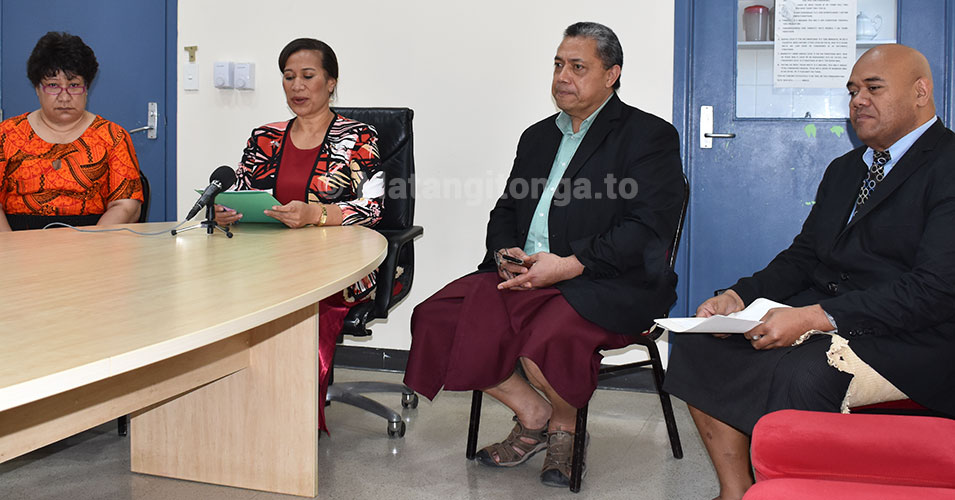 Tonga does not have any confirmed cases of COVID-19, after test results on the country's recent two suspected cases, came back negative from Australia today, March 27.
Minister for Health Hon Dr 'Amelia Tu'ipulotu said today, although this is good news for Tonga, the Ministry of Health will continue to be vigilant in ensuring the public adhere to preventative measures.
There were a total of eight suspected cases, and these were the final two, whose tests came back negative, she said.
This is a critical time since WHO has declared the pandemic is accelerating worldwide. 
"This gives us more time to strengthen what we have in place to curb its spread to Tonga," said the Minister.
Chief Medical Officer of Public Health, Dy Reynold 'Ofanoa said four people were kept in quarantine at HMAF Taliai Camp, Fua'amotu. 
Two would be released on March 29, while the remaining two remain to complete requirements.
He said people of Tonga had joined hands with government and health to curb the spread of this virus, "but there are still a few who choose not to".
Five people who were in quarantine had breached the Health Act, and they will be dealt with according to the law, he said.
Vigilant
Ministry of Health CEO Dr Siale 'Akau'ola, said it is important for the public to know, that Health is carrying out its duties responsibly and in accordance with the law. 
"If they choose to ignore it then they will be dealt with by the Courts," he said.
He also, said that Tonga will remain vigilant in protecting itself from outside spread of the virius.
Foreign Affairs
"There are now 300 plus CoViD-19 cases in New Zealand and more than 2000 in Australia. It is a very critical time as the virus accelerates. Therefore, we are in close communication with Foreign Affairs, to make sure that no one enters our borders, especially at this time, he said.
"If you are a Tongan abroad please stay put there. Those countries have better health resources," he said.
At the same time, even if CoViD-19 cases fall in New Zealand or neighbouring countries, Tonga will still enforce its quarantine measures, on any arrival, if and when borders open up, said Dr 'Akau'ola.
As for testing kits, Acting Medical Superintendent, Dr 'Ana 'Akau'ola said the Ministry has placed an order for a machine and CoViD-19 test kits for Tonga. 
"Maybe in two-weeks time we would be able to secure it," she said.
Meanwhile, Tonga is not taking any chances with this virus, and will on Sunday go into lockdown for a week of all businesses/schools, apart from essential services. 
Tonga had already closed its borders to all commercial flights and banned cruise ships and yachts from arriving into the country on March 23.