By Finau Fonua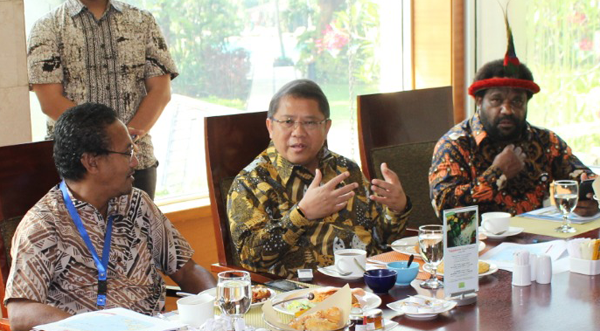 Indonesia's relationship with Pacific Island States is important, said Indonesian officials, who commented on their commitment to developing Papua and who see Indonesia as a member of the Pacific community.
The Indonesian Minister of Communications and Information Technology, Minister Rudiantara, said that his country had invested heavily in developing the infrastructure of its Pacific regions of West Papua and Papua (Western New Guinea), when he addressed a delegation of Pacific Island journalists and civil servants hosted by the Indonesian Government in Jakarta recently.
Accompanying the Minister were two officials native to the country's eastern-most province of Papua. The officials commended the recent "Palapa Ring Project"; a nationwide fibre optic network that connected communities in remote areas of Indonesia including Papua.
"We are Pacific"

In Bali, a senior Government official Dr. Sri Yunanto and the Executive director of Indonesia's Institute of Peace and Democracy Mr. I Ketut Putra Erawan, also stressed that Indonesia was part of the Pacific region and thus relations with its Pacific neigbours were natural.

"Why cooperation between the Pacific and Indonesia is so important from the past and now on is because we are Pacific," Mr Erawan told Pacific journalists.

"Our being is Pacific…Indonesian people are one third Pacific so how can we not be brothers and sisters?...So it is natural for us to need to learn from each other and need to understand each other."
"I would really want to see one day that we have a Indonesian Studies Center in the Pacific or an Asian Studies Center in the Pacific, in the same way we have Pacific studies here…the future is there we need to grab it."
Papua
Indonesian Government senior official, Dr. Sri Yunanto, re-iterated that Indonesia was heavily committed towards developing Papua – a region which has been the focus of concern and criticism by some Pacific Island states, including the Tonga Government.

"What we hear from the international community sometimes is not true," he said.

"In Indonesia, we also have disparity and Papua needs to run a bit faster…and we have a strong commitment from the central Government not only for the infrastructure, for the border, the issue also for the law enforcement. So if there's a problem with the law enforcement, we will tackle that.
"On the issue of human rights, we are committed to that," he asserted.