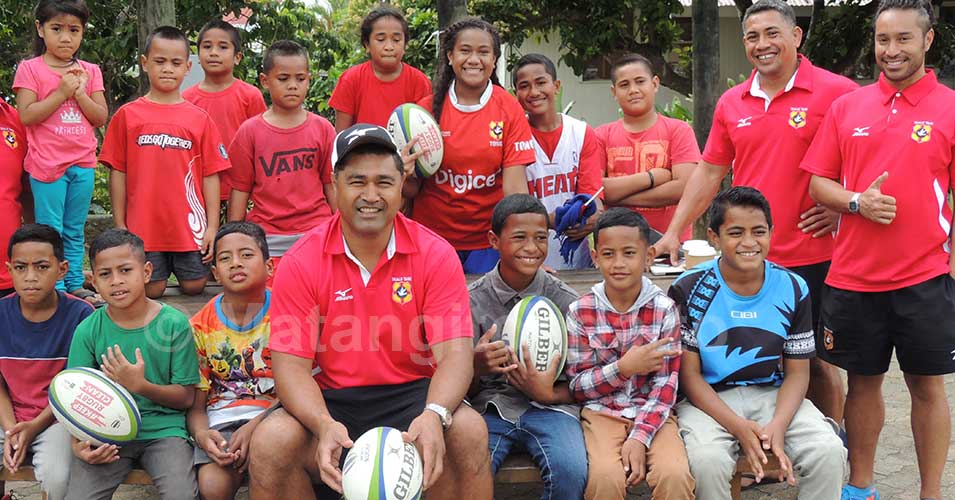 By Eleanor Gee.
'Ikale Tahi coach, Toutai Kefu, this week reflected on Tonga's game against Fiji on Saturday, and also opened-up about some of the challenges facing Tongan rugby and his future plans.
"I thought we outplayed them, so that's a positive. Disappointed we lost but the chances, there were some chances there that we probably didn't take. But the boys played really well."
A last minute try by Tonga was disallowed by the referee, which Toutai admits was correct.
"Yeah, it was a knock-on over the try line. So it was justified, the ref made the right call."
The Flying Fijians win on Saturday saw them clinch the Pacific Nations Cup for the second consecutive year and confirms their qualification as Oceania No. 1 at the 2019 Rugby World Cup (RWC) in Japan. They join Australia, Wales and Georgia in Pool D.
The Oceania No. 2 spot (in a pool with England, Argentina and France) is up for grabs between Tonga and Samoa and depends on the outcome of this week's game between Samoa and Fiji. Should Samoa lose without a bonus point, Tonga will qualify.  
The Oceania No. 3 spot will be decided in a repecharge against a European team.
"I think it may be Russia. If we end up that way, better. If we don't, well we qualify for the World Cup. It's a win-win for me, I think. I'm not really worried about next week's result," said Toutai.
After spending almost four weeks touring, the 'Ikale Tahi team have disbanded back to their normal lives but will regroup in November this year for their annual European tour.
"You know, it happens all the time, just when we're starting to play well, then it's time to break camp so we have to go through the whole process and system again when we rejoin."
Coaching challenge
Toutai said that one of the challenges of coaching is the logistics of getting players, who are based all over the world, together for test matches.
"It takes a lot of work especially before we join camp."
He has four staff to help plan their schedule two months in advance prior to training camp.
"Between the five of us, we're planning two months beforehand. Just identifying players, see what kind of shape they're in, see if they'll be able to take part in the tour and that."
"So it's a long process. It's actually when you get into camp, that's when the easy part starts. I just coach, which is good, but the two months leading into it is quite busy."
Tongan issues
Another huge challenge Toutai says is the level of disorganization and governance issues in Tonga around rugby, while noting that Tonga's government has been very supportive of the team.
"The government in these last three weeks have been fantastic.
"The rugby union haven't helped us at all, so we've been kind of running our own kind of team, but the government has been fantastic."
No opportunities
There is also the lack of opportunity to play more games against tier 1 teams such as the Wallabies and the All Blacks, which Fiji and Samoa have continued to enjoy.
Toutai says Tonga is not ready because of governance and administration issues, although World Rugby makes the call to lock in tier 1 nations.
"We need to be prepared months, years in advance. We're not, we're just not."
Tonga's hosting of the Pacific Nations Cup matches over the last few weeks at Teufaiva Stadium was a challenge. It had been eight years since Tonga hosted a home game.
"I mean we just struggled to put a game together, but I thought we did a good job. There's a lot of underlying issues."
"Also, the tier 1 nations have to want to play us as well."
Another issue is obtaining more sponsorship for the team. Toutai says the opportunities for sponsorship are there but are not being sourced.
"There's sponsors there but we just lack the ability to, for someone to actually go out and source it. It's not my job but that's for someone in governance and administration to do."
Future
With the team continuing to improve following the successful European tour last November and the three test matches this year, Kefu is already preparing for the 'Ikale Tahi tour in November.
"Our November schedule has only just been released. Samoa play England and Scotland in November and we've only got Japan and Romania."
He is also looking towards the next Rugby World Cup in 2019, held in Japan.
"I'm hoping that I can take them all the way through to the World Cup but I have a review process at the end of this, and then my contract runs out in December."
Potential
A former Wallaby, Toutai says one of the differences between players in a team like the Wallabies and the 'Ikale Tahi players is the different levels of professionalism of each athlete.
Toutai would like to see Tongan players reach their utmost potential.
"We're really athletically gifted, but I think mentally we can be a lot better."
"We've got some bloody good examples of professionals in our team. Tane Takulua is a great professional."
However, he added that there is a wide gap between the Tongan athletes level of professionalism.
"So that's hard. Whereas you find Wallabies from a young age they are conditioned mentally to be hard on themselves."
But one thing the 'Ikale Tahi players don't lack, says Toutai, is the Tongan spirit.
"That's probably one thing we have an advantage over the Wallabies as a group."
"You know we're a tiny little nation, we all know each other, we're all family one way or another. We have great camaraderie and spirit."
"But that alone doesn't win you games. You need to work hard as well."
"For me, the number one thing that can improve us is finding the players, good quality players who are professional."
"We've got some players next year that we want to qualify, Charlie Piutau, there's Jimmy Tupou, Sitaleki Timani. There's about six or seven of those that we want to try and qualify, so if we can get even half that group it'll change our squad considerably."
"So that's my biggest target at the moment. There is a group there that I want –my job is to try and get those players over the line and hopefully play for us asap." he said.
Coach
Toutai played for the Queensland Reds between 1996 – 2004 and earned 60 caps playing at number 8 for the Wallabies between 1997 - 2003. In 2001, he scored one of the most notable tries in Wallaby history against the All Blacks minutes before full time giving Australia a famous 29-26 win to retain the Bledisloe Cup.
His coaching career started in 2010 when he became head coach of the Sunshine Coast Stingrays. He was involved with the 'Ikale Tahi team in 2011 as a forwards coach with good success. Tonga famously beat France in the 2011 World Cup. He then moved to Japan as head coach of the Kubota Spears before he was appointed head coach of Tonga in May 2016.