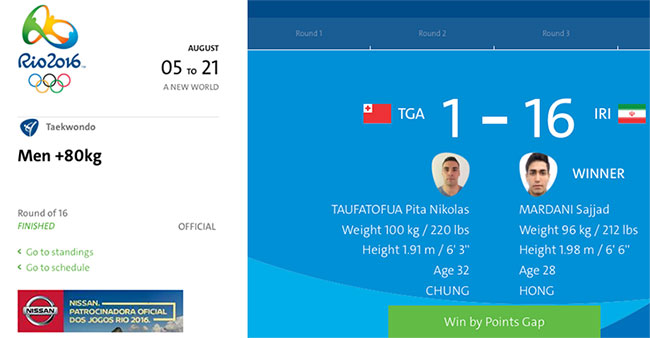 Tonga's famous flagbearer Pita Taufatofua (32) was the last of Tonga's athletes to compete at the Rio 2016 Olympic early this morning (Tonga time) in the Round of 16 Taekwondo Men +80kg.
Pita, ranked 157th in the world, was paired in the first round with the division's No. 2 seed, Sajjad Mardani of Iran. But Pita was the favourite with the crowd at the full Carioca Arena 3 who were chanting "Tonga! Tonga!"
He fell behind 3–0 in 21 seconds, and was outmatched by his taller opponent. The final score was 16–1. The fight was supposed to go three rounds, but Mardani won by "point gap" when he led by more than 12 after two rounds.
Pita was the first athlete from Tonga to compete in the Olympics in Taekwondo. At the 2016 Oceania Taekwondo Olympic Qualification Tournament in February in Port Moresby, New Guinea, he won the final against the 15th ranked fighter in the world to qualify for the 2016 Olympics. He had previously tried to qualify for the Olympics on two occasions.
Pita was ranked 11th in the Rio 2016 Round of 16. He was accommpanied at Rio 2016 by his Coach, Paula Sitapa and Physio Alison Donnan, and supported by family members.
The athlete lives in Brisbane, Australia, where he trains six hours a day. He works at Sandgate House training homeless children to develop independent living skills. He has an engineering degree and is working on his master's degree. He has also worked as a model since he was eighteen.
As Pita entered the arena at Rio 2016 he jiggled his eyebrows for the camera and a commentator for the Olympic Broadcasting Service said: "He's a good looking rooster and he knows it…"
Pita has made a name for himself at Rio 2016 since he appeared as Tonga's oily flagbearer at the opening ceremony, receiving hundreds of emails from admiring fans, made television appearances and received modeling offers. He will take part in the closing ceremony tomorrow (Monday, noon, Tonga time).
Pita posted his thanks for his Olympic experience on his Instagram page "pita_tofua" earlier today. He commented "Felt soo privileged to get out on those mats and represent Tonga!"