By Pesi Fonua
China is on track to achieve its Millennium Development Goals by 2015, and to establish a moderately prosperous society by 2020, Shi Guohui, the Vice-Governor of Binxian County, in central China told a Pacific Islands delegation on May 10.
The Pacific Islands delegation included14 members of parliament and three media personnel from Tonga, Samoa, Solomon Islands, Vanuatu and the Federated States of Micronesia.
The 10-days study tour of China was aimed at offering Pacific Islanders a better understanding of the Chinese system of government and what the China Communist Party has achieved since the People's Republic of China was declared by Mao Zedong at Tian'anmen Square on 1 October 1949.
It was the third such visit to China by Pacific Island delegations during the past few years.
The study tour started in Beijing, where the delegation visited Tian'anmen Square, the Great Hall of the People, and the Badaling Section of the Great Wall of China. There were also presentations by Chinese officials on development projects, and achievements by the Chinese government in their drive to alleviate poverty.
The delegation visited the Province of Shaanxi with a population of 37 million, and the County of Binxian with a population of 355,000.
Binxian is considered to be the cradle of China's farming civilization where there is dry farming for wheat, corn, other food crops; as well as fruits such as apples, pears, dates, walnuts, and persimmons.
While in Binxian the delegation visited some of China's poverty alleviation projects, involving the resettlement of communities who used to live in caves on sides of mountains to newly constructed settlements with facilities such as primary schools, meeting houses and shopping centers. The new settlements are looking to renewable energy, particularly solar energy to supply some of their energy needs.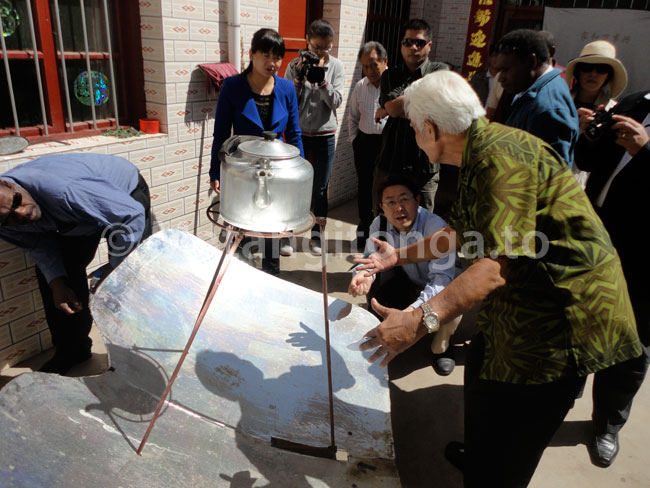 Solar powered cooker. Binxian, China, May 2013
The Pacific Islanders visited the coastal city of Hangzhou and the nearby island of Zhoushan, which is connected to the mainland by the second longest bridges in the world, and in China, the 48-kilometers Zhushan Cross-sea Bridge. They also visited a fish processing factory. Hangzhou and the island of Zhoushan attracted 27 million tourists a year.
The delegation were also treated to some colorful and spectacular cultural shows; a visit to Emperor Qin's Terra-cotta Museum, the biggest on-site museum in China; a giant Buddhist temple at Binxian; and the headquarter sof the China.com.cn, a government news website, and the hub for all internet networking between China and the outside world.
The Tongan delegation included the Deputy Speaker of the Tongan parliament, Lord Tu'iha'ateiho, Tongatapu People's Representative, Sione Taione, and the Matangi Tonga Online publisher/editor, Pesi Fonua.