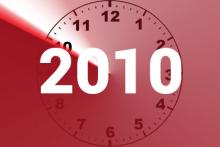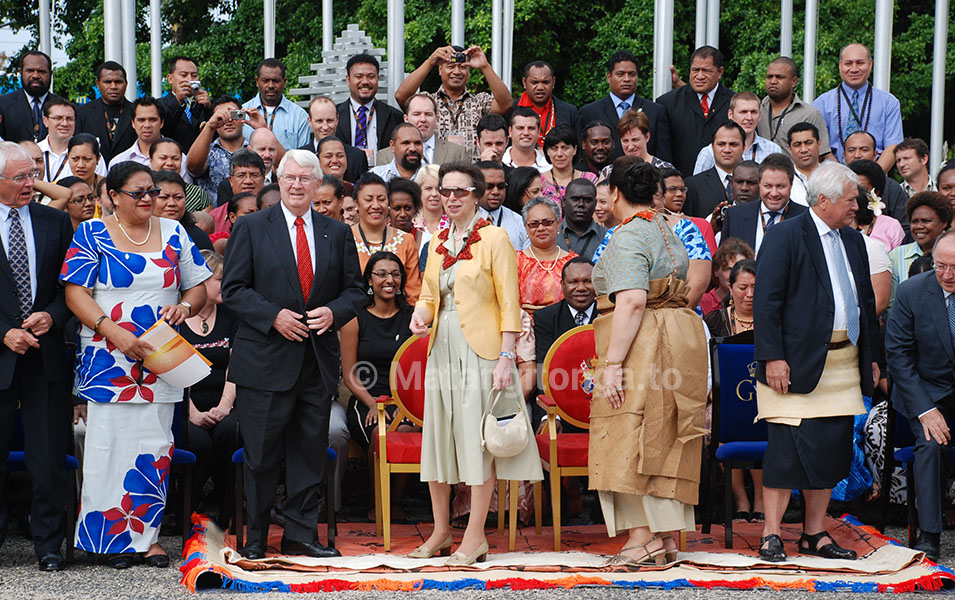 Britain's Princess Royal, HRH Princess Anne, was welcomed with a Guard of Honour to the Fa'onelua Convention Centre, Nuku'alofa on Monday morning, March 22, where 10 Emerging Pacific Leaders Dialogue study groups had gathered for the presentation of their findings before the closure of a two-week study tour of 10 Pacific countries.
HRH Princess Anne was in Tonga for the closing ceremony of the 2010 Emerging Pacific Leaders Dialogue program and to hear the final presentations.
The 2010 Emerging Pacific Leaders Dialogue Program was officially opened in Samoa on March 11 where 130 participants who were selected from twenty one Pacific countries were divided into 10 groups and deployed to Vanuatu, New Caledonia, Papua New Guinea, Tonga, Samoa, New Zealand, Australia, Solomon Islands, Fiji and Kiribati.
HRH Princess Anne travelled from the United Kingdom for the closing ceremony.
The morning was overcast as Primary school children lined the entrance to the Fa'onelua Convention Centre to cheer Princess Anne and Princess Pilolevu as they arrived in a 1947 black Humber Pullman Landaulette. The Drophead Coupe belonging to HM King George Tupou V is one of only two that crossed the equator, and it was used during his coronation.
They were welcomed by the Prime Minister Hon. Dr Feleti Sevele for a Guard of Honour and the hoisting of the Union Jack.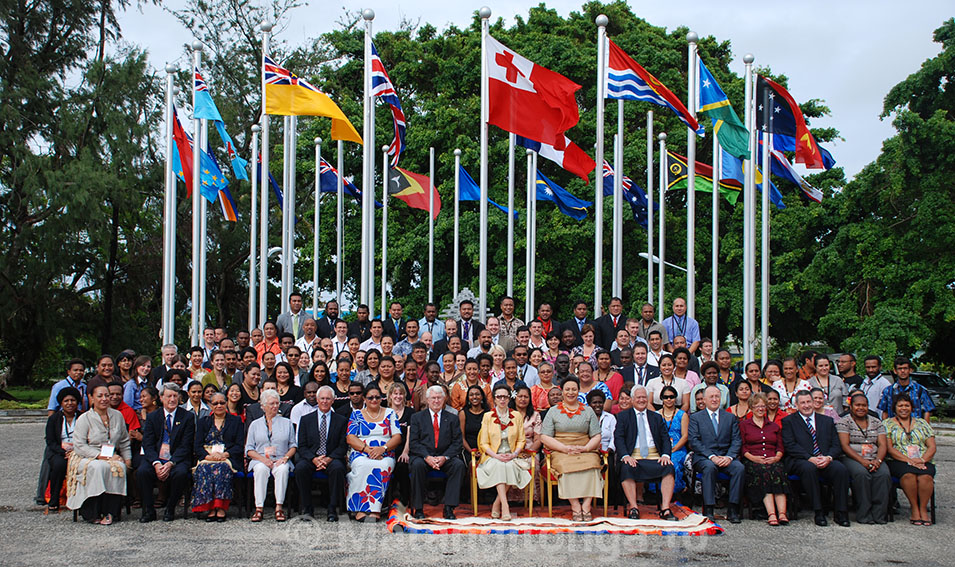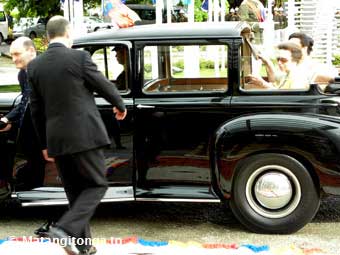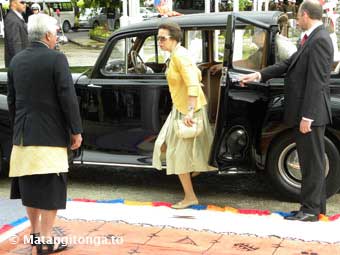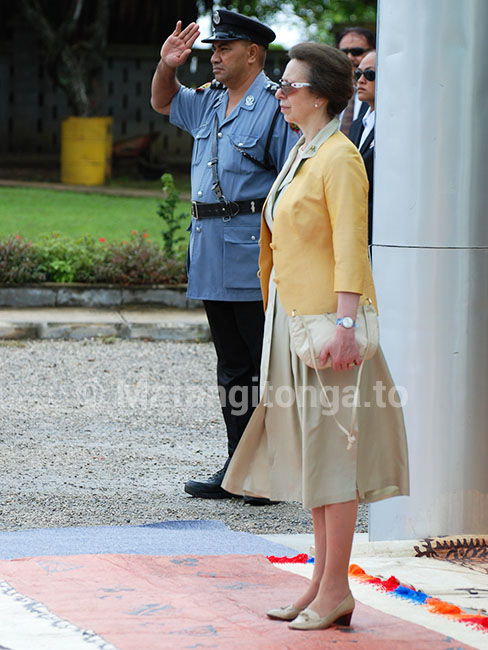 A Tongan flower arrangement was presented by Melenaite Vete, before Princess Anne and Princess Pilolevu proceeded into the conference hall, where they were welcomed by the chair person, Dr 'Ana Taufe'ulungaki, the Director of the Institute of Education at the Tonga campus of the University of the South Pacific.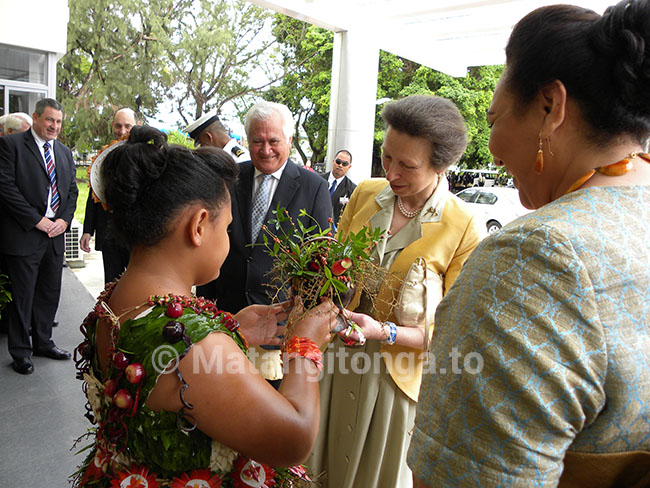 Keynote address
Princess Pilolevu in her Keynote Address said that the ELPD 2010 conference was an important regional initiative for the 130 emerging leaders who were carefully selected to participate and were drawn from across government and private organizations.
The ELPD 2010 theme "Navigating our Future Together" she said was a challenge for emerging Pacific leaders and for future generations, particularly on issues such as sustainable economic growth, good governance, health, education and climate change.
Princess Pilolevu said that the program provided a platform to explore issues and establish long lasting networks and enrich communication.
"ELPD provides a good example of collective forum, as we the Pacific people cannot face globalisation on our own but it requires collective strength and partnership and the program for emerging leaders embraces that collaboration," said Princess Pilolevu.
54 years
After morning tea, the Princess Royal, HRH Princess Anne addressed the gathering. She said that ELPD 2010 marked a 54 years legacy of the conference that had brought together a cross section of people from governments and private organizations.
She said the success of the conference had been gained after being held every four years and noted that her father the Duke of Edinburgh had been closely involved with the conference, which he found, encouraged commitment and dialogue among those who took part.
Princess Anne stressed to participants how important it was to put their presentations and experiences they had learned from visiting various Pacific Island Countries into paperwork, as it would be important for everybody to read their experiences.
Princess Anne also said the conference reflected the diversity and vast background of those involved and more importantly the variety of experiences they shared. She said some people in countries had done better than others but there were none that had done all of it, "so it is vital to keep your doors open for someone to come in and do something better."
Future leaders
The Princess also highlighted that ELPD nurtures growth for future leaders and would not have been possible without the support of government and organizations from across the Pacific.
The Report Back Presentations of Study Tour Groups were in closed sessions. Each group was made up of participants from the ten participating countries, and they were identified with the country they had visited. On Monday the six groups that made presentations were Vanuatu, New Caledonia, Papua New Guinea, Tonga, Samoa, and New Zealand. On Tuesday, March 23, the presenters were, Australia, Solomon Islands, Fiji and Kiribati.
The Princess Royal, left Tonga on Tuesday night.