FROM OUR ARCHIVES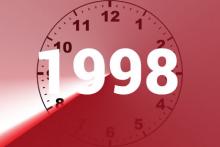 Matangi Tonga Magazine, Vol. 13, no. 2, July-September 1998.
Interview and photos by Pesi Fonua
At 80 years of age, Tonga's King Taufa'ahau Tupou
IV

continues his search for a better life for Tongans

As a leader, the King sets an example, in education, religion, sports and through the example of his own hard working lifestyle. His Majesty was the first Tongan monarch and the first Tongan to earn a university degree, and education continues to be the King's chief weapon for fighting ignorance and poverty in his developing Kingdom.
Tonga reached a new peak in its educational development, when the Royal School of Science was established early this year, and through its on-line service enabling students to study for certificates, diplomas, and university degrees with educational institutions overseas. However, the King expresses his concern about a lack of good teachers at the tertiary level, which has led to the closure of some useful classes in other areas.
As with trade, and an effort to maintain the high value of the Tongan Pa'anga, the King wants to make Tonga the centre in the region for Russian-made products and to open up new trade routes between Tonga and Russia. Tonga will also be importing farming equipment and aircraft from Mainland China.
The King recently introduced a new sport, hockey for girls, which he hopes will make them so tired that they will not have time to get into trouble.
The King granted the Matangi Tonga this interview, as the whole of Tonga prepared to celebrate His Majesty's 80th birthday on July 4, 1998.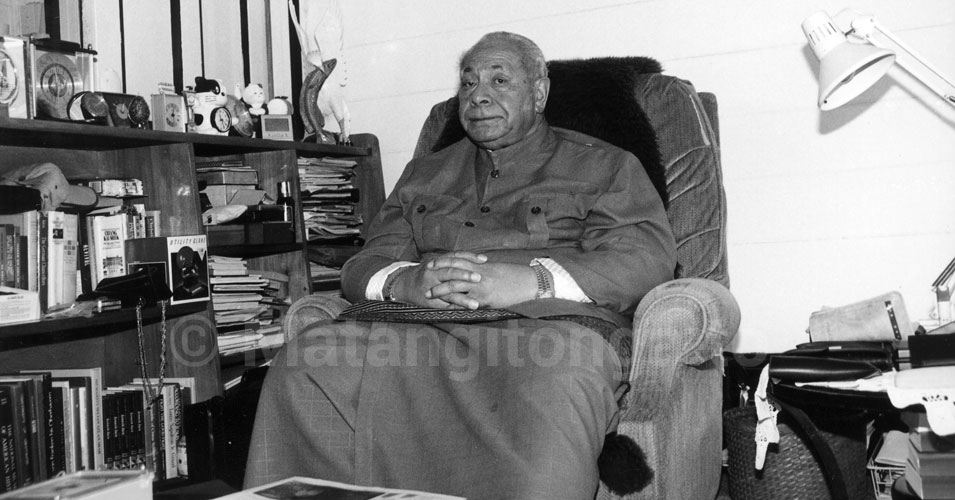 Pesi: Your Majesty, was there any specific project that you would have liked to see the country achieve by the time you reached 80 years of age?
HM King Taufa'ahau Tupou IV: Yes, there was a hope for education, particularly tertiary education to be at a very high level. To date it is doing fine, except that there are a few problems, one is the shortage of qualified teachers, and therefore they have had to discontinue the teaching of some classes, such as cooking, and seamanship, but they are still teaching mechanics and other classes.
The establishment of the Royal School of Science at the Reserve Bank Building, linking students in Tonga to universities overseas seems to be the latest move to advance the development of university education?
Yes, it is a major achievement. It enables university education to be carried out here, and it enables students to have access to information in the libraries of established overseas universities. They are now working closely with two American Universities, Berkeley and a private university, Stanford University. These universities are willing to assist Tongan students by offering them courses, and to open their libraries for them when they are doing research.
I think the next step will be that more overseas universities will be willing to work closely with us, offering more courses, and for us to have access to their libraries. I think in the future we will be able to link up with universities in other places, including Australia and New Zealand.
A few years ago you introduced the teaching of Soroban and the Japanese language?
Yes, they will continue. The teaching of the Japanese language is assisted by the Japanese government, and there are also more people who are able to speak Mandarin, the language spoken by all the Chinese. It is important for Mandarin to be taught at schools because the Chinese are the biggest ethnic group in the whole of Asia, and they have made some progress in a lot of areas.
In the past, whenever there was a big celebration in Tonga there was an amnesty to prisoners to mark the event?
There is a provision for amnesty to prisoners for good behaviour, if it is requested by the Minister of Police.
In other countries like Australia they invest in the training of prisoners to learn certain skills, with the hope that these skills will make them good citizens when they leave prison. They teach them carpentry, baking, cooking, leather work, and other skills. In Queensland the motorbike boots for traffic officers are made by the prisoners, and there are a lot of other countries that have working schemes like that. In our case because of a lack of funds we are not able to do things like that.
Sports
You have just introduced to Tonga a new sport, hockey?
This sport was introduced to the Girls' Brigade, and the committee that looks after hockey has been set up by the Girls' Brigade. There are two sets of hockey equipment there [pointing to a box in the Palace sitting room], a present from Super League, to be given to the Hockey Committee, and there are two more sets to come, donated by the Leiola Duty Free Shop. This equipment will be looked after by the committee, to be used for training and for competitions.
Hockey is the most popular sport for girls in the world, in the USA, Britain, Australia and New Zealand. It is safe and not easy for the players to get injured. It is good for girls, it will keep them busy with their training, and going to bed early, instead of going out to night clubs and pursuing a lustful lifestyle. With sports they look after themselves, their training will keep them healthy and happy, enabling them to pursue other interests in life, and to go to church.
There will also be another sports project for youth, which will start after July 4. There is a present from the German government of soccer equipment, and with this equipment the Boys' Brigade will start soccer for juniors. This is for boys under 21-years-old, and when they get older they can join clubs for open grade soccer. So there will be a Hockey Committee for girls and a Soccer Committee for boys and they will be managed by the Girls' and Boys' Brigades.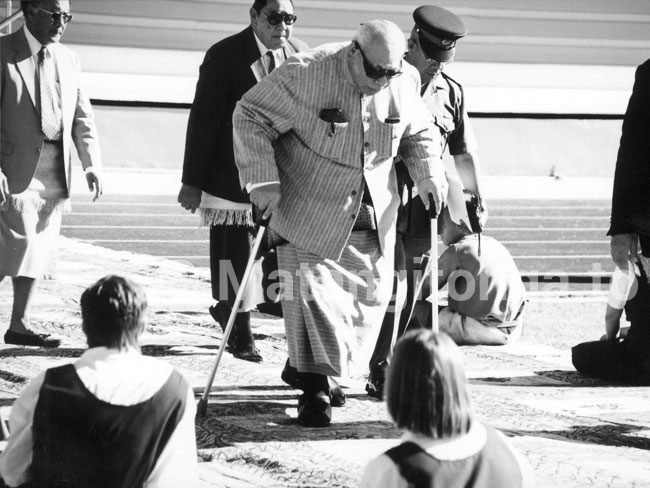 Currency
A matter of great concern at the moment is the declining value of the Tongan Pa'anga against the United States dollar. The cause of the declining value of the Pa'anga is said to be a side effect of the financial crisis in Asia. What can be done to save the Pa'anga?
Yes, the Pa'anga has always been strong, and it will be stronger in the future. We are currently exploring the opportunity of a joint venture with a Russian shipping line to open up a trading link with that part of the world. The Russian Ambassador will be here for the celebration on July 4, and there will be formal discussion on trading possibilities.
Diplomacy
Following the collapse of the Soviet Union...
Yes, but Russia has a bright future because it is rich in mineral resources, oil and other minerals, coal, and it has a big population and therefore they produce cheap goods. They are having some problems since their change of government but there is a big railway line that runs from Vladivostok on the Pacific Coast to Moscow. In the past it used to take eight days, but now it takes only three days. There are about 40 to 60 million people who are living in the Russian Pacific Coast, and there are shipping lines between the Russian Pacific Coast and New Zealand and Australia, and also to America. Negotiation is currently under way with representatives of the Russian government for a closer trading and working relationship.
Since the collapse of Communism, concern has been expressed that capitalism is dominating the world today...
It does not affect trading. The Russian Ambassador in Wellington tried in the past to establish a trading relationship between Russia and Tonga but it was not concluded, and we are trying to conclude it this time. The Russian shipping company FESCO, Far East Shipping Corporation, is based in Vladivostok, and it will open up that trade route.
The most important factor is that during the winter months in Russia, it is summer in Tonga and in the South Pacific, when there are plenty of fruits and vegetables in this part of the world, and the demand is high for these produces in Russia. Australia has a tropical region, and New Zealand is getting its tropical supplies from Australia, and therefore they do not need very much from the islands, except for talo and a few other crops, but it gives us the privilege to trade with Russia, because of their long winter months. The Russians have products which can be imported here, such as caviar, crabs, and Salmon. They do not have these kind of products in Australia, and it will be good to import them here and then distribute them to hotels, in Tahiti, New Caledonia, Cook Islands, Samoa and elsewhere.
I am working toward making Tonga a centre for Russian manufactured goods. The ship that brings in Russian goods will be carrying back tropical products from Tonga and the other Pacific islands.
Looking at the political and the financial problems that are currently taking place in Indonesia. would it be possible for such problems to happen here?
I don't think so. Indonesia is a big country and they have oil, diamonds, palm oil and a logging industry. The country is run by a General from the army and things are better under the new president, he knows about the economy of Indonesia. He is the first Indonesian to have done a lot for the country such as the building of aircraft. The high level of technological development in Indonesia was the work of the new president and Indonesia is able to manufacture its own ammunition for its infantry, air force and the navy. All these new industries were established by the new President. He received his Phd in engineering from Germany.
Looking at Indonesia, it is a big and wealthy country and yet it has such big problems, and comparing it with Tonga, a small country with no mineral resources and yet our standard of living continues to improve year after year. How is it possible for Tonga to achieve this?
I think it is because Tongans have the opportunities to work, and to be able to travel overseas, and to find work there. The standard of education here is relatively higher than what is available in Indonesia with its big population. There are 200 million people in Indonesia and the government just can't educate them all, therefore a big portion of the population can't even write their names.
Our Land Tenure, does it helps to stabilise our economy?
Yes, the Land Tenure helps a lot. They do not have a land Tenure like that in Indonesia.
China
Your visit to China last year?
To mainland China, and they made a bronze statue of myself which is already here. Representatives of the satellite company that financed the making of the statue will be here to present the statue on July 4.
There were rumours that Tonga may become the first country in the world to establish diplomatic relations with the two Chinas, both Taiwan and Mainland China?
We have always have good relations with the two Chinas, not only with Taiwan but also with the Mainland, and with the Chinese who live in Malaysia, Indonesia, and Singapore. We have nothing to do with the relationship between the governments of the two Chinas, their relationship is their own affair. We keep good relations with both Chinas, and we are working with both of them. We have here Chinese from Taiwan and also from the Mainland. The Ambassador of the Mainland China is based in Samoa, but he will be here for a visit. We have met in Apia. When I visited the USA I also visited Taiwan and met the President. I have also met the President of Mainland China.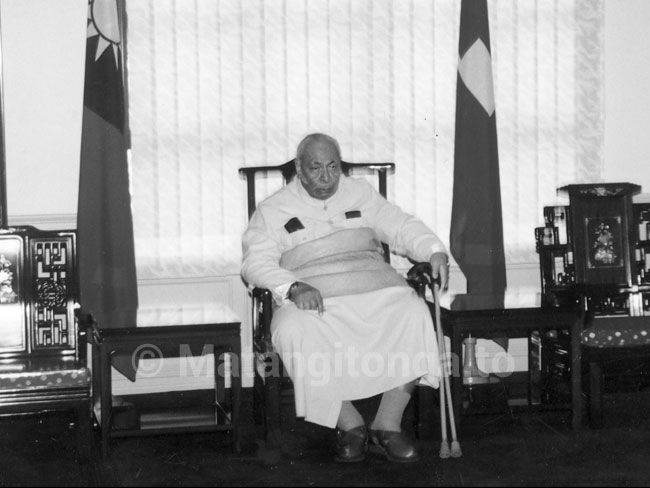 Is there any plan for more trading with Mainland China?
We are currently trading with China. Arriving soon will be a number of small tractors and vans, which have been manufactured in one factory. Small tractors that could hoe the garden and to lay out plastic for the growing of crops. Coming also from Mainland China are aircraft, twin engines and jet aircraft. They are being assembled in China but the engines are from Canada.
There is a concern over the influx of Chinese immigrants, not only here, but throughout the world, including New Zealand and Australia, especially since the collapse of Communism and the easing by Mainland China on its restriction on the movement of its population.
It is not new, it has taken place during the past two and a half centuries, and they are citizens of Canada and the USA. They also have placed top priority in the education of their children, and today they are among the leaders of the countries that they are living in. They are top scholars, top in science, law and in medicine. They are hard workers, have good manners and they don't go out and get drunk.
The heart specialist that looks after me in the USA is a Chinese. When the head of the Heart Unit at Havard University retired they took the top heart specialist from Stanford, a Chinese and made him the head of the heart division of the Havard Medical School. He is the best in his field.
So the way the world is going is not to judge a person by the colour of his skin?
'Ikai, ko e lau lava pe, 'oku 'ikai ko e lau lanu, ka ko e lau lava.
No, but by what he can do, it is not by the colour of the skin but what that person can do. If a person is capable and knows what he is doing, he is given the opportunity. America is like that. The army general who led the American army in the Gulf War was a black man, Colin Powell from Jamaica. He has retired, and has been replaced by another general, a Russian.
So this is the way of the world today?
The main thing is to have good manners, be smart, know what you are doing, then there is no reason why a person is not given the opportunity.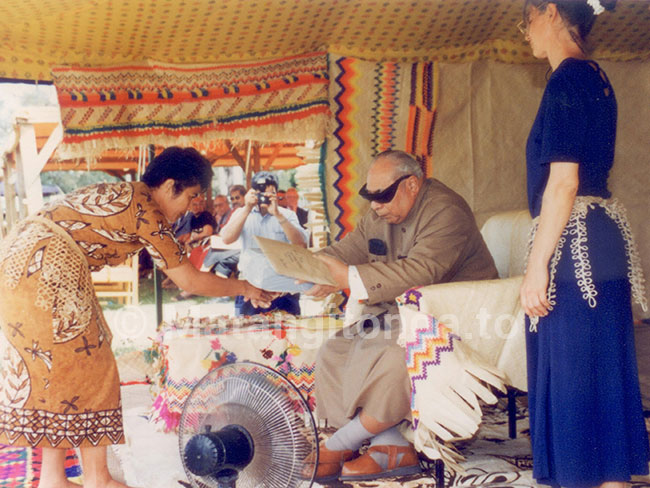 Commonwealth
The goings on between Pakistan and India, what do you think the Commonwealth would do about the dispute between these two countries and their nuclear weapon capabilities?
There are three sides to that dispute, involving India, Pakistan and China. China is a friend of Pakistan. India on the other hand has had wars with China and also with Pakistan, so an element of mistrust exists among these countries.
Would it cause any upheaval within the Commonwealth?
I don't believe so because it is an old feud between India and Pakistan, they have dispute over Kashmir, an area with a big population of Muhammadans but it is a part of India. Tonga has a very good relationship with both Pakistan and India.
Oil exploration
Your interest in oil exploration, and the project to establish an oil storage here in Tongatapu and in Vava'u. What is the latest development in that area?
They are all still in progress, and an engineer from one of the oil companies will be here soon to survey our harbours, to confirm that oil tankers with 20,000 tonnes capacity could enter the harbour.
The land that has been acquired in Papua New Guinea and Hawaii?
They are there, and there is a town allotment in Hawaii, but the leasing of a bigger property has not been finalised. But Hawaii is better because it is easier to market produces there, and we will also be dealing in American dollars. In Papua New Guinea, there are a number of problems.
Economy
As we are entering the 21st Century, is there going to be any change in our source of income, moving away from agriculture to something else?
I believe so, but at the moment our immediate needs are catered for. Half of our population lives and work overseas, and they are contributing a lot.
With the advent of the World Trade Organisation, which Tonga is yet to be a full member, and the movement toward globalising the economy. With a small economy as ours, do you think this would work in our favour?
There are opportunities which Tonga should take advantage of, but we do not, such as making use of swamp areas at Folaha, Hofoa, and in the eastern district, from Talafo'ou to Kolonga. All these areas will be planted with talo Tonga for export to Pago Pago, on a shipping service that will run to Pago Pago every week, and we should be able to meet the demand for talo Tonga from American Samoa.
The plan to plant talo Tonga for export to Pago Pago is to be carried out by Tonga College, after it is sold and the expenses paid then the profit is divided among the students to meet their school expenses. The foreign earning from the export of talo will help increase the foreign reserve of the country, and the students will also have money to meet their financial needs.
When is this going to start?
The Ministry of Land is carrying out a survey, and when it is completed then the program will begin. The idea is to assist the students.
Now that we are just about to enter the 21st Century, is there a certain level of development that you would have liked us to achieve?
When the time comes, then we will be moving on to the new century.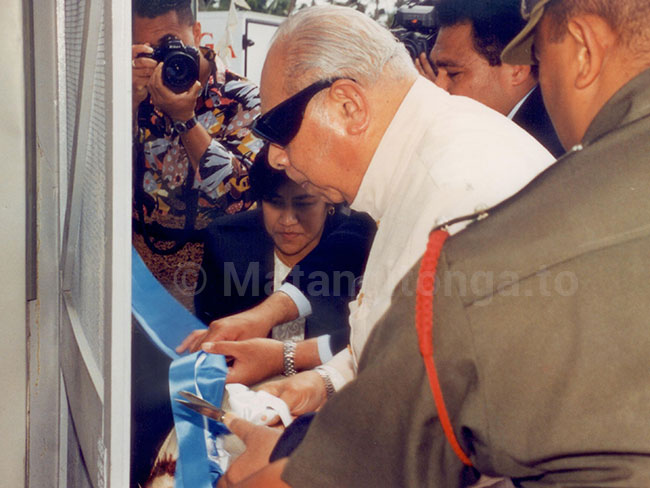 International Dateline
What was the main reason for the Dateline to be curved around Tonga, putting Tonga in the same time zone as Fiji, and not with Samoa, as it would have been if it followed the 180 degree latitude?
It was based on historical trading links, because Tonga in those days was trading more with Fiji, Australia and New Zealand, but less with the USA and those countries. On the other hand Samoa belonged to the other time zone because it was a German territory, while Tutu'ila was an American territory and Germany also had big trading posts in South America, in Chile and then from there to Samoa. The Americans made straight contact with Tutu'ila. All that was happening mainly in the eastern hemisphere. We wanted to be part of the western hemisphere because we were trading more with New Zealand and Australia.