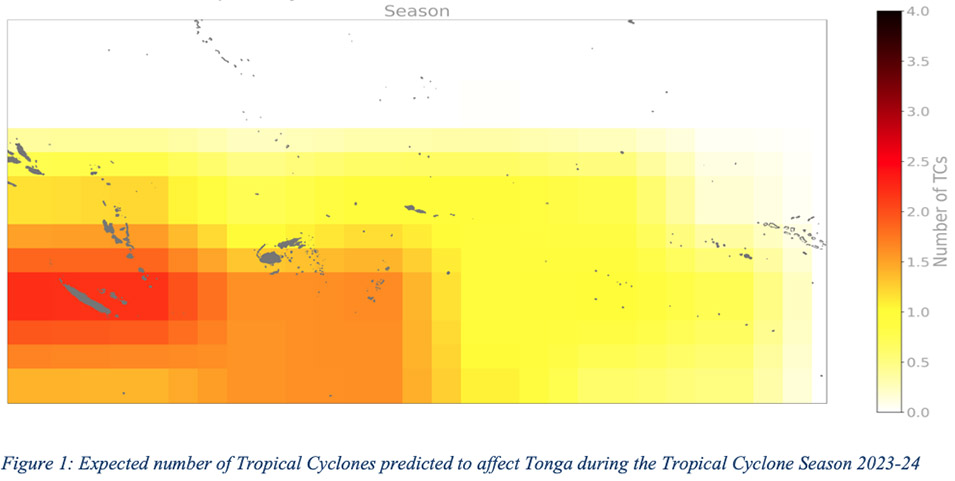 Tonga is expecting up to three tropical cyclones, including at least one severe tropical cyclone for the 2023-24 cyclone season, Tonga Meteorological Services warned today. Most tropical cyclones occur in Tonga between January and March.
Tonga can expect tropical cyclones to occur between January and March, with most events occurring in February.
Today the unusally Severe Tropical Cyclone Lola (Cat5) over Vanuatu marks the beginning of the 2023/24 tropical cyclone season in the South west Pacific.
This means that the TC season will be longer than normal from this month and extending into May 2024, due to the El Niño conditions.
"Sea surface analysis indicates that the El Niño–Southern Oscillation (ENSO) condition should last until June 2024"
This is not unusual during El Nino years as tropical cyclones have occasionally formed outside the seasonal period.
Tonga Met expects tropical cyclones affecting Tonga in the 2023-24 season to be mostly coming from the west and north-west quadrants, Fiji area (67%) and the rest from the north, east and northeast quadrants.
About eight to 14 named Tropical Cyclones are expected for the South West Pacific Region, that is the Nadi Area of Responsibility, from 160E to 120W and from the equator to 25S, for this cyclone season, with five to seven tropical cyclones reaching severe intensity (Category 3 to 5).
Drought warnings
This tropical cyclone season will likely bring below average rainfall to all island divisions of Tonga due to El Nino conditions.
Currently, Tongatapu and 'Eua are already in drought conditions, drought warnings are in place for Ha'apai and Vava'u Island divisions, and drought alerts are in place for Niuatoputapu and Niuafo'ou.
Cyclone patterns
Current Sea surface temperature patterns indicate that the 2023/24 Tropical Cyclone season is expected to be similar to six other Tropical Cyclone seasons in the recorded past (1982-83, 1987-88, 1991- 92, 1997-98, 2009-10 and 2015-16).
"It should be noted that under similar conditions in the past the 2015-2016 season produced a total of six tropical cyclones over Tonga".

Tonga Meteorology advised for the public and important sectors to carry out necessary preparations:
Agriculture - Although there is an average to above average likelihood of Cyclone occurrence, it is the cyclone season strong wind events and below average rainfall will happen from time to time and crops prone to wind damage like Banana, Papaya and Breadfruit will be affected. At the same time, El Nino conditions will bring below average rainfall which will affect crops such as Kava, Taro, Banana and Giant Taro.
Water - Water deficit during this season is to be expected. Therefore, rainwater should be collected and harvested this season as much as possible. Use water wisely and water sources will need to be tested regularly to ensure quality.
Health - Higher risk of water contamination related diseases occurring due to below average rainfall expected and drought conditions. Drought related diseases will be elevated to a higher risk.
 Infrastructure - There is a moderate to high chance of one severe cyclone happening this season, so the public are advised to fix shutters and trim trees near the house just in case we get a severe event.
Tourism - Moderate to High risk for Tourism activities due to moderate to high chance of a severe cyclone occurring.
Fisheries - Ocean nutrients will be less abundant due to El Nino conditions so expect tuna fisheries to decrease during this season. Expect coral bleaching or algae blooms in areas with higher-than-normal sea temperatures. These could occur over northern Tonga.
Utilities - Moderate to high risk of Communications, Water and Power utilities failures due to tropical cyclone activity. Preparatory action now to trim trees near power lines could minimize downtime during Cyclones.
Transport - Moderate to high risk of above than normal cancellations to ferry and aircraft operations due to stronger winds and tropical cyclone activity. Lower risk road and drainage flooding related problems due to expectation of below average rainfall.
Vulnerable Groups - There will be a need to establish support mechanisms and services to support the vulnerable groups in terms of water availability and quality related to prolonged drought and mobility issues as there is a higher probability that people living with disabilities will need to be evacuated due to increased risk of cyclone frequency.
Coastal Communities - Need to plan for a higher number of cyclones expected during the season and the likelihood of higher sea levels associated with El Nino. Coastal flooding from both cyclone frequency and higher sea levels could be more frequent.
Emergency Management Services and Disaster Reduction Agencies - Prepare for water shortage with a high impact on the smaller outer islands and higher risk of bush fires and more responses to cyclone events.
All communities are urged to be vigilant and follow forecast information provided by the Meteorology Department (MEIDECC). An update to this outlook will be issued around January 2024.