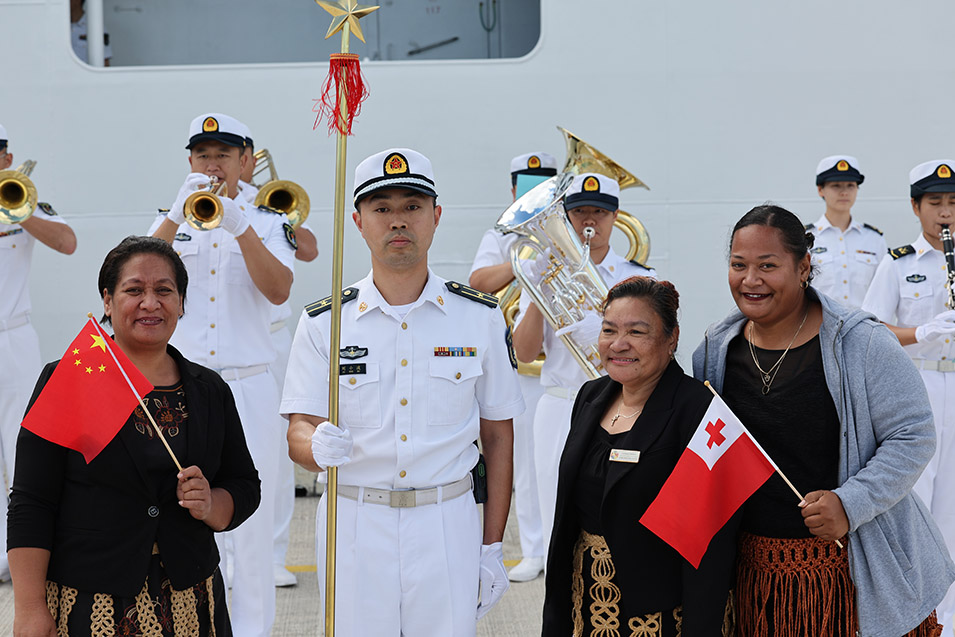 Photos by Tupou Vaipulu Jr.
The Chinese Navy Hospital Ship, the Peace Ark docked at Vuna Wharf to a welcoming fanfare this morning, 28 July.
The Prime Minister Hon. Hu'akavameiliku, the Ambassador for the People's Republic of China to Tonga, H.E. Cao Xiaolin, government officials and locals gathered at the Vuna Wharf to meet the ship on its third goodwill visit. The Chinese humanitarian medical mission from 28 July to 4 August 2023, will provide week-long free medical treatment for people in Tonga.
Hon. Hu'akavameiliku urged the Tongan public to use the free services [starting from Monday] on the ship. The PMO said that the Ministry of Health is in close collaboration with the ship in organizing Chinese medical teams designated to village health centres, while a helicopter team is assigned to dispatch immediate medical cases in the outer islands. A medical team will also be visiting Primary and Secondary Schools for educational exchanges.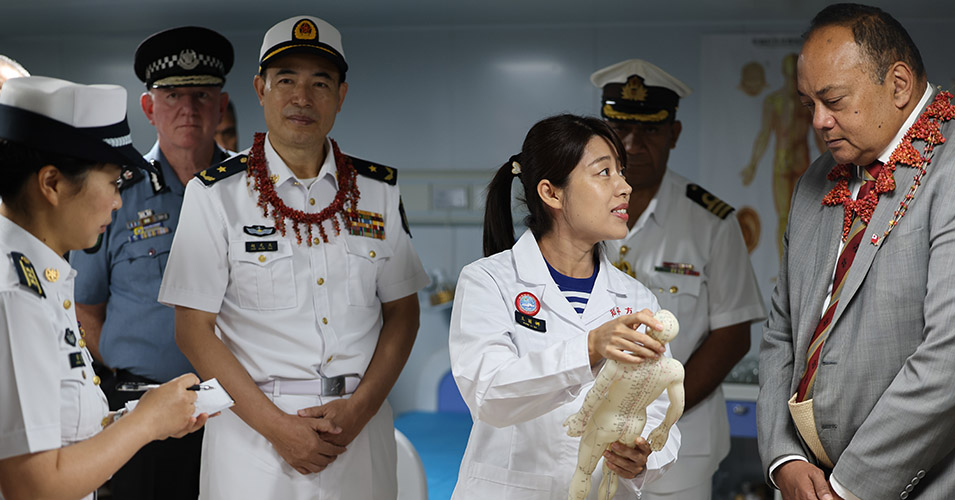 Many local Chinese gathered to greet the ship waving Tongan and Chinese flags.
The Ship is commanded by Chief of Support Department of Eastern Theatre, Rear Admiral Zhao Guangqing and Deputy Chief of Political Department of Eastern Theatre Command Navy, Command Navy and Rear Admiral Li Xinke, who will call on local officials and HMAF.
In an address at the wharf,  Admiral Zhao Guangqing said, "An ancient Chinese proverb, 'A close friend afar brings a distant land near'. China and Tonga are separated by the vast Pacific Ocean but we are bound together by our profound friendship."
The visit comes ahead of the 25th Anniversary of the establishment of diplomatic relations between the Kingdom of Tonga and the People's Republic of China, in 1998.
The Peace Ark will depart Nuku'alofa on 4 August 2023. It will also visit Kiribati, Vanuatu, Solomons Islands and Timor-Leste during its mission.