Barefoot rugby in Tonga will welcome the distribution of 20,000 pairs of sports shoes to 30 high schools this week, along with sports equipment donated by the Auckland Blues in New Zealand, under the club's Best Foot Forward for Tonga initiative .
Hale T-Pole, a former
NZ
/ Tonga professional rugby player, joined Blues representatives, Sarah D'audney, Sam Pierce in Nuku'alofa, handing over  boxes of shoes to student representatives from schools, including Tonga College, Mo'unga'olive High School, Queen Salote College, Tupou College, Takuilau College and Tailulu College, at Teufaiva Stadium on 13 September.
The Best Foot Forward for Tonga initiative aims to help make a difference to the youth in Tonga, impacted by the natural disasters in January.
Ms D'audney said that every year their team runs a Best Foot Forward campaign, where their communities donate shoes and boots for distribution to the region.
"With the shocking images of the natural disaster in January, we really felt that this year was about giving back to our Tongan communities.
"Not only our Tongan players, past and present but also our Tongan fan base, who do so much for us as a club, so this was a chance for us to give back and rally the Blues community to donate their shoes and sports equipment."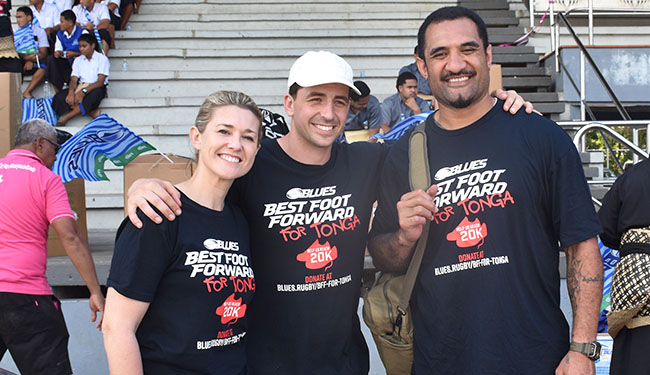 CEO
of the Ministry of Internal Affairs, Dr Fotu Fisi'iahi, said that the children were afraid to go outdoors, following the volcanic eruption and tsunami disasters, with the fear lingering for a while. The shoes and equipment donated will encourage them to come outdoors, utilize them and, hopefully, lessen their fears.
"You will be visiting those affected areas tomorrow and it will give you a perspective of how hard it was for them to live in the natural disaster aftermath, these donations will touch a lot of lives and make a difference."
He extended his sincerest appreciation to the
CEO
and the management team of the Auckland Blues, on behalf of the Prime Minister and the Government of Tonga.
Dr Fisi'iahi hoped that the high school students will put the shoes and sports equipment into good use while continuing to developing their skills in various types of sports.
Blues players Karl Tu'inukuafe, Ofa Tu'ungafasi, Maiakawanakaulani Roos and James Lay led this year's
Blues Best Foot Forward - For Tonga
campaign, after the natural disasters.
The program aims to help bring some normality to our Tongan whãnau the best way they know how, which is through sport. They collected 20,000 pairs of pre-loved shoes and other sporting equipment through the support of their community.