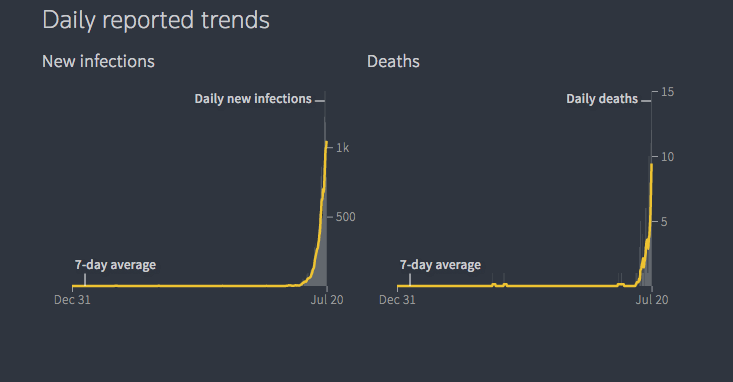 Two pregnant women in their early 30s  from Lami were among the 21 new COVID-19 deaths in Fiji reported as new infections and deaths surge there.
Neither of the pregnant women had been vaccinated. However, their babies were delivered by emergency surgery and "the fast actions of the obstetric team saved both babies," Fiji's Ministry of Health reported today.
"Maternal deaths due to COVID-19 are a clear indication of the severity of this outbreak," said Fiji Permanent Secretary for Health, Doctor James Fong, who urged Fijians to stay at home. "We are now in the midst of a wave of COVID-19 infections."
"We are racing to vaccinate as many Fijians as we can. Do your part as well. Follow the rules, and be vaccinated when you have the chance," he said.
"Of the 144 lives we have lost to COVID in this outbreak, none were fully-vaccinated, 22 were partially-vaccinated, having received only one dose, and the rest had no vaccination."
Fiji has recorded 1,091 COVID-19 cases in a 24-hour period ending at 8:00am on July 21.
The seven-day average of new cases daily is 1111 cases per day, and with the high numbers of new daily cases they are also seeing increasing cases of severe disease and deaths.
Since the pandemic began Fiji has reported a total of 20,443 cases of COVID-19 and over 146 deaths.
"Given the rapidly evolving situation, our teams have been working around the clock to reprioritise and focus our efforts to ensure we are protecting those most at risk of severe COVID-19 and dying - our elderly, people with existing medical conditions and pregnant women," stated Dr Fong.
"These shifts include changes to our testing services, home quarantine guidance, ensuring we are providing life-saving medical care to those people who are most at risk, and establishing vaccination for pregnant women."
He said that both pregnant women from Lami who died were admitted with severe respiratory distress separately on July 13 and the other, on the following day. "Sadly, their conditions worsened as one women died four-days after being admitted, while the other passed away six-days after."
In addition, only three out of the 21 new deaths had received one dose of the vaccination. The rest had not received any vaccination.
The current outbreak is contained to Viti Levu primarily at Lami-Nausori but over the last week they have also seen increasing cases in the Western Division of Fiji.
Meanwhile, 410,495 adults have received their first dose of the vaccine and 83,732 have received their second doses. This means that 70% of their target population have received at least one dose and 14.3% now fully vaccinated nationwide.
Fiji has had to rapidly expand its health facilities by establishing field hospitals and using tents to care for COVID-19 patients. "Many people's lives have been saved in those temporary facilities and we will continue to rely on their use until more Fijians are vaccinated," said Dr Fong.