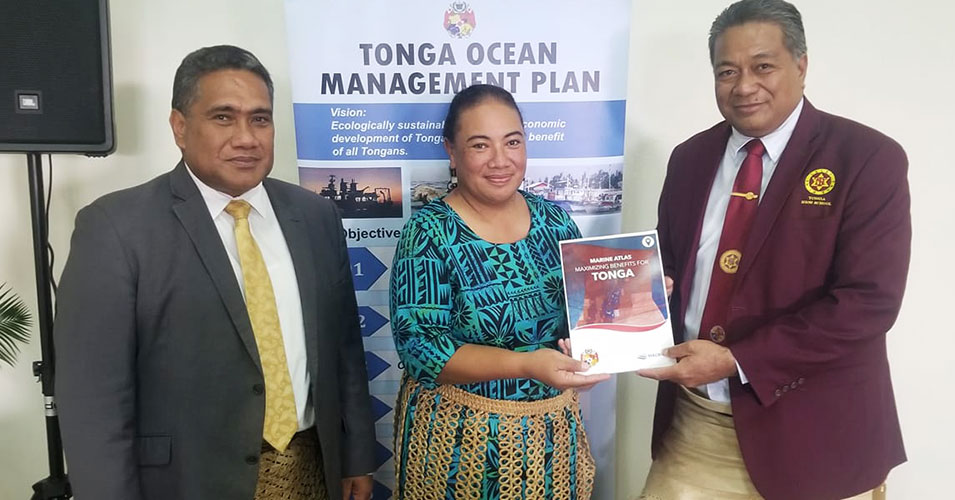 Tonga's Marine Atlas was launched to commemorate World Ocean's Day under the theme 'The Ocean: Life and Livelihoods" (Ko e Oseni- hono ngaahi me'a mo'ui pea koe ma'u'anga mo'ui) by the Minister for Environment (MEIDECC), Hon Poasi Tei, on June 8 in Nuku'alofa.
"The theme sheds light on the wonder of the ocean and how it is our life-source, supporting humanity and every other organism on earth," said the Minister.
The event also formally recognized achieving Tonga's 30% Marine Protected Area target in 2020, a commitment made at the UN Ocean Conference in 2017.
Tonga's Ocean Plan aligns with the United Nations Sustainable Development Goal 14, "Conserve and sustainably use the oceans, seas and marine resources" by 2030.
Hon. Poasi Tei said Tonga is choosing to ensure a sustainable future for current and future generations.
Marine protected areas are essential for safeguarding biodiversity and the health of marine ecosystems. They provide sanctuary for species to mature, reproduce, and help restore healthy populations within and beyond their borders.
Tonga's Marine Atlas and the process to create the Tonga Ocean Plan utilized best available science and relied on extensive input from ocean stakeholders and communities. 
The launch event at Davina House in Ma'ufanga was attended by local government officials, and representatives from the private sector, non-government agencies and international organizations, including the WAITT Institute and IUCN.
Tonga's Ocean Plan is developed with financial and technical assistance from the WAITT Institute, IUCN, and VEPA; with coordination and development by the Ministry of Lands and Natural Resources, Ministry of Fisheries and Ministry of MEIDECC.