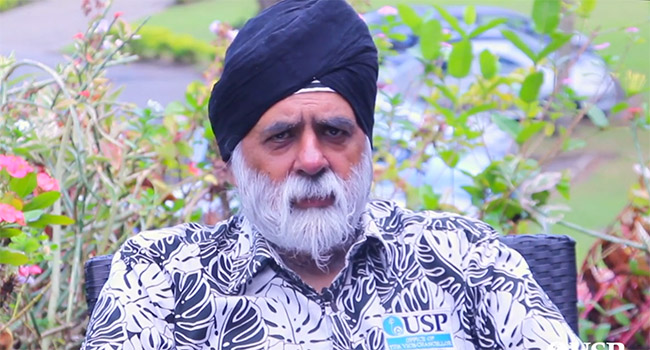 Following the Fiji Government's sudden deportation of the Vice-Chancellor of the University of the South Pacific, Professor Pal Ahluwalia, the USP Council on Friday, appointed Tonga's Dr Masasso Paunga as the interim Acting Vice-Chancellor.
Dr Paunga was also appointed President of the  USP Council, at its special meeting on 5 February 2021. (Dr Paunga, is the USP Vice President, Regional Campuses and Estate and Infrastructure.)
The USP Council and Senate Secretariat stated that Professor Ahluwalia was not dismissed from his post.
"The Council was not consulted over Professor Pal Ahluwalia's deportation," USP said. "It has not made a decision to dismiss him and expressed disappointment that it was not advised, as Professor Ahluwalia's employer, of the decision to deport him."
The Council has established a sub-committee, chaired by the current Chancellor, the President of Nauru, HE Lionel Rouwen Aingimea, including the Council representatives of Australia, Tonga, Niue, Solomon Islands, Samoa, and two USP Senate representatives to look into the deportation.
"The sub-committee will bring recommendations on these mattters to Council."
On Thursday February 4, the USP's Senior Management Team reported that the Fiji police had arrested the Vice Chancellor and President, and his spouse Ms Sandra Price, who were held in custody.
"The safety and welbeing of our staff and students and the continuation of University operations remain ourt priority," they said.
Midnight raid
International media reports emerged last week that the Fiji Police had carried out a midnight raid at the home of Professor Ahluwalia and summarily deported him on orders of the prime minister.
Australian media reported that up to 15 immigration, police and military officials forced their way into Prof. Ahluwalia's home in Suva on Wednesday night, revoked his work permit and escorted the vice-chancellor and his wife, to Nadi international airport. He was then forced on to a flight under military guard to Brisbane, Australia on Thursday.
Professor Ahluwalia's previous exposure of allegations of corruption and financial mismanagement under previous university administrations had angered the Fijian government.
"This is a classic case of beating the whistleblower up," Ahluwalia told the ABC.
Kenyan-born Canadian citizen Ahluwalia began his tenure as USP vice-chancellor in January 2019 with a mandate for reform and modernisation of the 52-year-old institution.
But a report he authored, alleging widespread irregularities, including massive salary increases, misappropriation of allowances, and unearned promotions that took place under the 10-year reign of the former vice-chancellor Prof Rajesh Chandra, and pro-chancellor Thompson, was leaked, bringing intense public scrutiny on the university.
Ahluwalia's report sparked an independent investigation by New Zealand-based accounting firm BDO, ordered by USP's audit and risk committee. The BDO report found some of the allegations were substantiated and said further investigation was required along with "stronger oversight" from the university council.
The Fiji Government Immigration Department ordered him to leave Fiji alleging continuous breaches by both individuals of Section 13 of its Immigration Act.
Under Section 13 of the Immigration Act 2003, no foreigner is permitted to conduct themselves "in a manner prejudicial to the peace, defence, public safety, public order, public morality, public health, security, or good government of Fiji."
Professor Pal Aluwahlia and Ms Price who were in Fiji on work permits were declared "prohibited immigrants".
Professor Ahluwalia previously made it known that the Australian Government had suspended payments to the university due to mismanagement last year.
Fiji parliament
Meanwhile, this morning, February 8, opposition MPs walked out of Parliament, after the Speaker of Parliament, Ratu Epeli Nailatikau ruled out two motions submitted to his office by the Opposition, The Fiji Times reported. This was after  Opposition MP Professor Biman Prasad had requested for an urgent motion and an urgent oral question relating to the deportation of the Vice-Chancellor of USP, and Opposition leader, Ratu Naiqama Lalabalavu had asked for an adjournment.
The Fiji National Federation Party on its Facebook page said the Opposition had walked out in disgust after the Speaker of the House rejected an urgent motion and an urgent oral question relating to the arbitrary arrest, detention, and deportation of the Vice-Chancellor of USP.
12 Pacific Island nations
The University of the South Pacific (USP) is jointly owned by 12 small Pacific islands has received significant funding from the Australian Government.
The members of the Council, the Executive Governing body of the University of the South Pacific, including Tonga's representatives are:
Mr Winston Thompson, Pro-Chancellor and Chair of Council;
Professor Pat Walsh, Deputy Pro-Chancellor and deputy Chair of Council. Also New Zealand Government Representative;
Professor Pal Ahiuwalla, Vice-Chancellor and President;
Hon Vaine Mokoroa, Cook islands Minister for Education;
Hon. Alexander Teabo, Kiribati, Minister for Education;
Hon. Kitiang Kabua, Marshall Islands Minister for Education, Sports and training;

HE

Lionel  Aingimiea, Nauru President and Minister for Education;
Hon. Sauni Tongatule, Niue Minister for Education;
Hon. Lanelle Tanangada, Solomon Islands Minister for Education and Human Resources Development;
Hon. Elehi Kelihiano Kalolo, Tokelau Minister for Education;
Hon. Timi Melei, Tuvalu Minister for Education, Youth and Sports;
Hon. Simeon Seoule, Vanuatu Minister for Education and Training;
Hon. Loau Keneti Sio, Samoa Minister for Education, Sports and Culture;
Mr Leasiosiofa'asisina Oscar Malielegaoi, Samoa Chief Executive Officer, Ministry of Finance;
Hon. Rosy Akbar, Fiji Minister for Education, Meritage and Arts;
Dr Anjeela Jokhan, Fiji Permanent Secretary for Education, Heritage and Arts;
Ms Makereta Konrote, Fioji Permanent Secretary for Edonomy;
Ms Fay Yee, Fiji Government Representative;
Mr Mahmood Khan, Fiji Government Representative Also Chair of Audit and Risk Committee;
Hon. Siaosi 'Ofa Ki Vahafolau Sovaleni, Tonga Minister for Education and Training;
Professor Caroline McMillen Australian Government Representative;
Ms Aloma Johannson, Co-Opted Also Chair of Finance and Investments Committee;
Professor Sushll Kumar, Senate Representative; Professor Surendra Pradad, Senate Representative;
Mr Joseph Sua

USP

Students Association Representative;
Mr Viliame Naulivou,

USP

Students Association Representative;
Dr Krishna Raghuwaiya University Staff Representative;
Dr Robin Havea University Staff Representative;
Ms Martha Henry Co-Opted;
Mr Semi Tukana Co-Opted;
Ms Petunia Tupou Co-Opted.