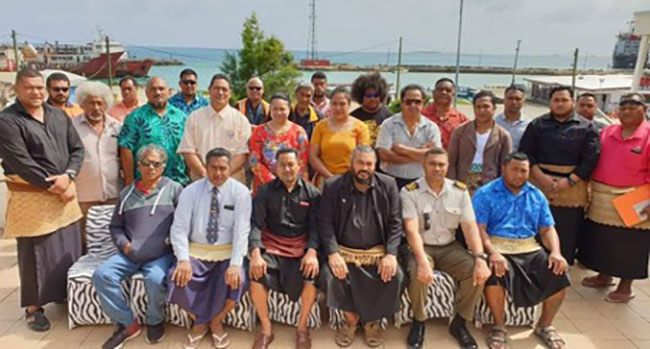 In Tonga we loose more lives at sea than through natural disasters, 'Ofa Fa'anunu told maritime operators in Tongatapu and 'Eua on October 16, in a consultation workshop  by the Tonga Meteorological Services, aimed to improve weather and radio services.
Director of Meteorology, 'Ofa Fa'anunu said safety of life at sea here in Tonga is of paramount importance. 
"We loose more lives at sea than natural disasters. On average, loss of life at sea is at five annually. This year alone, the toll is already at five."
He said because the weather warning and maritime radio mandate is with the MET Office, this workshop hosted today was to liaise with the maritime community on how to look at ways they can improve these two services, so to try and reduce the number of lives lost at sea.
'Ofa said at the same time Government is looking to establish a National Policy on Multi-hazard Early Warning.
"This is to establish a set of guidelines and principles nationwide to guide Early Warning so everyone understands how to respond to hazards and warning situations. This is an opportunity to consult the maritime stakeholders on what they want to see in a national policy.
"In addition, we are planning to establish a new VHF/HF Radio interactive discussion service every morning to maritime operators. We plan to have a meteorologist brief on the weather and a Radio Operator to brief on navigational warning and safety information. We are introducing this idea to the marine operators today for discussion and endorsement," he said.
The consultation looked at six different areas, that included:
Informing all Maritime time sectors of the Upgrades being planned under the

PREP

 Project,
Consultation on a new

VHF

/

HF

interactive briefing/discussion service with Boat owners,
How to improve

MET

Office warning products,
How to use traditional knowledge to better explain scientific or technical forecasts,
What policies maritime stakeholders would like to see in a National Early Warning Policy,
How to improve service delivery.
The consultation workshop by the MET Office of the Ministry (MEIDECC) was held at Davina House in Nuku'alofa.