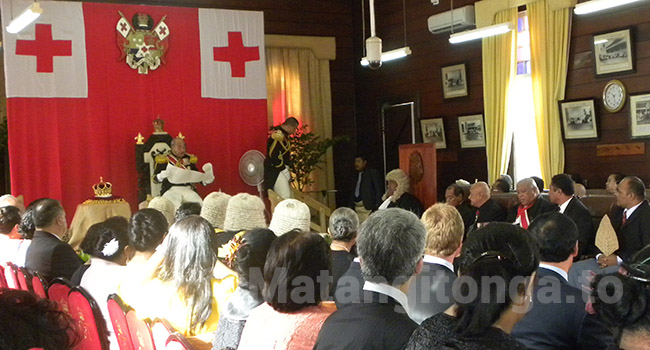 Editor's Comment, by Pesi Fonua
Next year, on 4 January 2021, it will be a decade since Tonga's Democratisation Reform initiative was launched, on what turned out to be an inauspicious date.
Although the reform initiative was launched nine years ago, Tonga remains deeply uncertain on a number of issues that are fundamental to cementing the reform, such as the political structure and the economic system that we, as a nation, want to put into place to drive forward our Democratization Reform. There was a hope for checks and balances and more transparency, ushering in a new era of better, more professional government and political representation, with commitment to proper or due process.
It is worth remembering that the reform initiative of 2011 came amid our failure to successfully implement an earlier Economic and Public Sector Reform Program that was launched in April 2002.
Siosiua 'Utoikamanu, then Minister of Finance, nearly 20 years ago was the architect of the 2002 program that was financed with a US$8.2 million loan from the Asian Development Bank. It envisaged that a streamlined public service would become more efficient and more productive, while allowing the private sector to become an engine of growth to drive the economic reform. But that was not to happen.
Unfortunately, three years later in 2005, the Public Sector Reform Program came face to face with a demand from Civil Servants for a 60, 70, 80% salary rise. Those demands were approved, a huge undertaking, and it brought the 2002 Economic and Public Sector Reform program to a crashing halt. The reform loan was used to pay the civil service. There was also a redundancy bonus.
The collapse of the 2002 economic reform was considered disastrous, because the Public Sector Reform Program had not been implemented.
There was growing concern over the push to put an elected government and elected ministers in place, while the Public Sector Reform program had not been fully implemented to make the new system work.
Unsurprisingly, a major concern was that people who come into power often find it very difficult to stay within the boundaries of their mandate. In situations where political leaders overstep their power, that is when a strong, professional public service is needed, for senior staff to advise the Ministers.
The civil service had successfully opened the doors to the Treasury with their 60, 70, 80% salary rise. This was followed by the politicians awarding themselves a salary rise in October 2006, and backdating the increase for two sessions.
A month thereafter, on November 16, 2006, the Economic and the Public Sector Reform of 2002 literally went up in smoke, when the 16/11 rioters burned and looted the Central Business District of Nuku'alofa.
The Nuku'alofa private sector has borne the crunch of the $123 million destruction, with recovery efforts replacing growth as a new focus of the private sector for the subsequent decade.
The reconstruction of Nuku'alofa after the riots was funded with government loans from the People's Republic of China, but the private businesses that were affected were expected to repay their loans to the government.
On 25 February 2008 the Minister of Finance, Siosiua 'Utoikamanu was forced to resign. According to the Minister for Information at the time, Hon. 'Afu'alo Matoto, 'Utoikamanu was made to resign "because he was out of step with the Prime Minister (Sevele) on numerous issues".
Not working
Meanwhile, the years have passed, while Tonga is relying more and more on foreign aid to balance our annual budget and the private sector is struggling to stay afloat. Government continues to implement new taxes to finance its annual budget, where it's no surprise to find that 60 to 80% of the budget is for salaries.
The downside to this approach is that over the last two decades, it has become increasingly clear that government is isolating itself, while its economic planning is focused on ascertaining that all on the civil service payrolls are looked after.
The rest of the country is left to fight for dear life. The most visible problem for Tonga is the same as it was 40 years ago: a lack of industries to provide employment opportunities. Now fruit pickers go to New Zealand and Australia, while police and soldiers take-up a few peace-keeping duties overseas. Householders set up roadside stalls to sell anything they can. People from all walks of life turn to drugs and dealing. Crimes of theft and violence have increased since the turn of the century.
Since 2010 we have elected three governments into office, led by new Prime Ministers:
Lord Tu'ivakano from 2010 to 2014.
'Akilisi Pohiva and the Friendly Islands Democratic Party (

PATOA

) from 2014 to 24 August 2017 (when

HM

King Tupou

VI

dissolved parliament).
'Akilisi Pohiva re-elected on 16 November 2017 until his death on 12 September 2019.
Dr Pohiva Tu'i'onetoa, (People's Party) elected by

MP

s on 27 September 2019 to complete the late

PM

's term of office.
Tonga has been struggling to put in place a "more democratic system" of government since 2010.
The 2011 Democratisation Reform Initiative had an objective of advancing Tonga's democratic system and enabling Tongans to access a brighter and a more prosperous future.
But today, instead of encouraging the private sector to create jobs, it appears that government believes that it is creating job opportunities by not reducing the size of the bloated civil service.
But surely this will lead to a situation where fees and taxes might have to be even further increased to keep them all at work, while every step in that direction reduces the private sector's capacity to grow their businesses and to create jobs.
Government hopes that its public enterprises will become more successful and pay dividends.
Constitutional background
Tonga embraced Democracy 136 years ago, after King George Tupou I declared the Tongan Constitution on 4 November 1875.
A century later Tonga was looking to forge its own path after a century of colonial influences on its foreign affairs.
The Democratisation Reform initiative in Tonga is the back-bone of a political reform process that has been on the roll since 1975 when Tonga was no longer a British Protected State, and the Tongan Government had to make decisions relating to its foreign relations, trade and the direction of its economy. The then Crown Prince Tupouto'a (later King George Tupou V) was Tonga's first minister of Foreign Affairs.
There were a number of projects that government ventured into after 1975, such as the selling of Tongan Passports to foreigners and the establishment of a Trust Fund. But neither of these projects, achieved the lofty aims of improving income for government's development projects.
Ironically, the Democratisation Reform initiative was described by the Late King George Tupou V as a process to put in place a more democratic form of government, to change Tonga "from an impoverished country, which missed out on most opportunities to improve its circumstances in the 20th Century to a prosperous one in the 21st Century".
The challenge for Tongans now is that we have to question why the two reforms that our leaders implemented - the 2002 Economic and Public Sector Reform Program and the Democratisation Reform Program introduced on 4 January 2011 - are not working.
Why, after implementing a reform program, has Tonga proceeded to do exactly the opposite?
Under our current Democratisation Reform Program, members of parliament are elected into parliament as individuals, and the voting in the House is by consensus. It was not structured for political parties.
What happens now, is that our parliament is made up of two political parties, the Paati Temokalati 'a e 'Otu Felenite and the People's Party, which is now the government.
The reforms that Parliament agreed to implement have been left, and hung out to dry.