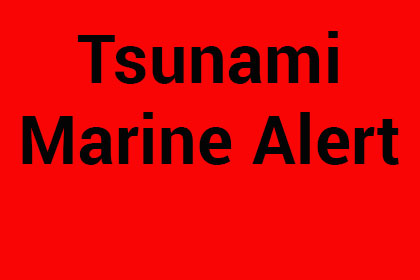 SEE CANCELLATION POSTED. https://matangitonga.to/2019/06/16/no-tsunami-threat-tonga-sea-level-flu...
Original information:
Tonga is currently on a tsunami watch after a strong unverified earthquake has been felt in the vicinity of Tonga this morning Sunday 16 June.
The National Emergency Operation Centre (NEOC) is activated.
Tonga Met issued an precautionary advisory at 11:54 am.
"It is not an exercise", Tonga Met told Matangi Tonga at 12:30pm. No wave had been detected at that point. "We are monitoring the situation and will give out advice on the radio. We are very busy."
They asked that people listen to the radio and do not clog their telephone lines.
The Precautionary Urgent Tsuanmi Warning issued by Tonga Meteorological Service is a standard message as follows: "A Urgent tsunami alert is now in force for all of Tonga. A strong unverified earthquake has been felt in the vicinity of Tonga. Due to the threat of a possible local tsunami that could arrive in a matter of minutes the public are advised to move immediate in land and to high ground or to the 3rd floor and above of concrete or steel buildings. Consider climbing a strong tall tree if required.  Mariners are advised to move to deep water away from reefs and coasts. Please inform friends and neighbors."
Meanwhile the NWS Pacific Tsunami Warning Center Ewa Beach Hawaii issued a notice at 12:35 pm today with an updated tsunami warning as follows:
PRELIMINARY EARTHQUAKE PARAMETERS
---------------------------------

  * MAGNITUDE      7.4
  * ORIGIN TIME    2255 UTC JUN 15 2019
  * COORDINATES    31.0 SOUTH  177.4 WEST
  * DEPTH          10 KM / 6 MILES
  * LOCATION       KERMADEC ISLANDS REGION


EVALUATION
----------

  * AN EARTHQUAKE WITH A PRELIMINARY MAGNITUDE OF 7.4 OCCURRED IN
    THE KERMADEC ISLANDS REGION AT 2255 UTC ON SATURDAY JUNE 15
    2019.


TSUNAMI THREAT FORECAST...UPDATED
---------------------------------

  * TSUNAMI WAVES ARE FORECAST TO BE LESS THAN 0.3 METERS ABOVE
    THE TIDE LEVEL FOR THE COASTS OF

      AMERICAN SAMOA... COOK ISLANDS... FIJI... KERMADEC
      ISLANDS... NEW CALEDONIA... NEW ZEALAND... NIUE...
      SAMOA... SOLOMON ISLANDS... TONGA... VANUATU... AND WALLIS
      AND FUTUNA.


  * ACTUAL AMPLITUDES AT THE COAST MAY VARY FROM FORECAST
    AMPLITUDES DUE TO UNCERTAINTIES IN THE FORECAST AND LOCAL
    FEATURES. IN PARTICULAR MAXIMUM TSUNAMI AMPLITUDES ON ATOLLS
    AND AT LOCATIONS WITH FRINGING OR BARRIER REEFS WILL LIKELY
    BE MUCH SMALLER THAN THE FORECAST INDICATES.

  * FOR OTHER AREAS COVERED BY THIS PRODUCT A FORECAST HAS NOT
    YET BEEN COMPUTED. THE FORECAST WILL BE EXPANDED IF
    NECESSARY IN SUBSEQUENT PRODUCTS.


RECOMMENDED ACTIONS
-------------------

  * GOVERNMENT AGENCIES RESPONSIBLE FOR THREATENED COASTAL AREAS
    SHOULD TAKE ACTION TO INFORM AND INSTRUCT ANY COASTAL
    POPULATIONS AT RISK IN ACCORDANCE WITH THEIR OWN
    EVALUATION... PROCEDURES AND THE LEVEL OF THREAT.

  * PERSONS LOCATED IN THREATENED COASTAL AREAS SHOULD STAY ALERT
    FOR INFORMATION AND FOLLOW INSTRUCTIONS FROM NATIONAL AND
    LOCAL AUTHORITIES.


POTENTIAL IMPACTS
-----------------

  * A TSUNAMI IS A SERIES OF WAVES. THE TIME BETWEEN WAVE CRESTS
    CAN VARY FROM 5 MINUTES TO AN HOUR. THE HAZARD MAY PERSIST
    FOR MANY HOURS OR LONGER AFTER THE INITIAL WAVE.

  * IMPACTS CAN VARY SIGNIFICANTLY FROM ONE SECTION OF COAST TO
    THE NEXT DUE TO LOCAL BATHYMETRY AND THE SHAPE AND ELEVATION
    OF THE SHORELINE.

  * IMPACTS CAN ALSO VARY DEPENDING UPON THE STATE OF THE TIDE AT
    THE TIME OF THE MAXIMUM TSUNAMI WAVES.

  * PERSONS CAUGHT IN THE WATER OF A TSUNAMI MAY DROWN... BE
    CRUSHED BY DEBRIS IN THE WATER... OR BE SWEPT OUT TO SEA.


NEXT UPDATE AND ADDITIONAL INFORMATION
--------------------------------------

  * THE NEXT MESSAGE WILL BE ISSUED IN ONE HOUR... OR SOONER IF
    THE SITUATION WARRANTS.