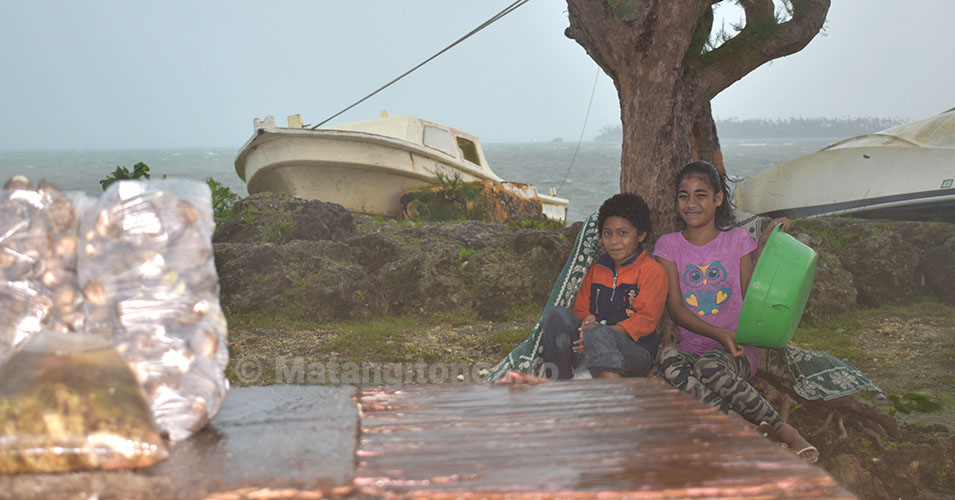 Tropical Cyclone Keni (Category 2) has moved away from Tonga today, and was located 415km south of Nuku'alofa at noon, after bringing heavy rain, lightning and strong winds over Tongatapu and other areas. In cental Nuku'alofa, government offices, schools and majority of businesses were closed today.
Tonga Met advised that the cyclone has an average wind speed of 60 knots (110/km/hrs) close to its centre. Keni is currently moving southeast at a speed of 23 knots (43km/hrs) and on its current track it is expected to be located 630km south-southeast of Nuku'alofa at 4:00pm this afternoon.
While businesses with boarded-up windows remained closed throughout today a few cafes and small shops were operating as usual. On the seafront at Patangata, a few children and women braved the northerly gales and were out selling seafood in the driving rain on the side of the road.
During heavy rain and thunderstorms, police vehicles were out patrolling on the road, while power linesmen were out fixing power lines in Nuku'alofa.
Lightening strikes were seen around the Nuku'alofa area during the morning.
Outlook
Tonga Met cancelled a heavy damaging swell warning for Tongatapu and 'Eua.
A gale wind warning previously in force for Tongatapu and 'Eua has been downgraded to strong wind warning.
The strong wind warning remains in force for Vava'u and Ha'apai.
A heavy rain warning and flash flood warning is still advised for Tongatapu, 'Eua and Vava'u.