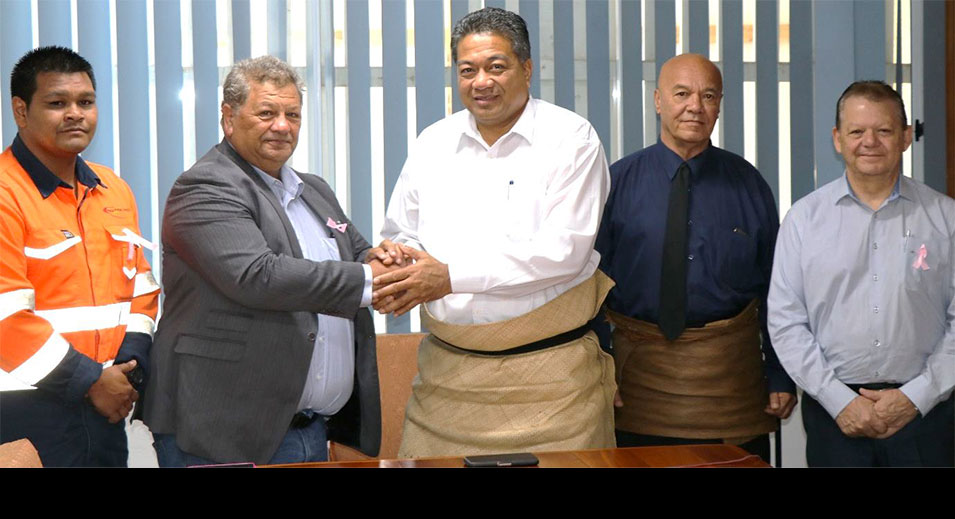 Northpower Ltd. are here once again to reconnect with Tonga Power for a slice of the utility's line mechanics.
In June 2013, Tonga Power reached an arrangement with Northpower Ltd. of New Zealand, to recruit 10 linesmen. Prior to that arrangement, 13 linesmen were recruited by Northpower. This provides a unique and sought after opportunity for line mechanics (male and female) to take their skills and development to a new level, being able to work on assets and projects available in New Zealand.
Northpower are committed to ensuring their industry has skilled people now and in the future and are aware of the capability and experience of the line mechanics in Tonga.
Mr. Vern Rosieur, Northpower's Safety and Human Resources Field Services Manager, was in Tonga to look at the selection of six Line Mechanics from Tongatapu and the outer islands.
Since 2003, Northpower have recruited 34 line mechanics from Tonga, with the first group consisting of 11 linesmen which opened up employment and career development opportunities for Tongan trades people in the electrical industry in New Zealand.
Vern said this is the fourth time he has visited Tonga since 2000 and from his observation, the quality of the work that has been done today in terms of the network is excellent. "The program is a huge benefit for the line mechanics not only financially but the skills they will gain from the trainings that Northpower will provide".
"Apart from the provision of training, there are also opportunities in other areas such as telecom transmission and technician areas right through to management levels".
"In Northpower, there is no gap where you can go", he adds.
Being the biggest power distribution network in New Zealand, Northpower is contracted to all the main networks in the country with branches in Wellington, Whangarei and Central Auckland.
Tonga Power's GM-Operations, Setitaia Chen thanked Northpower for coming back to Tonga Power rather than any other utility for this skill transfer programme.
He adds, " there is an opportunity for Tonga Power to collaborate with Northpower in extending our service to the Pacific Region. The arrangement is a significant one which maintain Tonga Power's and Northpower's close ties".
"Northpower and Tonga Power have a long-term relationship and we are very fortunate that some of our former linesmen returned to assist after Cyclone Ian to get Tonga back on its feet", said Setitaia Chen Tonga Power's GM-Operations.
"We are pleased to be able to provide a conduit for young people, and look forward to seeing our linesmen come back to Tonga in the future, bringing new found skills with them", said Tonga Power CEO Robert Matthews.
The Minister for Public Enterprises, Honorable Poasi Tei and the Chairman of the Utilities Board, Carl Sanft also thanked Northpower for considering Tonga for the opportunity.
At the end of the Tonga Village Network Upgrade Project, Tonga Power will move the project team to work under Tonga Power when the Nuku'alofa Network Upgrade Project work commences.
The two utilities will discuss the recruitment process and both parties look forward to exploring similar opportunities in the future.
#4194 Sponsored Post