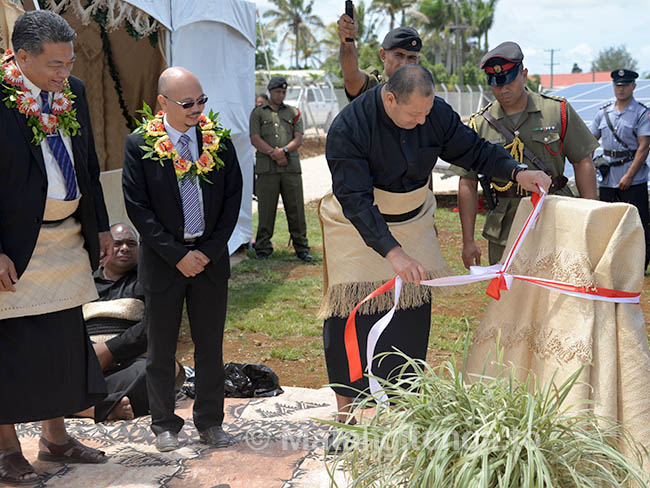 HM King Tupou VI accompanied by Queen Nanasipau'u commissioned a new 2-megawatt solar farm Matatoa, the largest solar farm in Tonga, on October 19.
Situated at Tofoa, the farm is also Tonga's first privately funded $9 million pa'anga development by Zhuhai Singyes Green Building Technology Co. Ltd, an Independent Power Producer from Guangdong, China.
Their investment is based on a 25-year Power Purchase Agreement signed with Tonga Power Ltd as customer in September last year. Zhuhai Singyes will sell all output power from the farm to the Tonga Power network, at a fixed rate of .33 seniti per kilowatt-hour over the agreement period.
After the 25-years agreement, Tonga Power will retain ownership of this farm, said the Chairman of the Common Utilities Board of Directors Carl Sanft, at the event.
He said Tonga Power's vision has always been to provide safe, reliable, sustainable and affordable service to the people.
This includes three strategic objectives, firstly to reduce Tonga's reliance on diesel generation, introduce a higher proportion of renewable energy generation, thirdly, and importantly, the reduction of electricity tariff.
He confirmed that Tonga Power will buy power from this solar farm at a rate of 33 seniti per kilowatt-hour and this price will remain throughout the agreement period. After the 25-years, Tonga Power would no longer pay the .33 seniti because it will retain ownership. The total cost of this solar farm is around USD4 million or $9 million pa'anga, he said.
In addition, Tonga targets to move to 50% renewable energy by 2020 and 70% by 2030.
Carl said to date 12% of the renewable energy target for Tonga has been achieved.
"Government and Tonga Power have played a major role in initiating and driving the usage of renewable energy with support from our development partners such as the Governments of New Zealand, Japan, China, EU and ADB as well as from private investors like Zhuhai Singyes as we witnessed today."
Private Investment
Meanwhile, Tonga Power CEO Robert Matthews encouraged partners like Zhuhai Singyes and other Independent Power Producers in solar, wind and biomass to further invest in renewable energy projects such as this one.
"Tonga Power continues to welcome private sector investment in support of Government's mission to lower the electricity tariff for the people of Tonga through similar nature in the future."
It is understood that Tonga's contributon to this project includes the provision of the land where the farm is constructed on provided by the King on his estate.
While, Tonga Power provided technical assistance during the construction with Government's support when it endorsed the project, as it is the country's first large scale Independent Power Producer Facility.
Sam Leung, Deputy CEO of Zhuhai Sengyes thanked Tongan partners and counterparts for the completion of this project.
He said after the 10-months construction, they expect this farm to produce more than 28,000-megawatt hours annually and contribute about 6% of electricity consumption on Tongatapu.
The King and Queen then toured the facility.