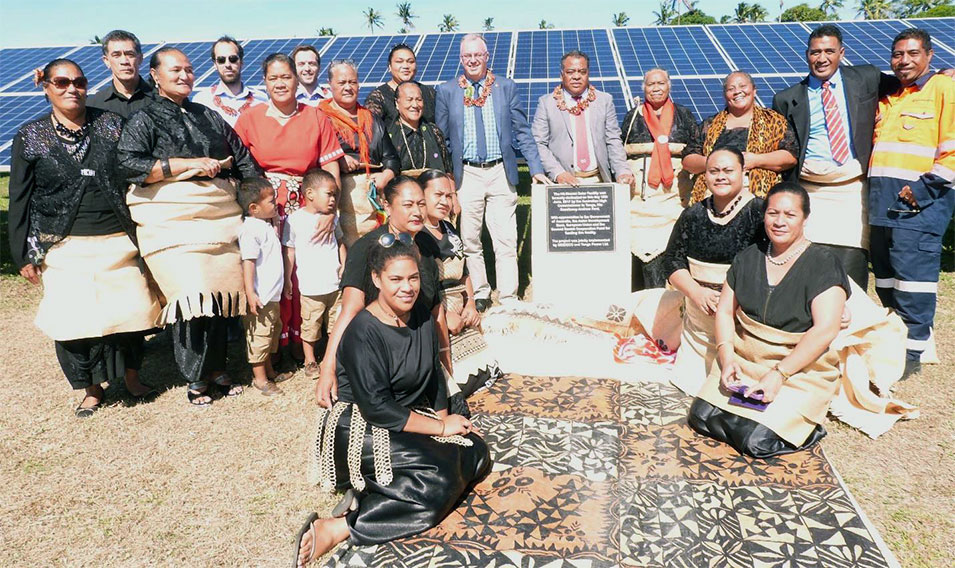 Ha'apai will be the first islands group in Tonga to achieve 50% generation from renewable energy, after the commissioning of the Ha Masani Solar Facility by the Australian High Commissioner to Tonga, HE Mr Andrew Ford at a ceremony held at Pangai on June 15.
The Ha Masani Solar Facility is rated at 550 kWp with associated 660kWh battery energy storage, which gives Ha'apai capacity to become the first island in Tonga to reach 50% generation from renewable energy. 
This major achievement is another step forward for Tonga in realizing its national goal of 50% renewable electricity generation by 2020. The Government aims to reduce dependence on imported fossil fuel by increasing utilization of safe and affordable renewable energy sources such as solar. 
Ha Masani is part of the Outer Island Renewable Energy Project (OIREP), a collaboration with the Asian Development Bank (ADB), Government of Australia (DFAT), European Union (EU) and the Second Danish Cooperation Fund at a cost of over US$15 million. The OIREP will help improve energy efficiency, increase accessibility to electricity and improve the affordability of the service for Ha'apai residents. 
Ha Masani Solar Facility is expected to generate up to 648 MWh of electricity per annum, which is equivalent to 50% of Ha'apai's electricity demands per year. 
The Guest of Honour, HE Mr Ford in his opening remarks said, "The project highlights our commitment to climate action, supporting the uptake of innovative technologies, improving energy efficiency and providing renewable energy to remote communities" 
He acknowledged OIREP's efforts in facilitating gender equality, economic development and improved resilience to climate-related events. 
The project achieved good results in terms of gender balance with almost 40% of the workforce being lines-women. Female lines technicians employed under the project were retained from the Ha'apai Reconstruction Project to continue with the 'Eua Network Upgrade Project and then on to Vava'u in late 2017. 
The Governor of Ha'apai, Mr Moále Finau said, "The introduction of the solar facility in the island will provide more reliable power to the people, better meet expectations of tourists visiting the island and deliver on the Governments promises for more affordable electricity to the people; but most importantly to those residing in the rural areas".
In a vote of thanks, TPL General Manager – Finance, Steven 'Esau said, "Currently, TPL charges only one tariff for the whole of Tonga which means Tongatapu subsidizes the islands of 'Eua, Ha'apai and Vava'u. The benefits from diesel saved from this facility will be spread over the one tariff calculation".
The ceremony was also attended by Mr David Fay from the Asian Development Bank, Ms Taiátu 'Ata'ata from the European Union and senior representatives from the Government of Tonga and Tonga Power Limited.
#4072