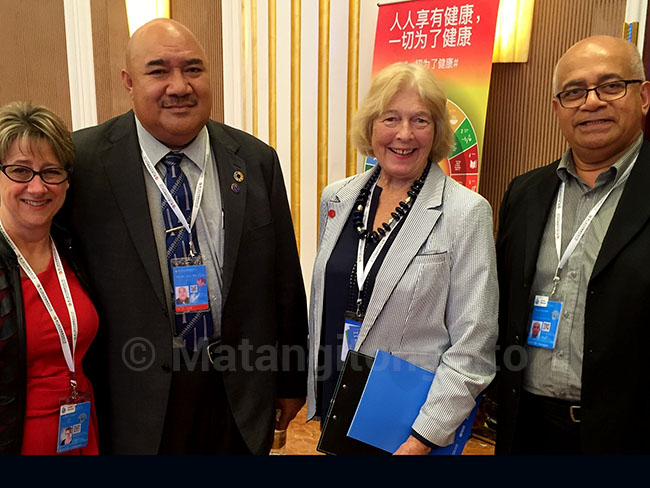 Health problems in the Pacific Islands today stem from poor government leadership, poor education, and not taking care of our environment, says Sione Tu'itahi who attended the World Health Organisation's 9th Global conference that was held in Shanghai, China for 2016.
Health Promotion - hailed as the key factor to combat some of these health issues - was the theme of the conference attended by leaders from governments, United Nations organizations, city chiefs, and health experts from around the world last November.
 Tonga's Minister for Health, Dr Saia Piukala, who took part in a panel session, spoke about how Tonga is addressing the complex challenge of ending childhood obesity.
 He said non-communicable diseases (NCDs) are a major problem and that the "Pacific region is referred to as the NCD Capital of the World".
 "When you rank countries with the highest prevalence of overweight, and obesity as well as diabetes in the world, all of them are from Pacific Island countries," said Dr Piukala.
 "Many of you would be aware of the four stages of obesity and epidemic. Adult females are usually the first to be affected, then adult males, then the young population, and then our children. For most, if not all of the Pacific countries, including my country Tonga, the obesity epidemic is well into the fourth stage."
 Dr Piukala said that according to 2011 statistics, 30% of students between the ages of 5 and 7 years old were obese.
 He outlined actions taken to combat childhood obesity, such as promoting physical activity, nutrition and health as well as imposing taxes on sugar-sweetened drinks. School policies were also amended to ban the selling and distribution of sugar-sweetened drinks on school grounds.
 In addition, taxes on fatty unhealthy meat such as lamb flaps were also enforced.
Clear message
 Sione Tu'itahi, the Executive Director of the Health Promotion Forum of New Zealand, a non-profit organization, told the Matangi Tonga that the conference had a clear message for the world.
 "All governments worldwide must work together for a healthier world," said Sione.
During question time after the session, he said that Dr Piukala had requested developed countries to help small vulnerable countries like Tonga.
"Dr Piukala pleaded with developed countries not export unhealthy fatty produce, such as lamb flaps to Tonga and that they should only export healthy food that is sold in their countries."
 Dr Take Naseri of Samoa agreed, pointing out that unhealthy food such as turkey tails is being exported to Samoa.
Both doctors acknowledged that export of these fatty unhealthy foods to Tonga and Samoa were now part of the national diet, but agreed that these foods are the causes of non-communicable diseases.
 "We push the responsibility of health to the doctors and nurses but the truth is the problems of health we are facing today stems from a variety of things such as poor government leadership, poor education, and not taking care of our environment.
 "People don't look after themselves until they get sick and need medical attention," said Sione.
 The International Union for Health Promotion and Education (IUHPE) is planning on holding a health conference in New Zealand in April 7-12 2019. "This is Tonga's chance, as well as other Pacific Island countries to take part in this conference to discuss the health of people and their environment," said Sione.
Sione was a former editor of the government's Tonga Chronicle.