Photo un.org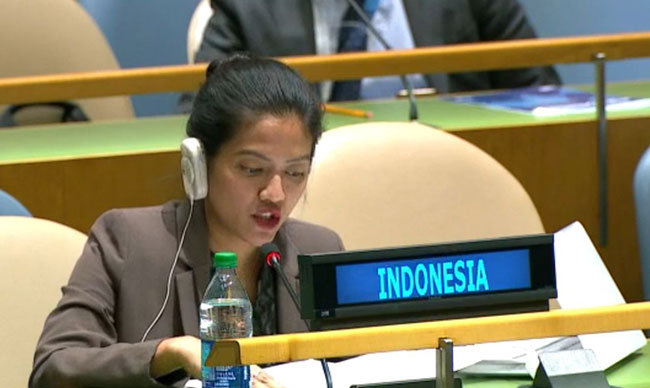 An Indonesian diplomat said that Indonesia is "shocked" at six Pacific Islands governments, including Tonga, for accusing Indonesia of human rights violations in West Papua. Nara Masista Rakhmatia during a speech at the 1st Session of the General Assembly of the UN in New York on 24 September 2016 also accused PM 'Akilisi Pohiva and other Pacific leaders of using the General Assembly to advance their domestic agendas and some "to divert attention from political and social problems at home."
Rakhmatia was responding to earlier speeches at the General Assembly made by PM 'Akilisi Pohiva, President Baron Waqa (Nauru), PM Manasseh Sogavare (Solomon Islands), PM Charlot Salwai (Vanuatu), President Hilda Heine (Marshall Islands) and PM Enele Sopoaga (Tuvalu).
In his speech PM Pohiva stated "The UN has a duty to follow up this West Papua case and take necessary action to stop these brutal and inhuman activities. We leaders must rise to higher moral order beyond interests and be guided by what is fair and suitable to all."
Nauruan President Baron Waqa stated "Nauru is deeply concerned regarding the situation in West Papua including the alleged human rights abuses."
Tuvaluan PM Enele Sopoaga stated "The UN must act on this issue and find a workable solution to give autonomy to the Indigenous Peoples of West Papua."
Shocked
Rakhmatia responded in an irritated tone, stating "Indonesia is shocked to hear that at this important stage where leaders gather at this August body…They clearly reflect an unfortunate lack of understanding of the history, current situation and progressive development in Indonesia including in the provinces of Papua and West Papua."
"These countries are using the General Assembly to advance their domestic agenda and for some countries to divert attention from political and social problems at home. The same countries are also using false and fabricated information as the basis of their statement" she added.
"We have a saying in our Asia-Pacific region when one points the index finger to others the thumb finger automatically points to one's own face".
Related links:
Nara Masista Rakhmatia speech,  http://webtv.un.org/meetings-events/watch/indonesia-first-right-of-reply/5139655009001
'Akilis Pohiva speech, http://webtv.un.org/search/tonga-general-debate-70th-session/4519086422001?term=pohiva