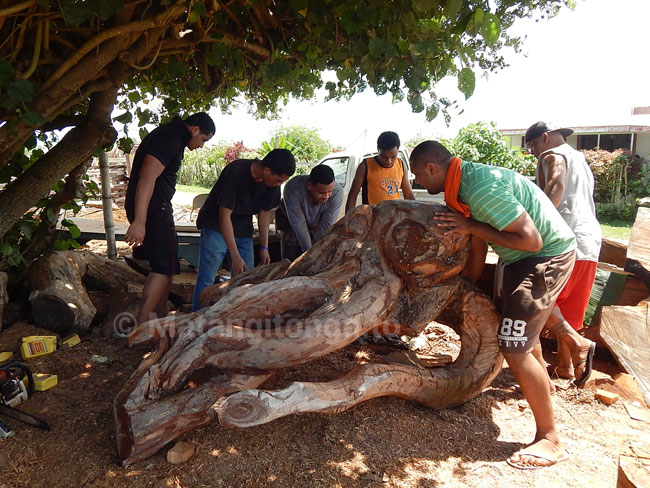 By Finau Fonua
One of Tonga's most successful traditional craftsmen, Sitiveni Fehoko believes that Tonga's handicrafts are the best in the Pacific and have the potential of being a significant export for Tonga.
Sitiveni Fehoko (56) who originates from Ha'ano, Ha'apai, produces and sells traditional carvings such as war clubs and pendants. Fehoko learnt the trade from his father, his family being the descendants of the Lemaki clan of carpenters and carvers.
"If you're talking about the quality of craftsmanship, Tonga is the best in the Pacific" he said
He is among a few local artisans who export Tongan handicrafts overseas "I run a wholesale in New Zealand – we send pendants all over New Zealand as far as the South Island. The pendants are made with a Maori design but are all made right here in Tonga," he said.
At home, Tongan handicrafts exist as part of an informal economy, dependent on foreign visitors.
Fehoko currently teaches local youth the trade. "I'm not only working for tourists, I'm also working because this is a lost art, and this is something to revive.
"The boys that I'm teaching are drop out students from high school. I'm trying to change their life. I want to teach a boy who knows nothing about art but who listens and is willing to learn. When they are old enough and good enough, I encourage them to go on their own."
According to Fehoko, Tongan handicrafts are a hidden industry and are often discouraged by Tongan society.
"The most hidden industry in Tonga is handicrafts. It could be bigger and better. It should be an economic initiative. They don't know the amount of revenue you can make from this work.
"There's a mentality in Tonga that you have to go to school and graduate. Because if you don't you have to go and sell handicrafts at the market."
Last year, Fehoko and his boys worked on Tonga's biggest carving, a damaged Ngatae tree in the Nuku'alofa CBD. The tree now stands as an art monument outside the Tonga Development Bank who commissioned the work.
"Maybe that Ngatae tree will be finished and rotten in one year, but the boys I was teaching on that project will last for a generation – it was the first time for them to do something like that and there's hope that when I die they will pass on this knowledge," he said.