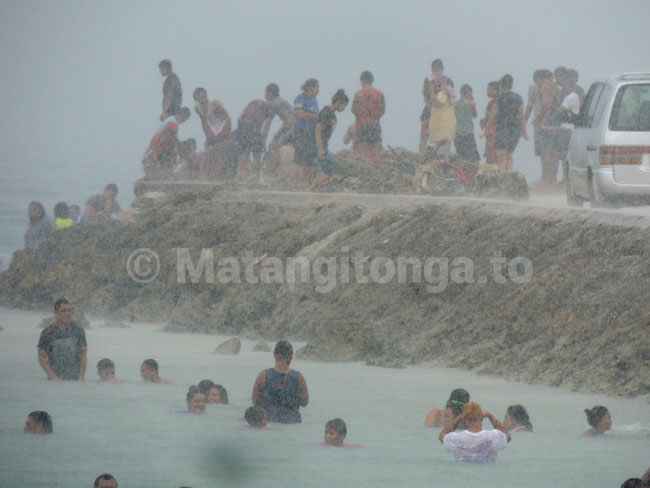 By Finau Fonua
Nuku'alofa received heavy rainfall this afteroon, a welcome relief to residents after months of enduring unusually dry weather. For the last seven months since June, the Tonga has experienced a drought with significantly below normal rainfall for Ha'apai and Tongatapu.
The rain, which fell heavily after 1:00pm today, Monday, attracted dozens of swimmers to the Nuku'alofa waterfront to swim in the rain.
It is not yet known how much rain fell this afternoon, but  the Meteorological Services recorded 5.2mm of rainfall in Fua'amotu in a 24-hour period from 1:00pm Sunday to 1:00pm today. Vava'u had more rainfall with 136.4mm recorded, Niuafo'ou with 0.4mm, Ha'apai 2.1mm, while Niuatoputapu recorded no rainfall.
The 136.4mm rainfall in Vava'u in 24 hours exceeded the total rainfall for the last two months combined (November and December 2014).
In December Tongatapu received only 24mm of rainfall compared to the average for December of 159mm.
During the six months of drought Ha'apai has been the worst affected with a 64% rain water deficit compared to its average for the period.
El Nino warning
Meanwhile, the Tonga Meteorological Services (TongaMet) has maintained an El Nino warning for Tonga, issued since October. Tonga Met stated that although El Nino like conditions had weakened recently their current assessments maintained an El Nino warning.
El Nino is a period of unusual weather that occurs every three to seven years and normally lasts for a year. The weather conditions include cooler dry seasons, drier wet seasons and more cyclones to Tonga.
According to TongaMet, Tonga is usually affected by one cyclone per year but the number increases to around two during El Nino.
"It appears that an El Nino has and is evolving, however conditions in the tropical Pacific Ocean have weakened over the past fortnight, after being close to or exceeding El Nino thresholds for several weeks. Despite this easing, the global climate models and assessments of Tonga's current climate regime, El Nino remains in force. A number of El Nino-like conditions have already emerged in various part of the country, which includes drought and night time temperatures cooler than normal."
Below average rainfall to continue
TongaMet has warned that below average rainfall is likely to continue for the next three months across all island groups. It advised the public to use water wisely and to collect as much rainwater when it does rain.
Tonga Met stated "Rainfall and tropical cyclone sensitive sectors such as Agriculture and Fisheries (Food Security), Health, Water Resource Management, Tourism and Disaster Management should continue drought response operations and promote the conservation of water."