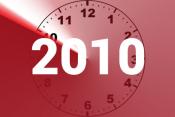 FROM OUR ARCHIVES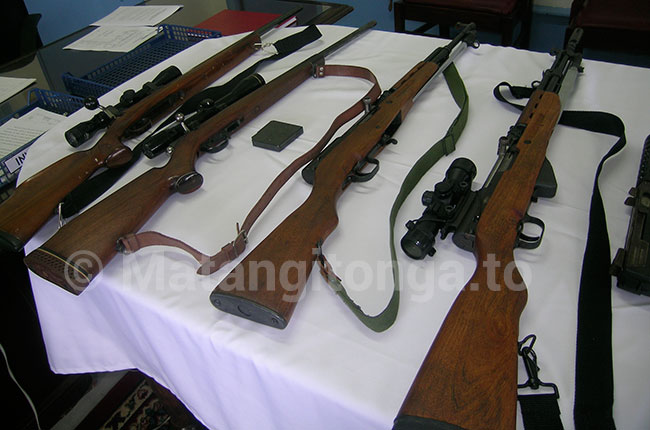 Powerful weapons including a semi automatic assault rifle of a kind used in gang warfare, have been seized by the police in Tonga who are this week urging the public to report the whereabouts of other illegal weapons that may be on the island.
At his weekly press briefing on February 2 Police Commander Chris Kelley put on display some of the 34 illegal firearms that were seized by the Tongan police from various locations in Tongatapu, during the past nine months.
"Our community does not need these illegal weapons some of them are semi automatic, some are specifically designed for gang type warfare, while others are high-powered and are lethal at a range of over a kilometre," he said.
They seized semi automatic firearms, hand guns and rifles, and ammunitions.These included a well-known military type Noringo assault rifle; a .22 magnum handgun, a .22 intratec semi automatic handgun; and a Smith & Essson .44 magnum pistol.
Cmdr Kelley said that the illegal arms were seized at various places including the point of entry, Queen Salote Wharf, at crime sites and when police with search warrants searched private properties.
The origin of some of the firearms remains unknown, but he confirmed that persons have been charged with the possession of these illegal firearms, and prosecution is pending.
As of January 31 this year, 315 firearms licenses or about 50% had been renewed, and the remaining 50% were still outstanding. He urged the remaining firearm licence holders to come forward and renew their licenses before February 26, 2010.
Illegal weapons
The Commander said the weapons seized in the last nine months are hard to come by in some of the major cities in the world, let alone Tonga.
The Commander also urged the public to come forward and provide information on the whereabouts of illegal weapons and to surrender them if they no longer wanted to keep them. He said police have taken up to 80 weapons into police custody, that are no longer fit for use and they will be destroyed.
He has recommended to Government that firearm registration.

fees should be substantially increased next year from the current $23.5.

Firearms that are illegal in Tonga include automatic, semi automatic weapons and pistols.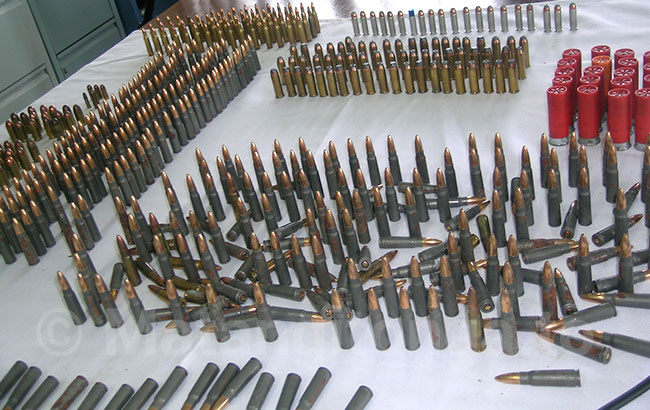 Deputy Commander Taniela Faletau said that with the number of firearms seized in the last nine months showed a rise in comparison to previous years. The police are very concerned and are giving people the chance by February 26, to come forward and register weapons or to hand them over.
He said that those who failed to renew their licences would face heavy penalties that included imprisonment terms.
He believed that the only reason why people need such weapons in Tonga is to commit crimes and for that reason the police are seeking to remove all illegal firearms from the community.