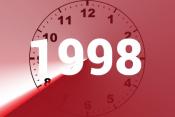 FROM OUR ARCHIVES. Matangi Tonga Magazine, Vol. 13, no. 1, April 1998.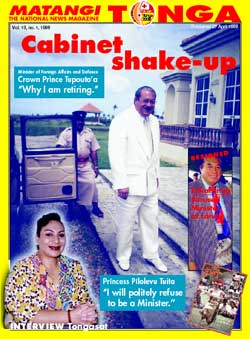 Interview by Pesi Fonua.
HRH Crown Prince Tupouto'a, Tonga's Minister for Foreign Affairs and Defence, is retiring from the Civil Service on May 5, 1998,  the day after his 50th birthday.
He believes it is time to move on and make room for younger and more qualified Tongans to take over.
"I would have never contemplated retirement if I was not 100 per cent confident that there are many good young men—young noblemen and commoners, who are perfectly able to do what I did and, in fact, could do better. They all have very good educations, that is one thing," said the Crown Prince. He submitted his application to retire as a Minister to the King last November, and it was accepted by Privy Council on April 3.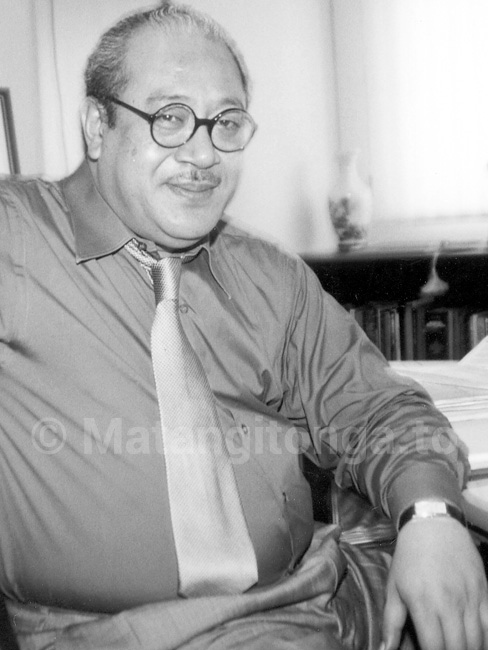 The Prince's plans for retirement are to do less. "You don't retire in order to work harder, you retire in order to work less. I mean the whole point of retiring is not to work," said the Crown Prince with a smile, as he tapped on the key board and myriads of files opened and closed on his computer screen, a sign that no work means not working for government or anyone else, but rather spending more time on his own projects. "Looking after my own business interests, will take rather less time."
He will stay in Tonga, and said his retirement from the civil service would not affect his position as Crown Prince, "the Constitution does not say that Government owed me a job."
Over the years the Crown Prince has developed a number of business interests, which take up some of his time, beside his ministerial responsibilities.
Business interests
He is the chairman of the boards of the MBf Bank, the Royal Beer Company Ltd., the Sea Star Fishing Company Ltd., the Shoreline Power Ltd., and the Shoreline Property Ltd.
In his position as a government minister he is also the Chairman of the Tonga Electric Power Board, the Tourism Advisory Board and the Tonga Water Board.
His involvement in business is seen by some members of the public to be a conflict of interests on his part, as a Crown Prince and a Minister of Foreign Affairs and Defence.
"Yes, with conflict of interest, I try very hard but people are always looking for somebody to blame and, really, I never wanted to have chairmanship, but it was just that no one else would do it," he said.
Retirement
Crown Prince Tupouto'a joined the civil service in 1970 after graduating from Oxford University (U.K.) in post graduate diplomatic studies. He had also completed three years at the Royal Military Acdemy, Sandhurst (U.K.). He became Tonga's first Minister of Foreign Affairs and Defence in 1979.
"Twenty eight years in the civil service is long enough. Put it this way...if I have achieved all the objectives that I set out to do, it is time to retire. If I have not achieved all the objectives that I set out to do in 28 years, then I should retire anyway for incompetence, because you must be pretty stupid not to achieve anything in 28 years. Either way, I think I should retire."
He said that when he joined the service he kept in mind the rule of the six P's: "which is, Proper Preparation Prevents P. Poor Performances."
Distant education
The Crown Prince retires with the status of his two ministries, visibly sound. The Tonga Defence Services new Touliki Base has been constructed, and a navy unit has been established. The Taliai Camp is half way through a multimillion dollar reconstruction program, and an Air Wing has been established with one aircraft, and there is a plan to acquire a second aircraft.
The last major project to be up and running before his retirement is the  new Distant Education Computer Program launched in March, and located on the fifth floor of the National Reserve Bank building. The Crown Prince said that this Distant Education Program is a joint venture between the Reserve Bank, the Ministry of Foreign Affairs and the Tonga Defence Services. "The Reserve Bank wants bankers, Foreign Affairs wants linguists, and the Army wants engineers. The project is managed by the army, " he explained.
This Distant Education Program is for students who want to pursue degree studies with an university overseas. Students have to get themselves registered with universities overseas first, then using the computers that have been set up at the Reserve Bank, they will be able to hear lectures on line, and through a microphone ask questions. The Crown Prince said that an arrangement had been made with the University of Stanford, California, U.S.A., which offers $750 courses for a number of students.
"There is a German saying which means, 'doing it is better than discussing it.' So we have already discussed it and now we have done it. Hopefully, when we prove that it works we will get better support. So far we started with these three clients because they have got the money to pay for their students' overseas education," said Crown Prince Tupouto'a.
He said his interest in Distant Education is also to find a solution to what he perceives as a growing social problem: "people talk about a widening gap between the rich and the poor, which is not true anymore, but there is a widening gap between the qualified and the unqualified. In the old economy you did not have to be qualifed to be employed, but now you have to be qualified." He added that with the fast rate of technological change, "you cannot sit on any qualification for very long. It's a free for all atmosphere and I don't see any reason why we should be left out."
Timid youth
What would Tupouto'a like to see at 50?
"I looked forward to reaching this age and seeing many more young people branching out on their own, setting up their own businesses, flourishing, but they seem a bit timid, for some reason, I don't know why."
At 49 years old Tupouto'a is one of the younger members of the Tongan Cabinet, whose members range in age from 36 to 76 years. His leadership in Foreign Affairs and Defence will be missed, but, "Let them find a new workhorse," he said.