You are here
Results for Glasgow
Wednesday 30 July 2014
The majority of Tonga's athletes in the Commonwealth Games have been knocked out of their competitions in Glasgow this week.
Tuesday 22 July 2014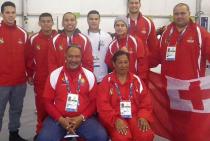 Tongan athletes are undergoing final training preparation for the Commonwealth Games, which opens on 23 July in Glasgow.

Premium content
Wednesday 16 July 2014
Tonga will be represented at the Commonwealth Games in Glasgow in four sports by 15 athletes, including two bronze medalist boxers Uaine Fa Jr and Lomalito Moala.

Premium content