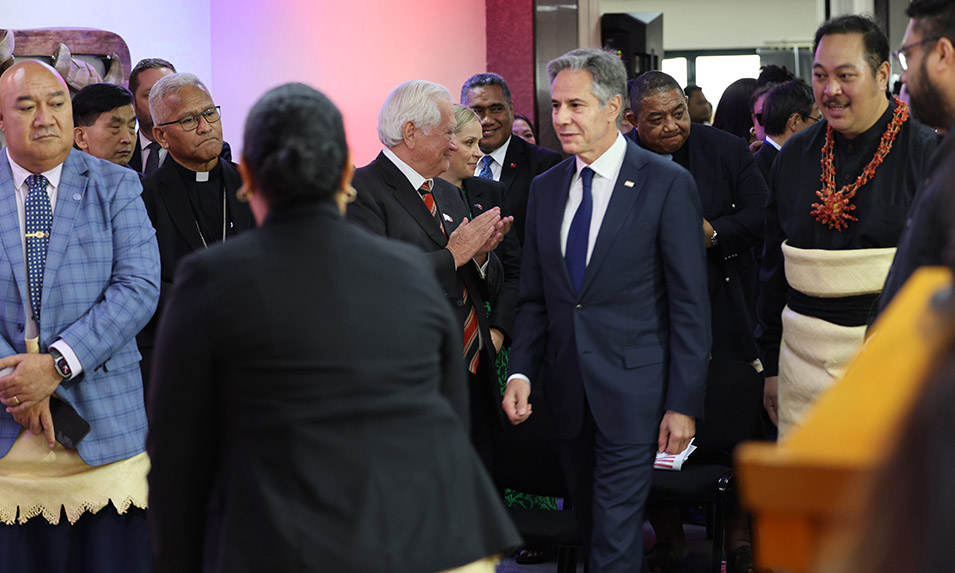 Photos by Tupou Vaipulu Jr. with reporting by Katalina Siosau and Mary Lyn Fonua.
On a first visit to Tonga by a US cabinet member, today, US Secretary of State Antony Blinken, took a few quiet minutes to lay a wreath at the seafront Cenotaph in Nuku'alofa, before he met with the Tongan Prime Minister and other officials at St George Government Building across the road. The War Memorial honours the Tongan fallen in two World Wars. In WWII there were more American troops stationed in Tongatapu than Tongans.
During the morning, Secretary Blinken spoke about US perceptions of today's superpower rivalry in Tonga and the Pacific region, when he was answering questions at a media briefing.
Secretary Blinken and his entourage arrived at Fua'amotu International Airport at about 6:00am from Washington and Honolulu, for a visit to Tongatapu, lasting just over eight hours, for high level meetings and to dedicate the new US Embassy in Nuku'alofa. He also had an audience with Crown Prince Tupouto'a 'Ulukalala, met the Foreign Minister Hon. Fekita 'Utoikamanu, and engaged with Peace Corps Volunteers, before he continued his journey to Wellington, New Zealand, this afternoon.
The new embassy was established this year at the National Reserve Bank Building in the capital.
Secretary Blinken said, "To better understand the needs of our Pacific partners and to carry out our shared efforts, we're building up our diplomatic capacity in the region. In May, we took a major step in that direction by opening our embassy here in Nuku'alofa, which the prime minister and I will formally dedicate today. We also set up our embassy in the Solomon Islands. We're working to establish posts in Vanuatu and in Kiribati," he told the press briefing.
In welcoming Secretary Blinken, the Prime Minister Hon. Hu'akavameiliku, noted that the US-Tonga partnership enjoys a strong defence component. He said defence relations go back to World War II when Tonga hosted U.S. military forces on the main island. "We became a major transit hub for Allied shipping lanes during the war. At one point there were more U.S. Marines in Tonga than there were Tongans... a testimony to how two countries, whether big or small, can and must work together to pursue our shared values for freedom and democracy."
Secretary Blinken said it was his third visit to the Pacific Islands as Secretary of State and his first visit to Tonga. He said that President Biden is fully committed to working with Tonga, and with all Pacific Islands.
"This partnership is vital to making real a shared vision for the region and the broader Indo-Pacific – a region that's open, that's free, that's connected, that's prosperous, that's secure, that is resilient.
"When we talk about 'free and open', we mean a region where all countries are free to choose their own path and their own partners; where problems are dealt with openly; where rules are reached transparently and applied fairly; where goods, where ideas, where people can move freely and lawfully."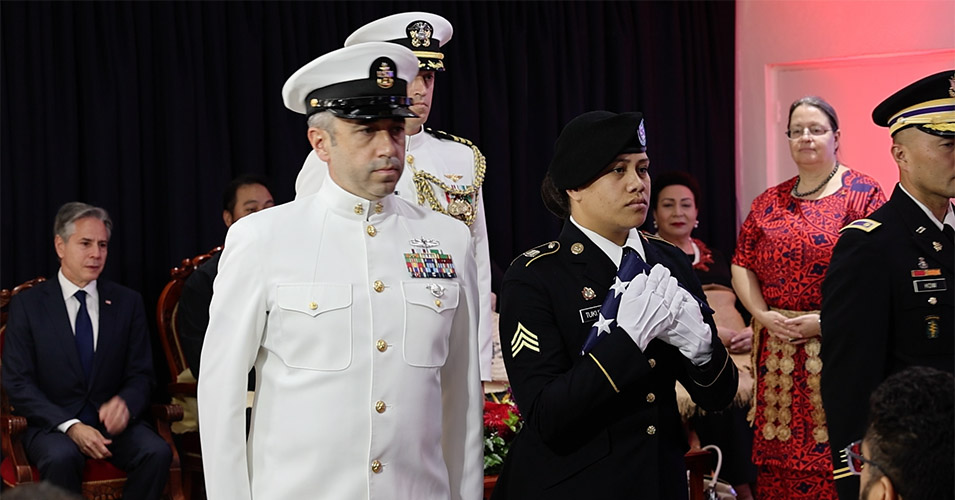 U.S.-Pacific Islands Summit
Secretary Blinken said that last year President Biden launched the first-ever U.S.-Pacific Islands Summit at the Oval Office, and that work would continue at second summit in Washington later this year.
"At last year's summit, our countries issued the U.S.-Pacific Partnership Declaration, committing us to work together to address the challenges of our time and to seize the opportunities of our partnership. As part of that commitment, we announced over $810 million to support programs in the Pacific Islands like Tonga. That includes nearly half a billion dollars to manage the growing effects of the climate crisis..."
He said they are strengthening ther partnership on other priorities for Tonga and for the region, including on clean energy and sustainable infrastructure; maritime security; digital transformation and "people-centered development" to drive inclusive economic as areas of focus of the 2050 Strategy for the Blue Pacific Continent.
US visa processing
Hon. Hu'akavameliku said that Tonga had been asking the United States to have a presence here for a very long time. And last year on the 50th year of the diplomatic ties between the United States and Tonga, Vice President Kamala Harris announced the setting up of the embassy.
Hon Hu'akavameliku said that he and Secretary Blinken had today looked at a range of renewed and strengthened areas for the partnership.
"I have asked the Secretary to expedite the visa-processing facilities here in Nuku'alofa, likewise associated with visa applications to the United States current process in Suva, which puts strains on Tongan families.
"We also discussed working together to communicate problems including deportees and also trafficking in persons and, of course, cyber security."
He said he was looking forward to the second US Summit between Pacific leaders and President Biden in September. This was important because Tonga will be taking up the chairmanship of the Pacific islands Forum for the next year.
The dedication of the Embassy was attended by Crown Prince Tupouto'a 'Ulukalala, Crown Princess Sinaitakala, HRH Princess Pilolevu and Lord Tuita, along with other guests.
King Tupou VI was not in the capital today. The King is visiting the far north of Tonga, for the opening of the annual Royal Agricultural, Fisheries, Tourism and Trade Show on remote Niuatoputapu island.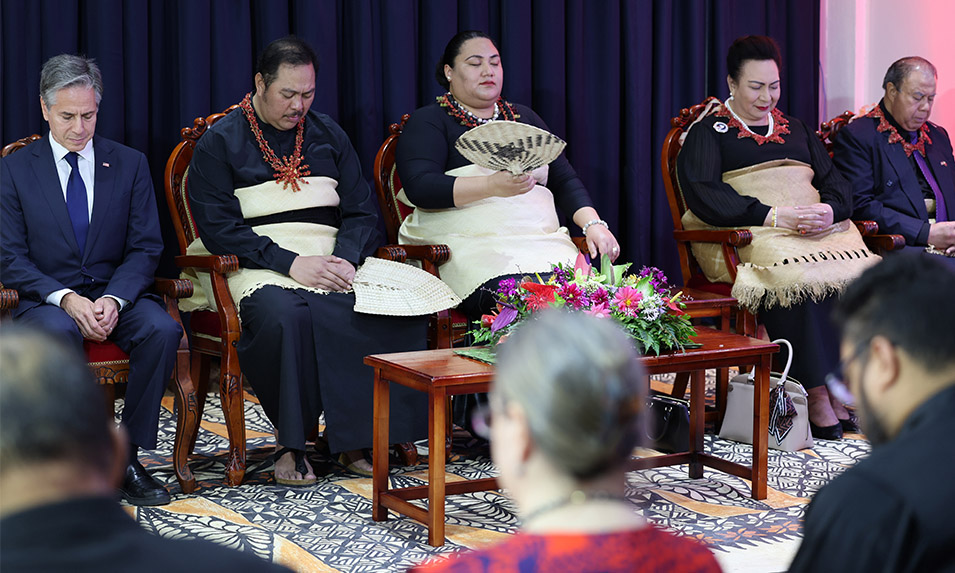 Superpower rivalry
In answer to questions from news media about superpower rivalry between the US and China in the Pacific region, and Chinese investments in Tonga, Hon. Hu'akavemeiliku said "we have started officially to actually start paying off our debt to China. We don't have any problems or concerns with regards to that."
Secretary Blinken answered that the US has no objection to the investments by or engagements by any other country, including China.
"On the contrary, if it's done in a productive way, if it really is responsive to the needs of people, if it helps generate a race to the top with others who want to help out, that's a good thing. I think the concerns that we've had really go to a few things that I think we've seen across the board in some of the investments and the imperative of making sure that they're done transparently, according to the rule of law, with sustainable financing – alluded to the debt situation of some countries – and with respect for the autonomy of aid recipients so that there aren't political strings attached to any investments that they make.
"And again, what I think one of the things that we've seen is that as China's engagement in the region has grown, there has been some, from our perspective, increasingly problematic behaviour, including at the same time the assertion of unlawful maritime claims – something that I've raised extensively when I was in China – the militarization of disputed features – for example, in the South China Seas, some predatory economic activities, and also investments that are done in a way that can actually undermine good governance and promote corruption.
"So it's not the fact of; it's the nature of that we think is important to focus on. But countries make their sovereign decisions about with whom they want to do business or seek investment or assistance. We respect those sovereign decisions. But again, we're concerned about some of the implications in the way that some of this investment is done. And I would hope that whether it's China or anyone else that we all do this according to the highest standards, and as I said, we have a race to the top, not a race to the bottom."