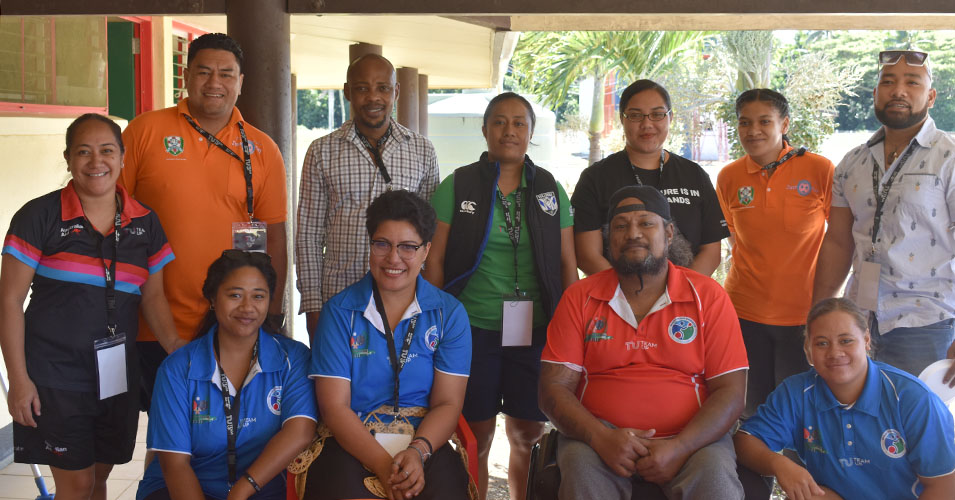 By Tupou Vaipulu
Team Up, a sports development program will continue to fund activities that use sports as a method to develop and instil life skills in the people of Tonga.
Funded by the Australian Government, the program will promote community-level development in Tonga and across the Pacific for another two years.
Team Up runs activities in communities, schools, and sporting settings, using sport to bring people together and create opportunities. They range from initiatives that attract women and girls to participate in traditionally male-dominated sports, seek to address gender-based violence, and enable people with disabilities to participate.
Team Up Partnerships Manager, and former PNG football captain Andrew Lepani, who was in Tonga to co- deliver a Team-up workshop, said they were excited to be able to resume face-to-face training and support for partners in all Team Up countries in 2023, following the travel disruption caused by the pandemic.
"We are grateful to our partner Tonga Football Association for allowing us to use their conference room to deliver the workshop.... We hope this will help all programs strengthen their impact during this second phase."
Staff from four Team Up-supported programs attended workshops and capacity building activities in Nuku'alofa last week to refine and strengthen program delivery in this new phase. The programs aim to develop and instill important life skills and during a sports participation program.
Just Play Master Instructor, Lafaele Moala, from Tonga Football Association said that it has been an invaluable experience joining other Team Up-supported programs to share best practices and upskill their staff.
"We are looking forward to using what we have learnt to continue to help children learn, grow and develop through football."
Tonga Table Tennis Federation, CEO Salote Fungavai, who oversees the 'Smash Down Barriers' program said they too were excited about the extension of Team Up, as this meant they could continue to deliver the Smash Down Barriers program, using the power of table tennis to make positive impacts in people's lives, particularly focusing on empowering persons with disabilities.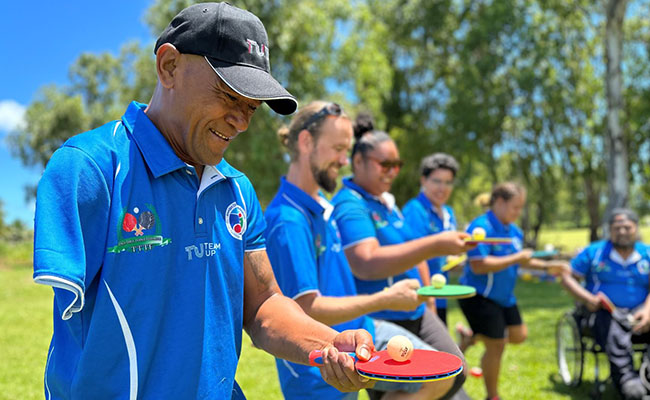 Five programs supported in Tonga
- Just Play (Oceania Football Confederation, partnering with Tonga Football Association and Football Australia): helping children to grow, learn and explore through football with a ball, a coach and a safe place to play
- League for Life (NRL partnering with Mai E Nima): using the power of rugby league to engage and develop Tongan communities to improve gender equality, social cohesion, health and participation opportunities for people with disabilities
- One Netball (Netball Australia partnering with Tonga Netball): enabling Tongan communities to experience lifelong enjoyment, social inclusion and improved physical health through netball
- Smash Down Barriers (ITTF-Oceania partnering with Tonga Table Tennis Federation): using table tennis as a tool to improve the lives of people with disabilities, by increasing participation opportunities and improving the attitudes both by and towards people with disabilities
- Women in News and Sport (WINS), a regional training and mentoring program, delivered by ABC International Development, that provides women in sports media with the tools to carve out a career in this male-dominated arena.
In addition, Australian High Commissioner, HE Rachael Moore, said Australia's sport for development program is underpinned by decades of partnership with the region.
"Our sporting partners have been delivering incredible work over the years to promote key development priorities in the community including gender equality, reduced inequality including for people with disability, and promoting good health and wellbeing."
Team Up will deliver the second phase until June 2025 to build on the work done by more than 30 programs across the region to deliver impactful sports initiatives at the community level.