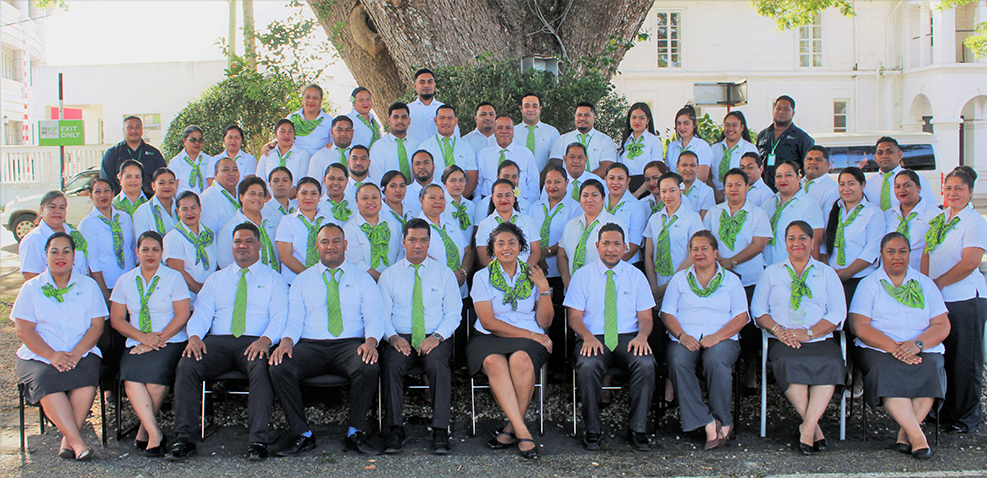 Bank of South Pacific Tonga Limited (BSP) today, Friday 10 March, 2023, announced a Net Profit after Tax of T$13.4 million pa'anga for the financial year ending 31 December, 2022.
BSP Tonga Country Head Marcellina Rose Wolfgramm-Haapai said, "The Net Profit after Tax for FY2022 was 13.4% above the 2021 performance and achieved from improved Operating Income."
Mrs Wolfgramm-Haapai noted that despite the challenges of lockdown: "BSP Tonga's customer base grew 9% with over 40,000 customers choosing BSP as their bank of choice. These customers continue to be served across branches in Tongatapu, Vava'u, Ha'apai and 'Eua which is currently operating in a temporary location following tsunami damages, as well as via digital banking network that includes 14 ATMs, 275 EFTPoS and 39 agents."
Following the 2022 tsunami, BSP donated T$50,000 to the Government of Tonga to support reconstruction efforts of the community of Mango Island. Direct customer support across 2022 saw discounted lending products across Personal Lending and Small to Medium Enterprises (SME) loans, short term lending relief to impacted customers and a waiver of application fees for Retail Lending (Home & Personal Loans).
Community and sponsorship efforts saw over T$100K allocated towards tsunami recovery and grass roots activities – including replacement of 70 rubbish bins under the Bank's Go Green initiative and sponsorship of Tonga's women Netball Team -Tala.
The BSP Tonga's profit announcement follows the release of the BSP Financial Group's Full Year results by Chairman Sir Kostas Constantinou, noting a consolidated Net Profit after Tax of K1.081 billion – up 0.5% on the prior year. Sir Kostas and Acting Group CEO Ronesh Dayal congratulated the BSP Tonga Limited team for their contribution to Tonga and efforts across 2022.

Principal Activities

Bank of South Pacific Tonga Limited ("BSP") is a 100% owned subsidiary of BSP Financial Group Limited which is a leading Papua New Guinea based bank with a wide network extending across the Pacific and Asian regions, including Fiji, Vanuatu, Cook Islands, Solomon Islands, Samoa, Tonga, Cambodia and Laos. The principal activities of the bank are the provision of retail, commercial and general banking services.

Directors

Directors of "BSP" as at 31st December 2022 are: Sir Kostas G. Constantinou, OBE; Mr. Robin Fleming, CSM (resigned on 31 December 2022); Mr. Ronesh Dayal (appointed on 1 January 2023); Mr. 'Alifeleti 'Atiola (resigned on 30 September 2022); Mr. Semisi Panuve (appointed 1 October 2022); Ms. Elizabeth Sullivan; Ms. Marcellina Wolfgramm Ha'apai.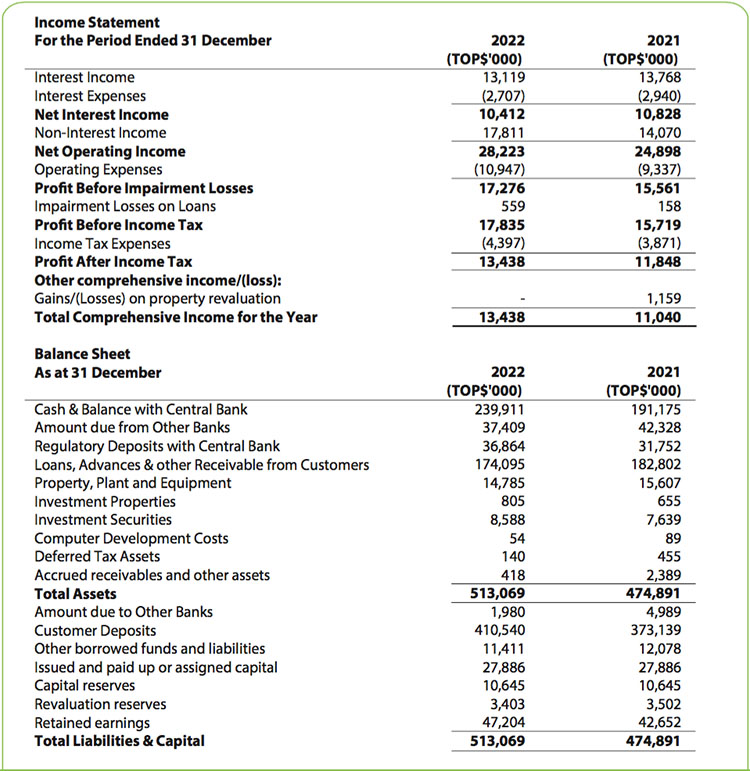 Matangi Tonga Online ref. #7183 10 March - 19 April 2023