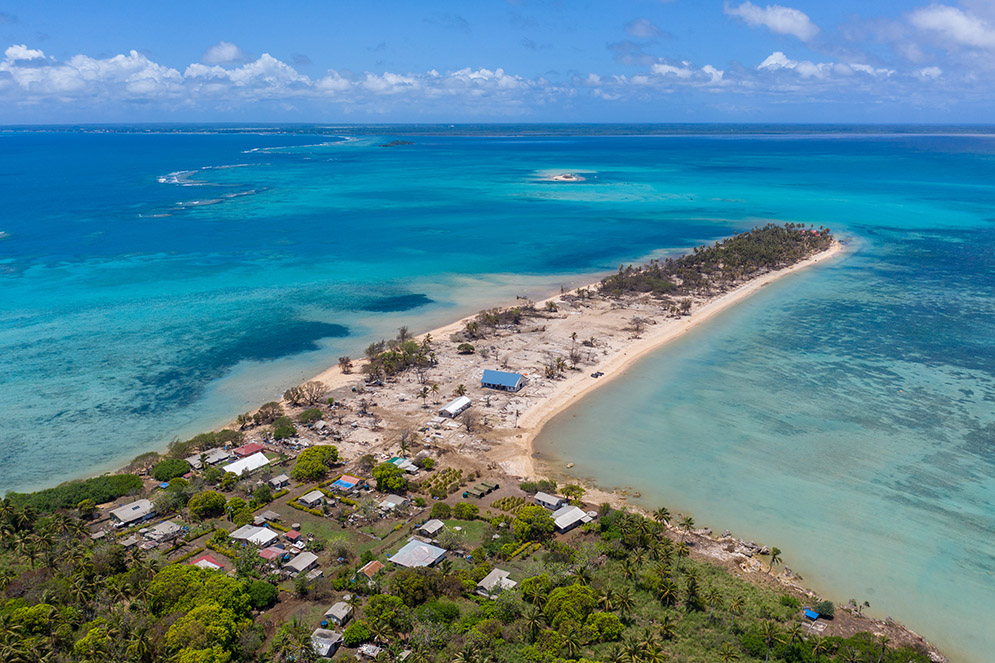 By Lieutenant Brendan Trembath
Australian personnel from HMAS Adelaide stepped ashore on a Tongan island for the first time on February 4 to survey damage caused by the volcanic eruption and tsunami last month.
Around 30 Australians from the Operation Tonga Assist taskforce landed on 'Atatā island in eight Zodiac inflatable boats.
'Atatā locals had temporarily vacated the island following the tsunami.
A Tongan-born Royal Australian Navy chaplain joined Australian Army soldiers and a Department of Foreign Affairs and Trade liaison officer on the island to assess the damage.
"My heart and prayers go out to the people of Atata," Chaplain Simote Finau said, who last visited Tonga about 11 years ago. 
"There was debris everywhere. Most of the low-lying part of the island has been wiped out.
"You can see where the seawater reached from the trail of debris, so the wave must have been huge."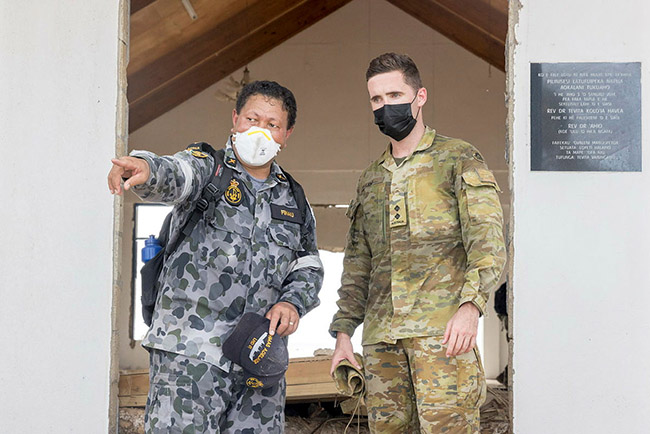 The team walked the length of the island to survey the damage.
"It was pretty surprising to see the amount of destruction," Army officer Lieutenant Jordan Chee said.
"Army personnel are well prepared and highly capable of doing tasks like this. It's our bread and butter."
Australian Defence Force personnel are helping to assess damage and clear debris on several islands near the capital Nuku'alofa at the request of the Tongan Government.
Commanding Officer of 2nd Combat Engineer Regiment Lieutenant Colonel Craig Bury said the island would remain uninhabited during clean-up operations and strict COVID-19 safeguards were in place to protect the region.
"The safety of the community and our personnel is our highest priority," Lieutenant Colonel Bury said.
Wall of water
The impact of the tsunami and volcanic eruption on 'Atatā and surrounding islands is most visible from the air.
Above the ground party, Army CH-47F Chinook helicopters from 5th Aviation Regiment continued the damage surveys from the air.
"We flew around the main islands to the south of Tonga and looked at the smaller islands that were hit by the wall of water," Army pilot Captain Cameron Dunne said.
"The main thing that stood out to me was the contrast in damage between the low-lying areas that have been wiped out and then the higher buildings above the waterline, which are still standing and relatively okay."