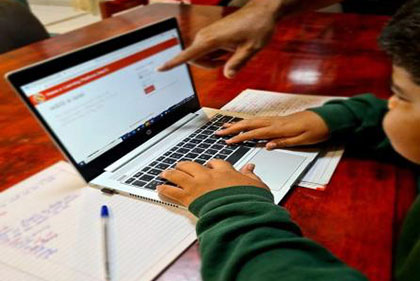 A home school trial has been set by the Ministry of Education on November 8, which is a public holiday in Tonga, in the event of a school closure due to COVID-19 reaching Tonga.
The Ministry said the day will be a perfect simulation of a total lockdown where parents and guardians will be at home to assist and support their children with their studies.
Home school trials have been held previously by the Ministry of Education to ensure students can continue to learn through distance and flexible learning.
Various modes of accessible learning delivery, including printed materials, radio, TV and internet, will be trialed for students of both government and non-government schools.
This includes Early Childhood Education, Inclusive Education, Classes 1- 6 in Primary Schools and Classes 7 & 8 (Form 1 & 2) in the Middle Schools in Tongatapu, 'Eua, Haʻapai, Vavaʻu, Niuatoputapu and Niuafoʻou. 
All students will receive printed study materials for the day's lessons and a timetable for lessons broadcast on Tonga Broadcasting Commission's Television and AM radio A3Z. 
Lessons and video resources will also be available online on the Ministry's Hama e-Learning Platform (HeLP): https://tonga.inclusivlearningplatform.com, and can be accessed at any time during the trial. 
Feedback from parents after the trial will assist the Ministry to improve methods of delivery and the quality of learning resources for students.
The trial is delivered under the Tonga Accelerated and Resilience Program (TARP) and funded by the Global Partnership for Education (GPE), supported by the Save the Children Australia (Grant Agent) and Australia's Department of Foreign Affairs and Trade (DFAT), the Co-ordinating Agent.
TARP aims to mitigate the impact of COVID-19 or natural disaster on Tonga's education systems with a strong focus on distance and flexible learning.