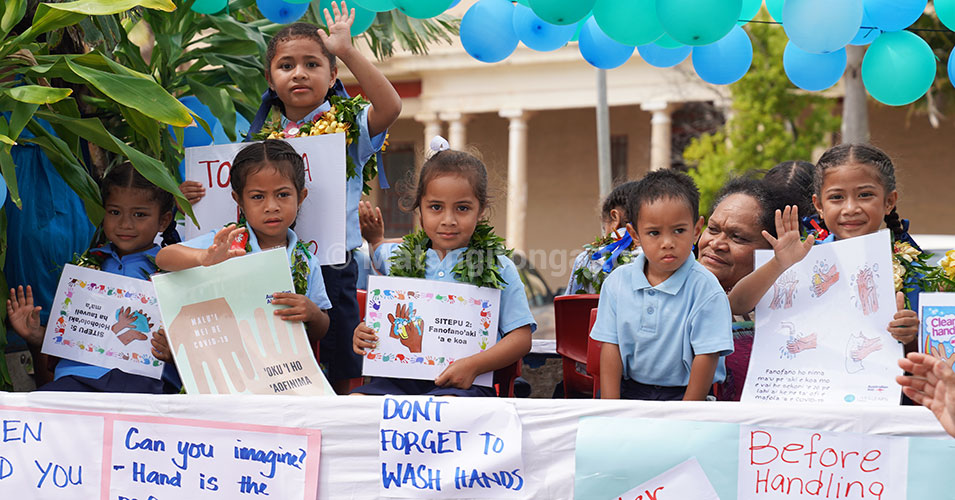 By Eleanor Gee
Children from several kindergartens on Tongatapu celebrated Global Handwashing Day today, 15 October, under a theme "Hand Hygiene for All".
The students marked the day starting with a parade from Maamaloa Akoteu field, through the Nuku'alofa CBD to Vuna Wharf, where they performed songs on washing hands during an official program organized by Live & Learn Tonga.
New Zealand High Commissioner, HE Tiffany Babington said in her keynote address that the world observes global hand washing day to raise awareness about the importance of hand hygiene through handwashing with soap. 
"The theme for Global Handwashing Day is Hand Hygiene for all, a call to action to make hand hygiene a reality for everyone and to raise awareness that handwashing is the first and most effective action you can do to reduce the spread of pathogens and prevent infections."
The current global pandemic of CoViD-19 highlights how critical hand hygiene is in managing the transition of this disease. And prevention is better than cure, and hand hygiene must be everyone's choice, she said.
"One of the ways that New Zealand supports sustainable development in Tonga is through community projects under our head of mission fund, like the one today with Live & Learn. This enables us to respond to community needs and opportunities across Tonga."
Last year New Zealand contributed more than TOP$24,000 to Live & Learn for their Hi 5 under-5 project which focuses on promoting the importance of hand washing in kindergarten and pre-schools. The project included a handwashing education program, hand washing campaign, and various activities in schools across Tongatapu and 'Eua.
"I'd like to acknowledge the hard work of the Live & Learn team here in raising momentum about the importance of practising with regular and frequent handwashing."
Ms Babington said the Live & Learn campaign emphasizes the importance of staying in a clean and healthy environment, keeping food safe, preventing disease, and helping our children grow strong.
"Global handwashing day also reminds us to make handwashing a mainstay in public health interventions beyond CoViD-19 and to create a culture of handwashing. I encourage you all to spread the message that hand hygiene is for all and that handwashing is by far the best way to keep us from getting sick especially in this pandemic time of CoViD-19."
Global Handwashing Day is celebrated annually on 15 October and is recognised by the United Nations. It was introduced to reduce childhood mortality rates related respiratory and diarrhoeal diseases by a simple behavioural change - hand washing with soap.