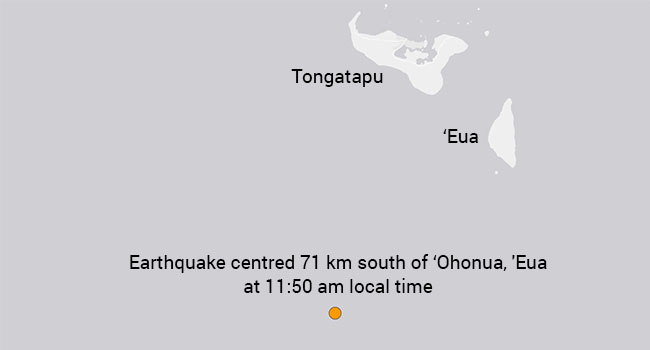 An earthquake over magnitude 5 centred close to Tongatapu and 'Eua was felt as mild shaking in the capital Nuku'alofa at 11:50am, today Tuesday.
Tonga Met reported a magnitude 5.4 earthquake occurred to the south of Tongatapu and 'Eua in southern Tonga at 21.64S, 175.07W at a depth of 132km at 11:50am. There was no tsunami risk associated with the event. (Tonga Met Director 'Ofa Faanunu said later that they rapidly assessed the intitial strength of the earthquake and estimated the location, before receiving the instrument reports.)
Meanwhile, the Tonga Geological Services has reported the earthquake as magnitude 5.2. They are conducting an online survey to collect information on how the earthquake was observed at various areas in Tonga. This will contribute to Community Risk Assessments. The Geology Survey is available in either Tongan and English. People located in Tonga may click on either of the links below to participate in the survey for the following earthquake:
Tuesday 25 August 2020, 11:

50AM


Magnitude 5.2

Depth 42.

5KM




71KM

SW

of 'Ohonua.
English 11:50am earthquake survey
Tongan 11:50am earthquake survey
Other earthquakes
Three earthquakes over magnitude 5 have been felt in the Tonga and Kermadec region over the last 24 hours. The United States Geological Service reported two other earthquakes:
Monday 24 August 2020, 1:45pm Tonga time

Magnitude 5.4

Depth 37.

4KM



28.942°S  176.312°W, Kermadec Islands region
Tuesday 25 August 2020, 6:14am Tonga time

Magnitude 5.6

Depth 8.

3KM




78KM

NNW

of Hihifo (Niuas) 15.362°S  174.202°W