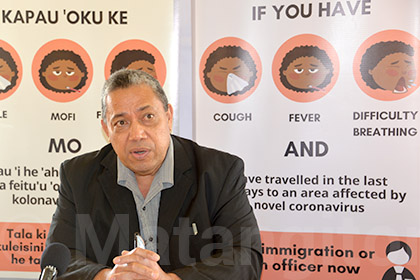 Tonga's Ministry of Health still has a number of issues to address before they would like the borders to open and to ease restrictions on gathering in public places, says Health CEO, Dr Siale 'Akau'ola.
At Vaiola Hospital yesterday afternoon, he outlined a number of issues that Tonga has to address before we open up our borders to allow Tongans and people from overseas countries to enter.
"We have to make sure that no coronavirus will be transferred into the country, when we open our borders," he said.
For a start, Tonga must have quarantine facilities in place before we open our borders.
The Ministry is currently trying to identify suitable quarantine facilities. They are investigating the possibility of booking hotel rooms.
All in-coming passengers, Tongans and foreigners, would be held in quarantine for 14 days before they would be allowed out into circulation.
Dr Siale suggested that when Tonga opens up, we allow in people only from CoViD-19 free countries such as Samoa and Vanuatu, and allow in young people and people in their 40s. He warned that if an incoming passenger tests positive, then we would have to close the borders again.
Before the borders are opened, issues that the Ministry has to finalise are:
From which countries are in-coming travellers permitted entry to Tonga.
How many in-coming passengers would they allow to come in.
Have passengers had CoVid-19 tests?
Dr Siale said that Tonga has to confirm if passengers have had a CoViD-19 virus test before they boarded the plane or ship for Tonga. However, to make sure that in-coming passengers do not transmit the virus here, they would prefer to test people before they go into quarantine, and test them again before they leave quarantine.
The biggest issue is Case Management if the virus spreads here, because Tonga does not have enough medical staff to manage such a health crisis.
There was no definitive answer for this question other than if the need arises, we could seek help from Fiji, New Zealand or Australia. But since those countries have had CoViD-19 if we have helpers from these countries, "they have to be quarantined for two weeks."
There is still a lot of work to be done before we open up our borders and allow in people from overseas countries, he said.
CoViD-19 test machines
Dr Siale was very pleased to announce that another CoViD-19 testing machine for Tonga, donated by the World Health Organisation (WHO) and the South Pacific Commission should arrive next week. The new machine comes with 6000 testing kits.
Two PCR testing machine that arrived earlier is currently being installed with 2000 testing kits. Dr Siale confirmed with Matangi Tonga today that one of these PCR machines is for back up in case one breaks down.
Dr Siale expressed his sympathy with Tongans who are stuck in countries as far away as India, but he was convinced that they are probably safer there, than arriving here and we are not ready to counter an attack by the coronavirus.
The final say on when to ease restriction of activities in public places and to open up the borders, rests with the government, he said.
Tonga is one of a few countries in the world that has not been invaded by CoViD-19.