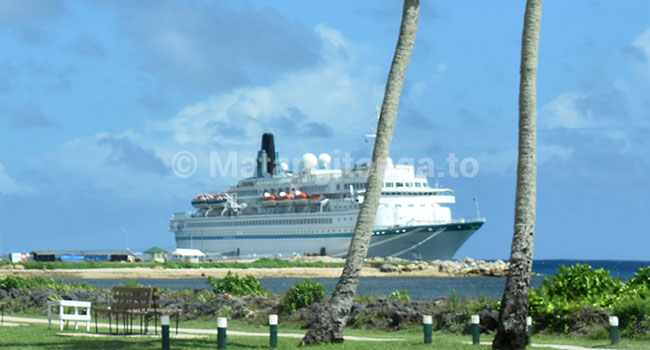 Four cruise ships have been ordered to stay away from Tonga this week under a diversion order issued yesterday, 11 February, by the Ministry of Health.
Acting Chief Executive Officer for Health, Dr Reynold 'Ofanoa issued the order "to prevent the introduction, or spread of a controlled notifiable condition, or other significant threat to public health in the Kingdom".
The diversion order applies to four cruise ships expected to arrive on February 12 and February 15. They include MS Astor, MV Columbus, Crystal Serenity, and Wind Spirit.
Concerns have been raised by locals that cruise ships and other vessels arriving directly from overseas could bring the virus to Tonga, and present an unacceptable risk at this time.
While barring cruise ships means a direct hit to the local economy, its believed by officials that the cost is far less than if the virus were to spread in the country.
WHO
The World Health Organization (WHO) is currently advising all countries to put in place public health measures to reduce the risk of the virus being introduced and spreading in a country.
WHO Director General, Dr Tedros Adhanom Ghebreyesus said that as at 11 February, COVID-19 had spread to 42,708 confirmed cases reported in China with deaths now at 1017 occurring mostly in Wuhan, Hubei Province.
Outside China, there are 393 cases in 24 countries and 1 death.
He praised China for taking serious measures in Wuhan and other affected provinces that "is slowing the spread of the virus to the rest of the world".
"You strike hard when the window of opportunity is there."
He said the world has a realistic chance of stopping this outbreak if enough resources are invested in rational and evidence-based interventions.
"If we don't we could have far more cases and far higher costs on our hands. And I don't think anybody wants that. This is a common enemy."
Meanwhile, the development of vaccines and therapeutics to treat the virus is currently being researched.
"The first vaccine could be ready in 18 months, so we have to do everything today using the available weapons to fight this virus, while preparing for the long-term."
"And we're keeping the public informed about what everyone can do to protect their own health and that of others. It's when each and every individual becomes part of the containment strategy that we can succeed. That's why reaching out to the public directly and telling them the precautions they should take.
Clean your hands regularly, either with alcohol-based rub or soap and water.
Keep your distance from someone who is coughing or sneezing.
And when you cough or sneeze, cover your mouth and nose with a tissue or your elbow."
COVID-19 has been formally recognized as a sister to severe acute respiratory syndrome coronaviruses (SARS-CoVs), by the International Committee on Taxonomy of Viruses. It has designated COVID-19 as severe acute respiratory syndrome coronavirus 2 (SARS-CoV-2).