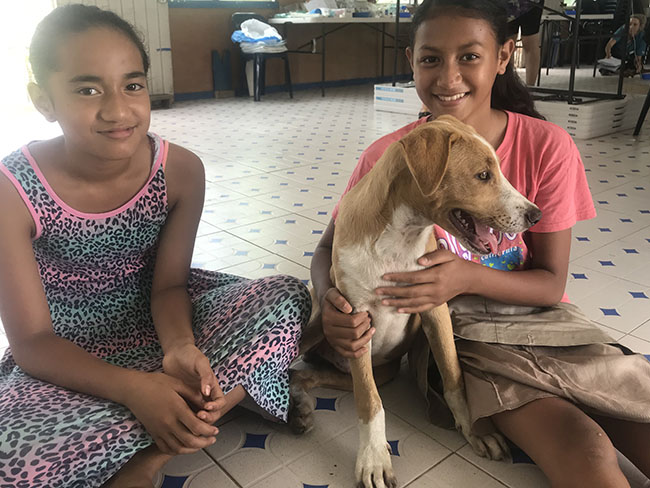 Many children brought their pets for attention at the busiest-ever South Pacific Animal Welfare (SPAW) clinics in Tongatapu last week, when 25 volunteers from New Zealand attended to 216 animal surgeries and 400 consultations.
The children were eager to learn about caring for their animals' welfare.
Education is at the heart of SPAW's mission, and they believe that good animal welfare outcomes begin with children.
"It was nice to see a lot of regulars and returnees from various previous clinics coming in for checkups and flea control and worming to keep them nice and healthy," said the group leader, veterinarian, Dr Geoff Neal at the end of a demanding week.
He said that this time round the dogs seemed to be in "slightly better condition, a few less ticks on the dogs this year".
SPAW teams visit Tonga a few times a year delivering much needed veterinary services to the community.
The largest-ever SPAW team visiting Tongatapu from 2-7 December treated an unprecedented number of animals on the island.
The volunteers included four experienced vets, and a group of vet nursing students, supervised by Laura Harvey, RVN, lecturer at Unitec in Auckland.
The animals treated ranged from large pigs, bulls and cows, to small calves, puppies and kittens.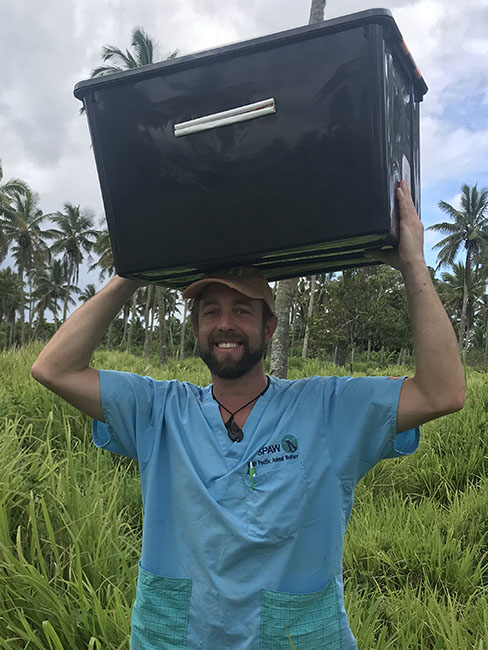 Dr Neal also went out to the eastern districts of Tongatapu to do two village out-clinics, and visited large farm animals at their homes.
Kate Harder, a veterinary nurse accompanied SPAW on her third trip, to work on a research project, "running blood tests on all the dogs that have surgery and we are looking at the biochemistry of the blood".
They are also looking at parasites in the dogs. This research is a way to ensure that SPAW is meeting the specific needs of the dogs in Tonga.
Kate said that her initial work on the parasites indicated that SPAW was making a difference in Tonga. She reported that some of the more common worms like roundworm were not as bad as previously, and hookworm was the most prevalent worm she had seen.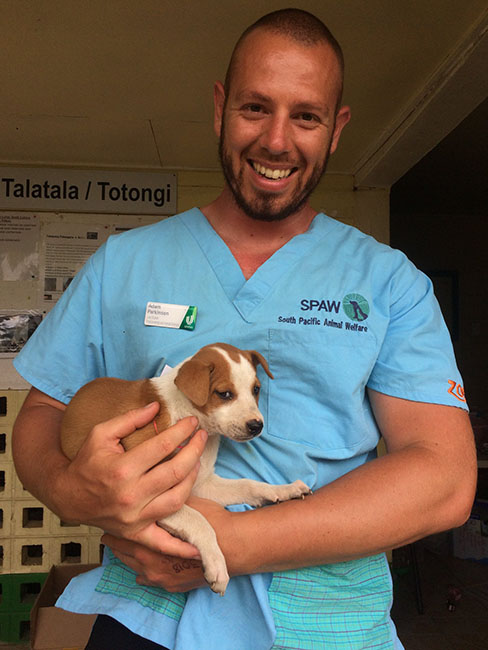 Tongan veterinary nurse student Sela Pamaka, who lives and studies in New Zealand, valued the educational component of SPAW. She said that it was important for people to understand, "animals have feelings as well and they get hurt and feel pain. So it's good, just like humans, for them to get a checkup."
Sela said that a lot of puppies died from parvo virus and starving in Tonga, so de-sexing animals was important to stop the spread of viruses and unwanted litters.
Fund-raising events this visit helped to raise $11,424 pa'anga over the week. This included sales of a 2020 Mr Maka /Tonga Tiger calendar, a charity quiz night, food and cake stalls, raffles and a yoga event.
A New Zealand film documentary crew followed SPAW on the visit. Director Marc Weakley said this was his second trip, as they also joined SPAW in Nomuka, Ha'apai, last month.
In March 2020 SPAW plan to launch 'Project Kuli', which will be the largest mass desexing programme in the Pacific region to date.
- SPAW Report by Lynley Tulloch.