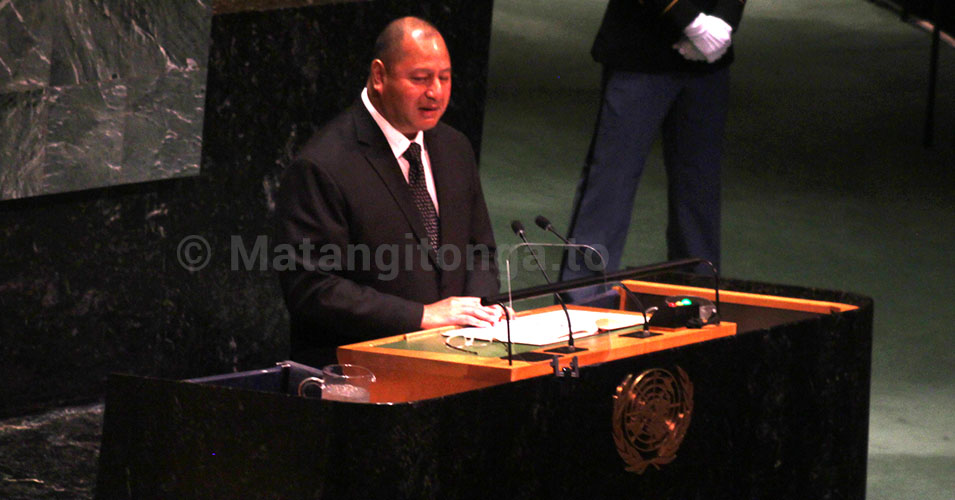 By Finau Fonua
HM King Tupou VI re-iterated the threat of climate change in a speech at the United Nations General Assembly Hall in New York on September 26. 
"Extreme events like cyclones and typhoons, flooding, drought and king tides are frequently more intense, inflicting damage and destruction to our people and eco-systems and putting the health of our people at risk".
"We think at this time of our fellow islanders in the Bahamas as they work to recover from the devastating effects and destruction in the wake of Hurricane Dorian. Climate Change is not only a political issue for us but also one of survival. The fact that climate change is an existential threat and a matter of international peace and security was again endorsed by Pacific leaders through their decision to develop the 2050 strategy for the Blue Pacific Continent. We continue to recognize the important nexus between the climate and the ocean, and further continue to note with concern the devastating impacts of climate change on our marine environment."
He noted Tonga's participation in a climate change summit held earlier this week, as well as the Kainaki II Declaration signed by Pacific Island countries in August this year.
"Tonga welcomed the convening of the climate change summit earlier this week. My country engaged fully in a seminal gathering of leaders to again give prominence to the threats posed by climate change with its direct links to international peace and security and thereby to our sustainable development aspirations in support of STGs and its targets."
"Pacific leaders in Tuvalu last month, endorsed the strongest statement to date on climate change, the Kainaki II Declaration, declaring a climate change crisis in the Pacific Islands region and called on urgent action to reduce Green House gas emissions and prevent catastrophic global warming and disasters." 
King Tupou VI also noted the Paris Agreement and its goal to limit global warming to 1.5°C and welcomed an announcement by the UK government this week to increase contributions to combating climate change.  
"The 1.5 degree limit is the heart of the Paris Agreement and although my country with our Pacific small island developing neighbour states as a whole contributes not even close to one percent of global warming, we remain committed to this agreement."
Climate finance
"For Tonga, securing climate finance is the main priority as without it, no action on our national determined contributions is possible. We welcome the announcement by the United Kingdom of its intention to double its contribution to the Green Climate Fund."
Aside from climate change, Tupou VI spoke about Tonga's commitment to achieving sustainable development goals (SDGs) and the SAMOA Pathway (SIDS Accelerated Modules of Action). A day long review of the SAMOA Pathway takes place today, 27 September, at the UN.
"Tonga continues its commitment to the implementation of the 2030 agenda for sustainable development and it's SDGs including the SAMOA Pathway. We are pleased to participate at the high-level midterm review of the SAMOA Pathway tomorrow to ensure its goals are being met at its halfway point of its implementation." 
"The government's sustainable development priorities remained aligned with 13 of the 17 SDGs namely goals 1 to 4, 6 to 9, and 13 to 17. Tonga's first voluntary national review report presented at the high-level political forum in July this year spoke to the localization of SDGs and the SAMOA Pathway through the Tonga strategic development framework. A whole of government approach for coordinated and coherent service delivery continues to be a priority," King Tupou VI said.