Graphic location, courtesy USGS.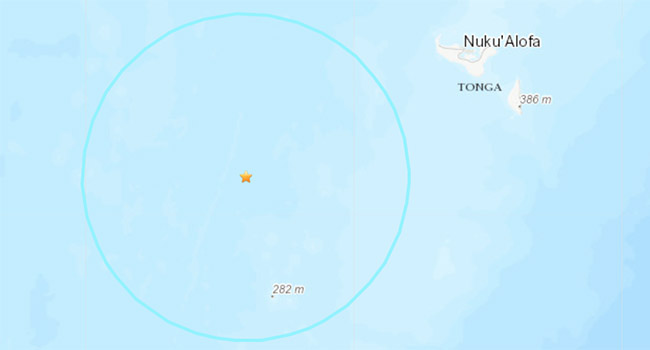 There was no tsunami threat from two earthquakes felt in Nuku'alofa early this morning, the Tonga Meteorological Service advised.
The two 6.1 tremors occurring deep in the seabed, were located about 117-134km southwest of the capital Nuku'alofa, where they were felt briefly, and unlikely to have caused any damage.
Tonga Met advised that an earthquake magnitude 6.1, occurred at 4:38am, 134km southwest of Nuku'alofa at a depth of 172.7km; followed by another magnitude 6.1 at 4:45 am, located 117km southwest of Nuku'alofa at a depth of 161.7 km.
The co-ordinates of the earthquakes were Lat: 21.8, Lon: 176.105E, and Lat: 21.76 S Lon: 176.3E.
The National Emergency Operation Centre (NEOC) was not activated.
The Kermadec-Tonga subduction zone generates many large earthquakes on the interface between the descending Pacific and overriding Australia plates, and within the two plates themselves.