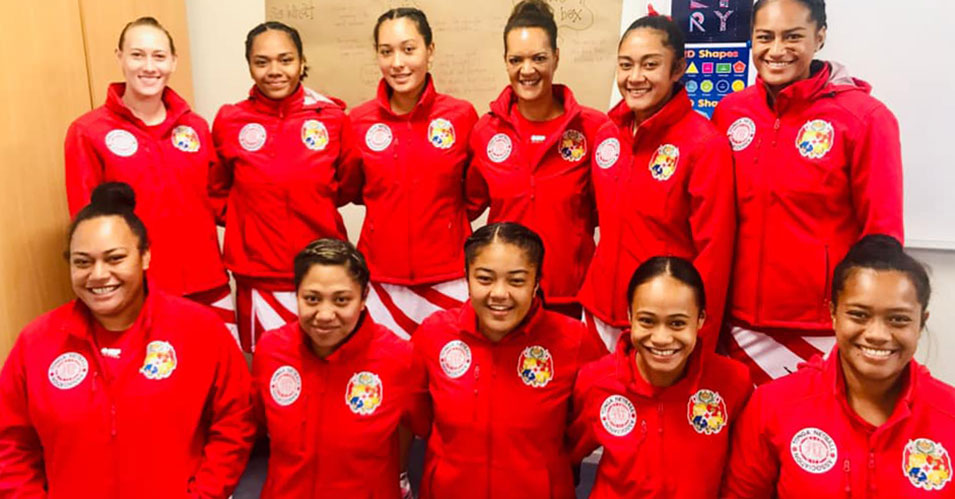 By Eleanor Gee
Tonga netball is looking to increase players exposure to advanced level games at the Pacific Nations Cup tournament over three days, at the Phyllis Latour Doyle Gymnasium in Papakura, New Zealand,  starting today 21 March 2019.
The tournament includes teams from Cook Islands, Samoa, Aotearoa Maori, NZ Defence Force and the Stars of the Southern Cross (NZ Pacific Islands).
Tonga Netball Manager, Salote Sisifa said this tournament is good for the players to gain experience at an advanced level leading up to the Pacific Games to be held in Samoa in July.
"We hope to gain experience from this week's tournament, head into PG [Pacific Games] with a strong campaign and for the long run, continue to climb in world ranking."
She said Tonga netball is currently ranked 29th and the aim is for Tonga to make the top 2 in Oceania by 2023 and qualify for the Netball World Cup.
To help Tonga reach their goals, new coach, Jaqua Heddle, who has 20 years of coaching experience in Australia, in particular with Netball New South Wales, has joined the team.
Salote said Jaqua will add much needed value to the development of the sport in Tonga.
"This is the first time Tonga's had a high-performance coach at International standards and she comes with much experience and wealth of knowledge in netball."
The Tongan team consists of half the Tongan players based in Tonga while the other half are based in New Zealand. 
The team have spent the last two weeks training together and will be led by Captain Seni Lafo'ou, who said on social media they are excited to be in the competition and that they've been working hard with their new coach.
"Our ultimate goal is preparation for the Pacific Games that's happening in July."
Earlier today, Tonga netball went down to the Cook Islands 35-25 in their first game of the tournament and in their second game, narrowly lost to Stars of Southern Cross 32-29. However, for the first time ever, Tonga beat Samoa in their last game of the day 20-18. Samoa are going into the Netball World Cup later this year as one of the top two teams in Oceania.
On Friday, 22 March, Tonga face NZ Defence Force and Aotearoa Maori with the finals held on Saturday.
Tonga netball team:
AH

WONG

, Serafina

COCKER

-

FILIKITONGA

, Bella

JONES

, Mia

KOLOFO'OU

, Asinate

LAFO'OU

, Seni (Captain)

LATU

, Amy

LAVEA

, Lavinia

MAFI

, Malia

NAEATA

, Katalina

TAULAHI

, Lavelua

SANDERS

, Chesna
Coach: Jaqua Heddle
Primary Carer (Physio): Gareth Fraser
Team Assistants: Louna Vaka, Menitela Kaufusi 
Manager: Salote Sisifa