The chance for El Nino forming in the coming months has dropped from 80% to 70%, as recent cool weather has seen the temperature of the Pacific Ocean surface return to neutral. 
However, Tonga Meteorological Services said most international climate models indicate that sea surface temperatures in the tropical Pacific are likely to persist near El Nino thresholds until at least early autumn, which means El Nino remains a possibility in 2019.
This may affect Tonga's rainfall in the coming months which could result in some water shortage throughout the country.
Despite the above average rainfall recorded in December 2018 across the country, the rainfall outlook is forecast to be below average across the country from January to March 2019 and continuing from April to June 2019 (see table 1 below).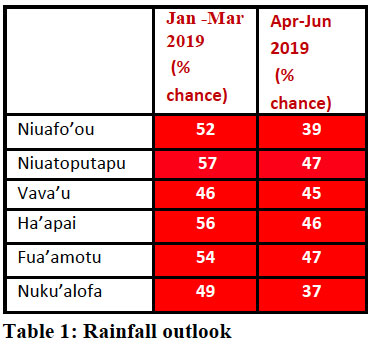 Tonga Met urges residents to collect as much water as possible during rainy days and ensure clean water is safe for usage. Residents should be aware and use water wisely and seek advice from relevant authorities of sensitive sectors, e.g. Agriculture, Water, Health and the National Emergency Management Office (NEMO) on the best practices to minimize the effects of natural disasters. It is important to know the impact of El Niño and receiving less rainfall than usual which affects our islands. 
Rainfall over the last three months show Tongatapu experiencing drier than usual weather in October and November, and the Niuas also experienced drier weather in November. However, Vava'u and Ha'apai experienced above average rainfall across all three months. All islands received above average rainfall in December (see table below).
The average temperature in December was 26.6°C which was 0.3°C warmer than average. The highest maximum temperature was 33.8°C on 5 December in Niuafo'ou and the lowest minimum temperature was 17.4°C in Fua'amotu on 13 December.