Photos by Pesi Fonua and Eleanor Gee.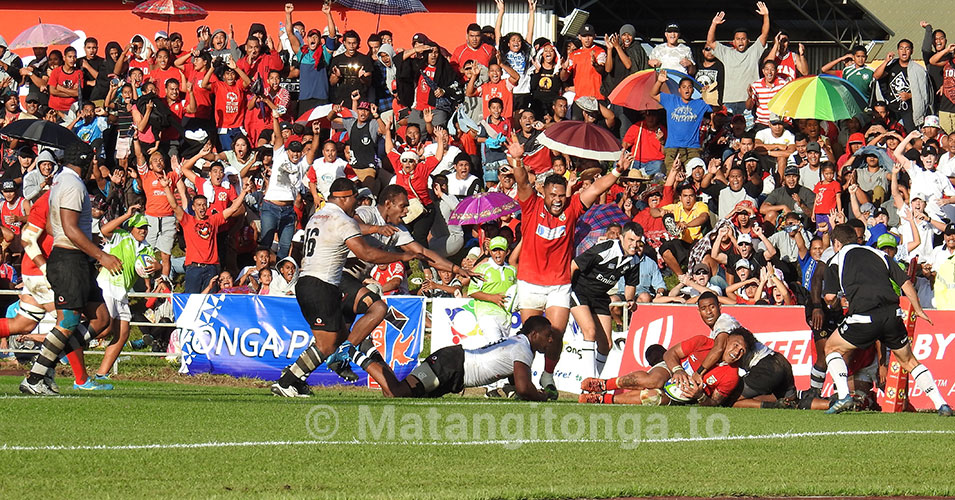 By Finau Fonua
The Flying Fijians narrowly defeated the 'Ikale Tahi 14 – 10 today in a hard fought match at Teufaiva Stadium. The 'Ikale Tahi crossed the Fijian try line in extra-time to an uproarious crowd, but jubliation was short-lived as the referee disallowed the try and ordered a 5 metre scrum to Fiji.
The first-half of the match was a scrappy affair with both teams failing to score a try. Fiji grabbed the lead early with a penalty conversion by their flyhalf Ben Volavola in the 5th minute. Sonatane Takulua levelled the score, after converting a penalty for Tonga in the 16th minute. Takulua later missed a penalty conversion that would have put Tonga ahead. The halftime score was drawn 3 – 3.
In the second half, prop forward Siegfried Fisiihoi crashed over the Fijian try line to put Tonga ahead 10 - 3. The Flying Fijians responded quickly with a try by their lock forward Leone Nakarawa. Volavola failed to convert the try but later put Fiji ahead with a penalty conversion in the 65th minute. Another penalty conversion by Volavola in the 74th minute furthered their lead to 14 – 10.
In the final minute of the game, the 'Ikale Tahi were within only a few metres of the Fijian try line. Sonatane Takulua crashed over the try line but his try was disallowed by the referee.
Result of the World Cup qualifying match:
Final score: Fiji 14 -Tonga 10
Halftime: 3-3
Scorers Tonga
Tries: 1 try #1 Siegfried Fisi'ihoi (5)
Conversions: by #9 Sonatane Takulua 46th min (2)
Penalties: #9 Sonatane Takulua 16th minute (3)
Missed penalties: Sonatane Takulua approx  34th min (0)
--
Scorers Fiji
Tries: Leone Nakarawa (5) 
Conversions: not converted (0)
Penalties: 
Ben Volavola 5th min (3)
Ben Volavola 65th min (3)
Ben Volavola 74th min (3)